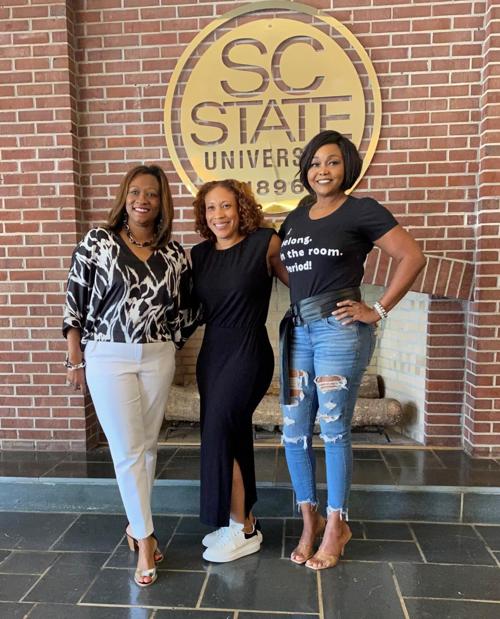 On Friday, the Moguls in the Making creative writing career session was held in the Bulldog Lounge in the student center. Writer and executive story editor Sa'Rah Jones was the guest speaker. Author and principal Katrina Johnson and author and entrepreneur Monica Brown were also panelists for the event.
During the session, Jones spoke about her career and the process of how she got to where she is now. She talked about her struggle as a Black woman trying to make it in Hollywood and how she overcame adversity by being persistent and having faith.
She also gave insight on how to be successful in a creative writing career. Johnson and Brown also offered tips and insights on being successful in the media industry.
At the end of the session, students and alumni got an opportunity to ask questions, gain feedback and meet the panelists.
Sa'Rah Jones
Jones, a native of East Cleveland, Ohio, attended South Carolina State University where she majored in professional English and minored in broadcasting. Jones knew early on that she wanted to do something in the entertainment field but didn't quite know what. She realized her destiny when she was accepted into the Warner Bros Production Assistant Program. She was going to be a television sitcom writer.
Jones worked in production for many shows at Warner Bros, MGM, Paramount, and Sony. Shortly after the birth of her son, Jones took a break from the entertainment business. During that time, she continued to hone her writing skills and co-wrote and published a children's book, "The Fabulous Minds of Tre' and Eboni". The book was later purchased and widely distributed by the Los Angeles Unified School District.
In 2014, Jones returned to television writing. She is currently the writer and executive story editor for the hit CBS sitcom, "The Neighborhood", which stars Cedrick The Entertainer, Tichina Arnold, Max Greenfield and Beth Behrs. Jones is also a writer and story editor for the twice NAACP Image award winning Netflix sitcom "Family Reunion," a show created by Meg DeLoatch that stars Loretta Devine, Tia Mowry and Richard Roundtree.
Katrina Johnson
Johnson has over 25 years of experience in education having served as principal of a K-8 school, curriculum coordinator, program director and afterschool coordinator. She led a 21st Century Communities and Learning Grant which launched a program totaling $199,000 over four years. This program enhanced student's educational learning while providing opportunities for them. She has served on various district and school accreditation teams throughout the state and continues to serve students throughout the Upstate.
Johnson received her bachelor of science degree in elementary education from SC State, a master of education from Converse College and an educational specialist degree in educational leadership from SC State. She holds memberships in various organizations such as A proud Life Member of the South Carolina State University Alumni Association, Alpha Kappa Alpha Sorority Inc., Jack and Jill Associates, The South Carolina Association of School Administrators, and others.
During her time at SC State, she was heavily involved on campus being a Bulldog cheerleader and Miss Sophomore. She is now dedicated to improving the lives of children and families by educating them on social awareness, and social and emotional learning. She has a strong passion for promoting creativity, resiliency and thinking outside of the box.
Monica Brown
Brown began her technology career over 20 years ago after a brief career in broadcast journalism. While at SC State, she worked in college radio. After college, she became a writing assistant at Upscale Magazine and also worked as an audio specialist for the 1996 Olympic Games in Atlanta. When Brown starting her IT career, she became extremely interested in project management and focused on growing her leadership skills in that area. Within a year, she began working for a major telecommunications company and was quickly promoted for her quality work.
In January 2019, Brown joined SiriusXM + Pandora as vice president of digital product development. She was responsible for setting the strategy for initiatives supporting the Pandora Music App development and user experience. She recently joined Tucows Inc. which is based in Toronto, Canada, and is the second largest web domain registrar in the world.
Brown earned her bachelor of arts degree in professional English and broadcast journalism from SC State and completed her master of business administration degree from the Michael J. Coles School of Business at Kennesaw State University. She has also completed project management classes with Villanova University, received the Project Management Professional Certification and completed Agile Methodology training.
Brown's book, "Only One: How to be a Bad-Ass Boss in Corporate America," is now available on Amazon Books.
#pu-email-form-daily-email-article { clear: both; background-color: #fff; color: #222; background-position: bottom; background-repeat: no-repeat; padding: 15px 20px; margin-bottom: 40px; border-top: 4px solid rgba(0,0,0,.8); border-bottom: 1px solid rgba(0,0,0,.2); display: none; } #pu-email-form-daily-email-article, #pu-email-form-daily-email-article p { font-family: -apple-system, BlinkMacSystemFont, "Segoe UI", Helvetica, Arial, sans-serif, "Apple Color Emoji", "Segoe UI Emoji", "Segoe UI Symbol"; } #pu-email-form-daily-email-article h1 { font-size: 24px; margin: 15px 0 5px 0; font-family: "serif-ds", Times, "Times New Roman", serif; } #pu-email-form-daily-email-article .lead { margin-bottom: 5px; } #pu-email-form-daily-email-article .email-desc { font-size: 16px; line-height: 20px; margin-bottom: 5px; opacity: 0.7; } #pu-email-form-daily-email-article form { padding: 10px 30px 5px 30px; } #pu-email-form-daily-email-article .disclaimer { opacity: 0.5; margin-bottom: 0; line-height: 100%; } #pu-email-form-daily-email-article .disclaimer a { color: #222; text-decoration: underline; } #pu-email-form-daily-email-article .email-hammer { border-bottom: 3px solid #222; opacity: .5; display: inline-block; padding: 0 10px 5px 10px; margin-bottom: -5px; font-size: 16px; } @media (max-width: 991px) { #pu-email-form-daily-email-article form { padding: 10px 0 5px 0; } }