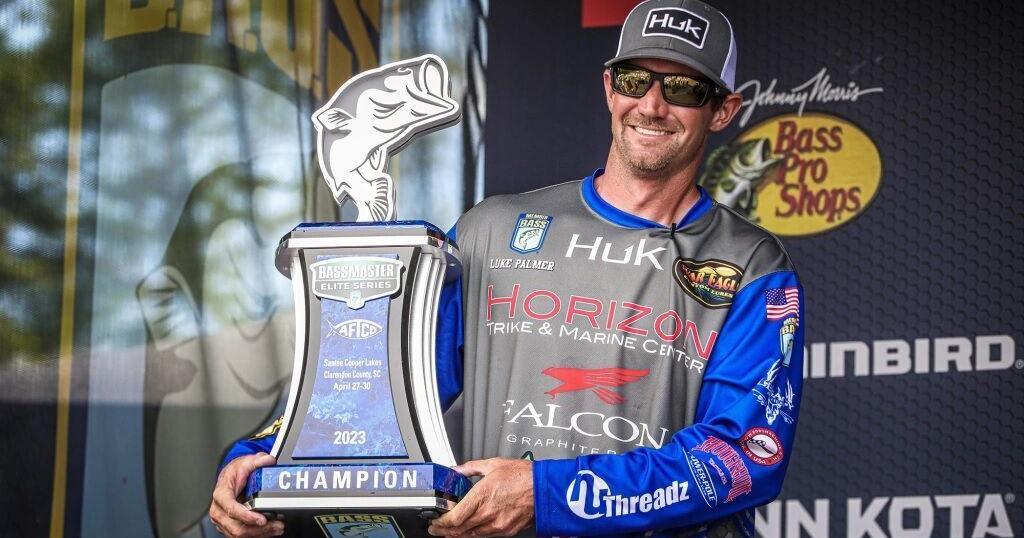 At the Championship Sunday takeoff, an ominous weather forecast told of a coming storm. By day's end, it was clear Luke Palmer was the storm.
Turning in an absolutely crushing final-round performance, the fifth-year pro from Coalgate, Okla., posted a four-day total of 96 pounds, 14 ounces to win the AFTCO Bassmaster Elite at Santee Cooper Lakes.
Palmer started the event strong with a Day 1 limit of 21-3 that put him in 10th place and followed with a second-round bag of 23-9 that moved him up to third. After adding 26-3 on Semifinal Saturday, Palmer slammed the door on the victory with a massive limit of 25-15 on Championship Sunday.
He earned his first blue trophy and the $100,000 first-place prize, besting second-place angler Mark Menendez (82-11) by a whopping margin of 14-3.
"I've been waiting a long time to hear you say that," Palmer told Bassmaster Emcee Dave Mercer after his 'Elite Series Champion' announcement. "I was so close to doing it last year, to finally get it done — I wanted to break 100 pounds, but I'll take 96-14."
Notably, Palmer's winning margin was the sixth-largest in Bassmaster history. The victory, Palmer said, provided an important shot of confidence.
"This is special," said Palmer, who finished fourth in the 2022 Elite on Santee Cooper. "You work your whole life and you start second guessing yourself and you wonder 'Am I good enough to do it?' I was good one time and one time is better than no time."
Anchoring his final bag with a 7-5 Santee Cooper stud, Palmer was the only angler to catch a limit every day of the event. The final day would bring significant limitations, but Palmer outpaced the impediments.
After three relatively calm days, Championship Sunday dawned damp from overnight/early morning showers. The mid- to late morning period saw a mix of sun and threatening clouds, with a daunting weather system unleashing substantial rain and strong winds from about noon through the end of the fishing day.
Fortunately, Palmer got all of his work done early. According to BassTrakk's unofficial standings, he had his weight at 10:05.
Spending all four days on Lake Marion's southwest side, Palmer's main technique was old school — big rod, heavy line and flipping to cypress trees. In the early going, he threw a bladed jig with a Gene Larew Long John Minnow through the eelgrass, but switching techniques late on the first day ignited his run to the top.
"It took me until 1:30 p.m. of Day 1 to realize what was happening," Palmer said. "It had warmed up; we finally got some sun. It seems those fish were staging out in that eelgrass (during practice) to go up and spawn on those trees.
"When that sun came out and it warmed up, those fish went ahead and moved to the trees."
Arming himself with a 7-foot-3 heavy action Falcon Amistad rod with a high-speed reel spooled with 20-pound Sunline Shooter fluorocarbon, Palmer flipped a YUM Wooly Bug and a YUM Bad Mamma, both Texas-rigged with a 3/16- or 5/16-ounce Rougarou Tungsten weight, depending on depth.
With thousands of cypress trees spread throughout Marion, Palmer focused on the ones closest to deep water. Knowing the tournament fell at the tail end of the Santee Cooper spawn, he fished the zone most likely to host the late spawners.
Palmer said his Power-Poles allowed him to hold in perfect position, while his Humminbird MEGA Live forward-facing sonar provided a clear picture of what each tree held. Finding the particular "sweet spot" on each tree he fished was the key to triggering bites from territorial bass.
Menendez, the tenured pro from Paducah, Ky., got off to a good start with a sixth-place limit of 21-14. A Day 2 stumble left him with only four fish for 9-7 and dropped him to 34th place.
Menendez rebounded on Semifinal Saturday by weighing 27-13 — the event's second-heaviest bag. That pushed Menendez up from 34th place to fourth. He gained two more spots with a final-round limit of 23-9.
"I knew Day 2 would come back to haunt me," Menendez said. "Anytime you don't fill a limit, it generally does. I'm really kicking myself because I fished right over those fish on Day 2. I wanted to make sure I made the 50 cut so I could fish Day 3 and I fished too fast.
"I got back to my area on Day 3 and I slowed down. It was just a slow process. You'd make lots of casts and all of a sudden, you'd get a bite and you were off to the races. Sometimes you'd catch a whopper, sometimes it was a double whopper."
Menendez caught some of his bass on a Strike King 4.0 squarebill, but he did most of his work with a Texas-rigged Strike King Rage Cut-R-Worm in the junebug color. Proximity was key, as Menendez said he had to hit the base of a tree to trigger a bite.
Drew Cook of Cairo, Ga., finished third with 74-9. The 2022 Santee Cooper Elite winner turned in daily limits that weighed 21-13, 17-12, 23-4 and 11-12.
Despite this year's event falling considerably later in the season, Cook remained committed to the sight-fishing techniques that delivered his first Elite win. He caught his bass on a Big Bite Baits Fighting Frog and the Big Bite Baits Quarantine Craw that he designed — both Texas rigged.
"I can't complain at all," he said. "I've done exactly what I've wanted to do in the last two events (including a seventh place at last week's Elite at Lake Murray).
"Today, with the weather like it was, I made the decision to stay in Taw Caw Creek (where daily takeoffs occurred). I had seven bites today and caught four."
Brandon Cobb of Greenwood, S.C., took home an additional $3,000 for being the highest-placing entrant in the Toyota Bonus Bucks program. while ninth-place finisher Jacob Powroznik of North Prince George, Va., earned $2,000 for being the second-highest placing entrant.
As part of the Yamaha Power Pay program, Menendez earned an additional $2,500 as the highest-placing entrant and Cook claimed an additional $1,500 for being the second-highest placing entrant.
Palmer earned the $1,000 daily bonus for catching the Phoenix Boats Big Bass of the Day with his 7-5, while David Gaston of Sylacauga, Ala., earned Phoenix Boats Big Bass of the week — an honor that pays $2,000 — with the 8-5 he caught on Day 1.
Matt Robertson of Kuttawa, Ky., won the $2,000 VMC Monster Bag of the week with his 28-1 limit from Thursday's opening round.
Veteran pro Clifford Pirch of Payson, Ariz., won the $1,000 BassTrakk contingency award for the most accurate weight reporting.
After three events, Cobb leads the Progressive Insurance Bassmaster Angler of the Year standings with 387 points. Drew Cook is in second with 369 points, followed by Tyler Rivet of Raceland, La., with 349, Carl Jocumsen of Queensland, Australia, with 335 and Kyle Welcher of Opelika, Ala., with 333.
Bryant Smith of Roseville, Calif., leads the Dakota Lithium Bassmaster Rookie of the Year standings with 300 points.
The Clarendon County Chamber of Commerce hosted the AFTCO Bassmaster Elite at Santee Cooper Lakes.
#lee-rev-content { margin:0 -5px; } #lee-rev-content h3 { font-family: inherit!important; font-weight: 700!important; border-left: 8px solid var(–lee-blox-link-color); text-indent: 7px; font-size: 24px!important; line-height: 24px; } #lee-rev-content .rc-provider { font-family: inherit!important; } #lee-rev-content h4 { line-height: 24px!important; font-family: "serif-ds",Times,"Times New Roman",serif!important; margin-top: 10px!important; } @media (max-width: 991px) { #lee-rev-content h3 { font-size: 18px!important; line-height: 18px; } } #pu-email-form-breaking-email-article { clear: both; background-color: #fff; color: #222; background-position: bottom; background-repeat: no-repeat; padding: 15px 0 20px; margin-bottom: 40px; border-top: 4px solid rgba(0,0,0,.8); border-bottom: 1px solid rgba(0,0,0,.2); display: none; } #pu-email-form-breaking-email-article, #pu-email-form-breaking-email-article p { font-family: -apple-system, BlinkMacSystemFont, "Segoe UI", Helvetica, Arial, sans-serif, "Apple Color Emoji", "Segoe UI Emoji", "Segoe UI Symbol"; } #pu-email-form-breaking-email-article h2 { font-size: 24px; margin: 15px 0 5px 0; font-family: "serif-ds", Times, "Times New Roman", serif; } #pu-email-form-breaking-email-article .lead { margin-bottom: 5px; } #pu-email-form-breaking-email-article .email-desc { font-size: 16px; line-height: 20px; margin-bottom: 5px; opacity: 0.7; } #pu-email-form-breaking-email-article form { padding: 10px 30px 5px 30px; } #pu-email-form-breaking-email-article .disclaimer { opacity: 0.5; margin-bottom: 0; line-height: 100%; } #pu-email-form-breaking-email-article .disclaimer a { color: #222; text-decoration: underline; } #pu-email-form-breaking-email-article .email-hammer { border-bottom: 3px solid #222; opacity: .5; display: inline-block; padding: 0 10px 5px 10px; margin-bottom: -5px; font-size: 16px; } @media (max-width: 991px) { #pu-email-form-breaking-email-article form { padding: 10px 0 5px 0; } } .grecaptcha-badge { visibility: hidden; }