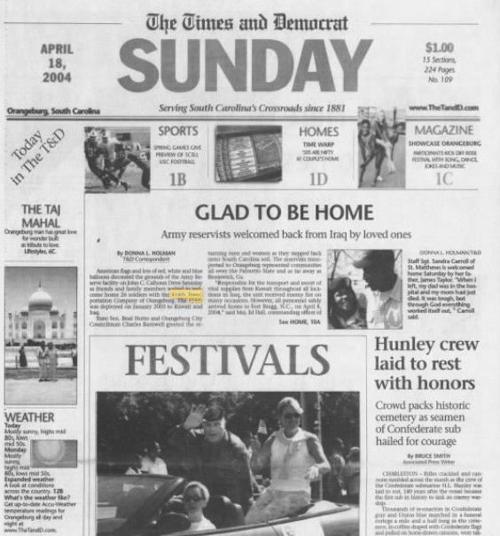 American flags and lots of red, white and blue balloons decorated the grounds of the Army Reserve facility on John C. Calhoun Drive on Saturday as friends and family members waited to welcome home 26 soldiers with the 414th Transportation Company of Orangeburg. The 414th was deployed on January 2003 to Kuwait and Iraq.
State Sen. Brad Hutto and Orangeburg City Councilman Charles Barnwell greeted the returning men and women as they stepped back onto South Carolina soil. The reservists transported to Orangeburg represented communities all over the Palmetto State and as far away as Brunswick, Ga.
"Responsible for the transport and escort of vital supplies from Kuwait throughout all locations in Iraq, the unit received enemy fire on many occasions. However, all personnel safely arrived home to Fort Bragg, N.C., on April 8, 2004," said Maj. Ed Hall, commanding officer of the 991st Transportation Company to which the Orangeburg 414th was attached.
"I am glad to be home," Staff Sgt. Sandra Carroll of St. Matthews said. "When I left, my dad was in the hospital and my mom had just died. It was tough, but through God everything worked itself out."
Carroll was welcomed home by her father James Taylor, her son Colden, and her three daughters, Lakeisha Davis, Lesha Carroll and Jasmine Larry.
"I did pretty good without her, but I know I'm going to do even better with her," said Colden, who will graduate from Calhoun County High School on May 28.
Carroll expressed her happiness to be home in time to witness not only Colden's high school graduation, but daughter Lakeisha Davis' college graduation. Davis, 23, will graduate from Lander College on May 8 as a registered nurse.
Also returning home was Staff Sgt. Isiah Taylor.
"We are just glad to be home," he said. Taylor, who was ready to get back to his wife in Moncks Corner, is the son of James and Dorothy Felder of Orangeburg.
"I got lots of support from my family – support in the form of e-mails and packages," South Carolina State University student Sgt. Christopher Scott said, smiling as he hugged his first cousin, Luenetta Grayson of Ridgeland.
Scott, a social work major specializing in assisting deaf and hearing impaired children, said his one-year deployment came just before graduation in 2003. A member of the 991st Transportation Company out of Salisbury, N.C., whose motto is "Hook and Roll," Scott said it may take him another year to graduate, but he said didn't mind being deployed.
Sgt. Varnessa Tisdale of Pawley's Island said, "It's been a good experience. We had our good times and our bad times. We learned a lot, and we made it through. We were very ready to get back here, and we made it."
According to Sgt. First Class Derryl Brown of Hollywood, although the members of the 414th all made it home safely, other companies who were joined with their unit had to stay in Iraq longer than expected.
"The 414th unit was split up in four different ways with Kansas, Indiana (and North Carolina). This unit is pretty stretched out. Some of our people in the 846th got extended at the last minute and may be over there for another four months," Brown said.
He added, "It is sure that the Reserves are a good asset to the regular Army."
#pu-email-form-daily-email-article { clear: both; background-color: #fff; color: #222; background-position: bottom; background-repeat: no-repeat; padding: 15px 20px; margin-bottom: 40px; border-top: 4px solid rgba(0,0,0,.8); border-bottom: 1px solid rgba(0,0,0,.2); display: none; } #pu-email-form-daily-email-article, #pu-email-form-daily-email-article p { font-family: -apple-system, BlinkMacSystemFont, "Segoe UI", Helvetica, Arial, sans-serif, "Apple Color Emoji", "Segoe UI Emoji", "Segoe UI Symbol"; } #pu-email-form-daily-email-article h1 { font-size: 24px; margin: 15px 0 5px 0; font-family: "serif-ds", Times, "Times New Roman", serif; } #pu-email-form-daily-email-article .lead { margin-bottom: 5px; } #pu-email-form-daily-email-article .email-desc { font-size: 16px; line-height: 20px; margin-bottom: 5px; opacity: 0.7; } #pu-email-form-daily-email-article form { padding: 10px 30px 5px 30px; } #pu-email-form-daily-email-article .disclaimer { opacity: 0.5; margin-bottom: 0; line-height: 100%; } #pu-email-form-daily-email-article .disclaimer a { color: #222; text-decoration: underline; } #pu-email-form-daily-email-article .email-hammer { border-bottom: 3px solid #222; opacity: .5; display: inline-block; padding: 0 10px 5px 10px; margin-bottom: -5px; font-size: 16px; } @media (max-width: 991px) { #pu-email-form-daily-email-article form { padding: 10px 0 5px 0; } }