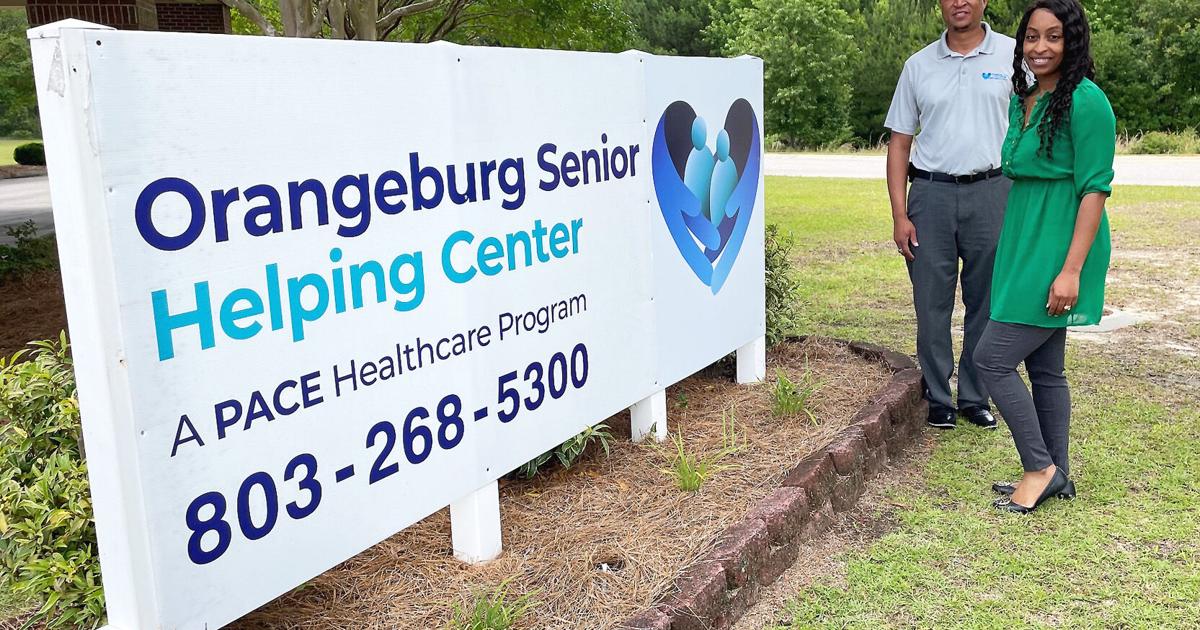 A one-stop shop that enables seniors to meet their social, physical and medicinal needs with the help of a professional, interdisciplinary team is under new ownership. The Program of All-Inclusive Care for the Elderly (PACE) center is still abiding by the same mission to provide reliable, all-encompassing care.
Community leaders converged upon 153 Founders Court in Orangeburg on May 30 for a ceremonial ribbon cutting and open house for the Orangeburg Senior Helping Center, A PACE Healthcare Program.
The 15,000-square-foot center became operational in February 2008 and had formerly been known as the Oaks PACE center.
Clay Fowler is the corporate manager of the Orangeburg Senior Helping Center – A PACE Healthcare Program LLC, which purchased the former OAKS Pace center from the former Methodist Oaks on March 1, 2022.
He said the change in ownership has been coupled with "a lot of new capability to the PACE center."
"The focus now is really reaching out into the communities we serve – Orangeburg, Bamberg and Calhoun counties – and trying to take care of the frail elderly to help them remain at home, but specifically narrowing the gap of health disparities in our population," Fowler said.
He continued, "We've rebranded. We've got a name that was come up with by our advisory board full of local community people. We designed our logo really as a way to express what we do.
"We've poured a lot of capital into fixing up the vehicles and the center. We have also brought in a new physician and really started investing in the staff in training and education of what PACE's goals are nationally."
The Orangeburg Senior Helping Center, a PACE health care program, is administered under the Centers for Medicare and Medicaid Service and the South Carolina Department of Human Services (Medicare Plan B).
The program is an optional benefit under CMS that focuses entirely on older people who are frail enough to meet state standards for nursing home care, yet continue to live at home.
Fowler said, "So really our focus is to reach out. There are 1,700 people in our three counties who by age, income and health status would be served by the PACE. We're trying to get the word out and reach as many of those people so that can learn about what we can do for them."
PACE participants must be at least 55 years old, live in the PACE service area and be certified as eligible for nursing home care. If a person is Medicaid-eligible or has Medicare or Medicaid, there is no cost. If the person is eligible for Medicare only, there is a fee, or they may become qualified for Medicaid. Individuals without Medicare or Medicaid may pay privately.
The PACE program becomes the sole source of payment for Medicare- and Medicaid-eligible enrollees.
Rep. Gilda Cobb-Hunter and Rep. Harry Ott were among those who turned out May 30 and took tours of the facility, which includes a health clinic with office space, three exam rooms and seven beds, along with an on-site primary care physician, physical and occupational therapy facilities, and at least one common room for social and recreational activities.
Allie Kornegay, center operations director, said, "We also have the ability to provide speech therapy services. We also have a quiet room."
The quiet room, which includes recliners, are for residents "who may need a break from stimulation due to dementia or Alzheimer's," Fowler said.
A small courtyard, a food-preparation area, a family conference room where care plans will be discussed with participants and their families are all also included at the center.
Rob Williams Sr., the center's executive director, said, "We have a contractual agreement with local providers, specialists like orthopedists, gynecology, podiatry, dental, that we don't offer in-house. We also have a contract with MUSC Health Orangeburg and their providers, as well as Prisma Health and their providers."
He continued, "We also have a contract with a mobile dental clinic that comes on site and provides dental service for our participants, along with optometry services that come on site.
"We also have a partnership with Calhoun County (EMS) community paramedics program that takes referrals from our particular program. For those that live in Calhoun County, they're another arm of service that assists us to keep our eye on participants to make sure that they're safe."
Williams said the center also provides transportation for individuals to and from the center.
"We have big buses which are both for ambulatory people, as well as those needing wheelchairs. We also have an SUV that we utilize to transport participants to and from the center and to and from specialist appointments. We contract with some local stretcher transport services," he said.
Kornegay said, "We've also got pharmacy services, as well. We contract with Grove Park and Orangeburg Cut Rate. … So we're able to fill medications that are ordered through our primary care physician and fill those prescriptions for those participants.
"With our transportation services, we're also able to provide them with the medication, as well. Some family members are unable to get to the pharmacy in time. Sometimes they work and can't get there before they close. So our transportation team also delivers medications to some participants' homes, and we also have them available here at the center if a family would opt to pick them up."
She continued, "We also provide therapy services. We've got our registered dietician on staff as well, who kind of helps meet those social, emotional and physical well-being needs of the participants."
Williams said, "I think it's important to know that there are only 152 PACE programs in 32 states and the District of Columbia."
Fowler said there are currently 67, 000 Medicare beneficiaries enrolled in the program nationwide.
Williams said, "So a type of service like this which can really help narrow that gap of health disparities in our communities is very underutilized. I do think that this is a program that people should really know about and understand what services we can provide for their loved ones."
Kornegay said, "I also think a lot of the services that we provide help aid in that caregiver burnout. We try to decrease that as much as possible. As long as it's approved, we can also help to provide respite. I think that one of the most precious things that we can do for a family member is allow them to live their life, as well."
St. Matthews resident Mary Ott, whose mother, Irene, attends the center, said she appreciates the program services.
"I think it's a great opportunity. Her health is taken care of. That's the important part. Her needs are met, and they provide a wonderful service. I have nothing to complain about," Ott said.
"I didn't like leaving her at home. … They're growing and coming up with some things," she said.
Irene said, "I've seen more things … than I've ever seen before. It's really been a change. I enjoy it. I'm just bored, but I like being here because I feel safe and I feel comfortable."
Fowler said the end goal is to provide a continuum of care with an expanded mission to reach out more within the service area.
"We have a lot of resources in the center, and we are engaging with other PACE organizations across the country through the national PACE association to learn what the best practices are so that we can bring them to Orangeburg," he said.
#lee-rev-content { margin:0 -5px; } #lee-rev-content h3 { font-family: inherit!important; font-weight: 700!important; border-left: 8px solid var(–lee-blox-link-color); text-indent: 7px; font-size: 24px!important; line-height: 24px; } #lee-rev-content .rc-provider { font-family: inherit!important; } #lee-rev-content h4 { line-height: 24px!important; font-family: "serif-ds",Times,"Times New Roman",serif!important; margin-top: 10px!important; } @media (max-width: 991px) { #lee-rev-content h3 { font-size: 18px!important; line-height: 18px; } } #pu-email-form-daily-email-article { clear: both; background-color: #fff; color: #222; background-position: bottom; background-repeat: no-repeat; padding: 15px 0 20px; margin-bottom: 40px; border-top: 4px solid rgba(0,0,0,.8); border-bottom: 1px solid rgba(0,0,0,.2); display: none; } #pu-email-form-daily-email-article, #pu-email-form-daily-email-article p { font-family: -apple-system, BlinkMacSystemFont, "Segoe UI", Helvetica, Arial, sans-serif, "Apple Color Emoji", "Segoe UI Emoji", "Segoe UI Symbol"; } #pu-email-form-daily-email-article h2 { font-size: 24px; margin: 15px 0 5px 0; font-family: "serif-ds", Times, "Times New Roman", serif; } #pu-email-form-daily-email-article .lead { margin-bottom: 5px; } #pu-email-form-daily-email-article .email-desc { font-size: 16px; line-height: 20px; margin-bottom: 5px; opacity: 0.7; } #pu-email-form-daily-email-article form { padding: 10px 30px 5px 30px; } #pu-email-form-daily-email-article .disclaimer { opacity: 0.5; margin-bottom: 0; line-height: 100%; } #pu-email-form-daily-email-article .disclaimer a { color: #222; text-decoration: underline; } #pu-email-form-daily-email-article .email-hammer { border-bottom: 3px solid #222; opacity: .5; display: inline-block; padding: 0 10px 5px 10px; margin-bottom: -5px; font-size: 16px; } @media (max-width: 991px) { #pu-email-form-daily-email-article form { padding: 10px 0 5px 0; } } .grecaptcha-badge { visibility: hidden; }