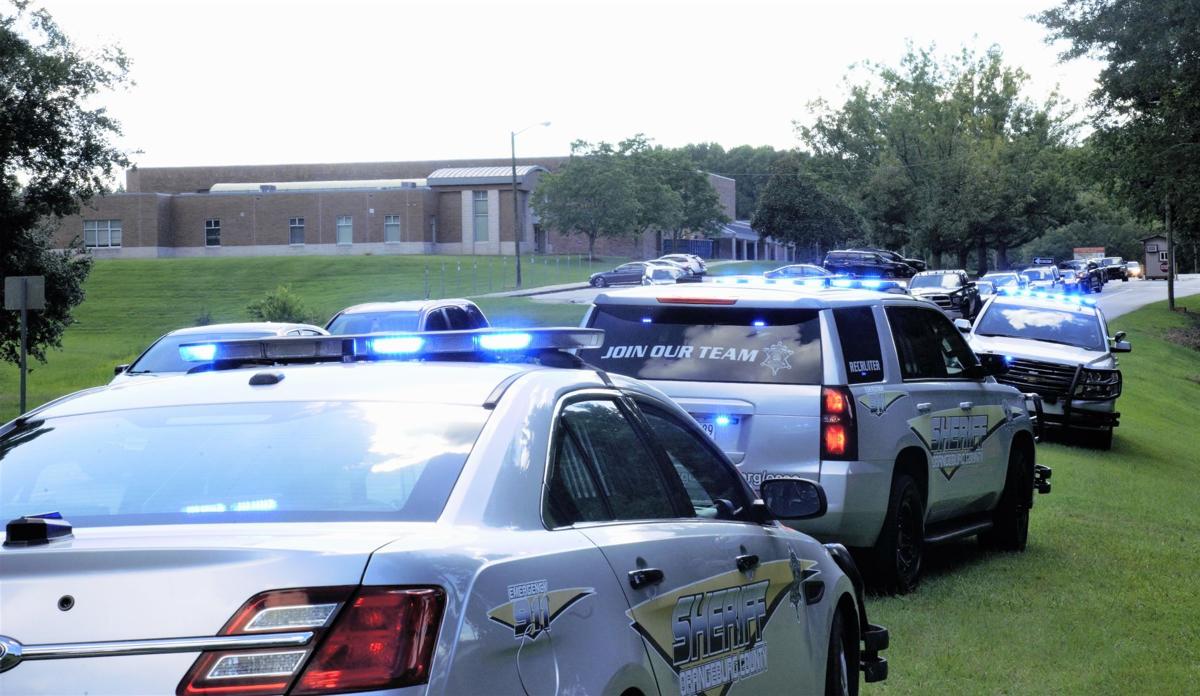 The Orangeburg County School District will beef up security at Orangeburg-Wilkinson High School for the remainder of the school year after a shooting incident left three students injured.
"We know that teachers can't teach and students can't learn when they are scared. Therefore this type of activity will not be tolerated on any our campuses," OCSD Superintendent Dr. Shawn Foster said during a Thursday press conference.
Students are set to return to the high school on Monday, but there will be changes.
"There will be an increased police presence," Foster said. "There will be additional security there. That just will not be for a few days. Some additional security staff will be there for the remainder of the entire school year."
"We made some adjustments to how the school day will function," Foster continued.
Details of the specific adjustments or security measures were not immediately revealed. The district said more information will be provided Friday.
The school district currently has metal detectors at athletic events but not at the schools.
Foster said the district's decision to beef up security at O-W was made after consultation with school administrators, law enforcement, faculty and staff.
When asked if other security measures are being taken at other schools in the district, Foster said immediate security measures are being taken at O-W.
"Right now we are focusing on O-W," Foster said. "They are the ones who need our attention right now."
When asked if the district as a whole is safe, Foster simply said, "Yes."
Foster added that his child was also at O-W when the shooting happened. He said he is sending his child back to school, noting he is confident the measures taken will make for a safe campus.
"We are exploring with law enforcement other measures that can be implemented to create the safest possible teaching and learning environment," Foster said.
Ensuring the health and safety of students, and providing a high-quality education, remain the district's top priorities, Foster said.
Some parents and guardians have said they want their children to have the opportunity to return to virtual learning following the incident.
Foster said the district can't admit more students into its virtual learning program due to a state budget proviso capping districts' online learning programs at 5% of the student body. The district would face financial penalties for exceeding that amount.
Foster said the district continues to help with the shooting investigation.
"Collectively our teams are working around the clock," Foster said.
The shooting incident occurred around 4 p.m. Wednesday during the school's dismissal period. There were 308 students and more than 100 teachers and staff on campus, Foster said.
A 14-year-old suspect was taken into custody. Orangeburg County Sheriff Leroy Ravenell said officials will seek to charge the 14-year-old as an adult.
Authorities did not provide additional information on the condition of the three students who were injured. They were initially said to be in stable condition with non-life threatening injuries.
Foster says the district is providing counseling services and will continue to do so for as long as needed. He is hoping students, teachers and families will also seek comfort in each other.
He praised the response of law enforcement and other agencies "who came to the rescue of our children."
Foster also said teachers and administrators at the district have received active shooter and "stop the bleed" training. Their training prevented others from being injured in the incident, he said.
If anyone has information about the shooting incident, they are asked to call Crimestoppers at 1-888-CRIME-SC. Callers don't have to give their names.
#pu-email-form-daily-email-article { clear: both; background-color: #fff; color: #222; background-position: bottom; background-repeat: no-repeat; padding: 15px 20px; margin-bottom: 40px; border-top: 4px solid rgba(0,0,0,.8); border-bottom: 1px solid rgba(0,0,0,.2); display: none; } #pu-email-form-daily-email-article, #pu-email-form-daily-email-article p { font-family: -apple-system, BlinkMacSystemFont, "Segoe UI", Helvetica, Arial, sans-serif, "Apple Color Emoji", "Segoe UI Emoji", "Segoe UI Symbol"; } #pu-email-form-daily-email-article h1 { font-size: 24px; margin: 15px 0 5px 0; font-family: "serif-ds", Times, "Times New Roman", serif; } #pu-email-form-daily-email-article .lead { margin-bottom: 5px; } #pu-email-form-daily-email-article .email-desc { font-size: 16px; line-height: 20px; margin-bottom: 5px; opacity: 0.7; } #pu-email-form-daily-email-article form { padding: 10px 30px 5px 30px; } #pu-email-form-daily-email-article .disclaimer { opacity: 0.5; margin-bottom: 0; line-height: 100%; } #pu-email-form-daily-email-article .disclaimer a { color: #222; text-decoration: underline; } #pu-email-form-daily-email-article .email-hammer { border-bottom: 3px solid #222; opacity: .5; display: inline-block; padding: 0 10px 5px 10px; margin-bottom: -5px; font-size: 16px; } @media (max-width: 991px) { #pu-email-form-daily-email-article form { padding: 10px 0 5px 0; } }