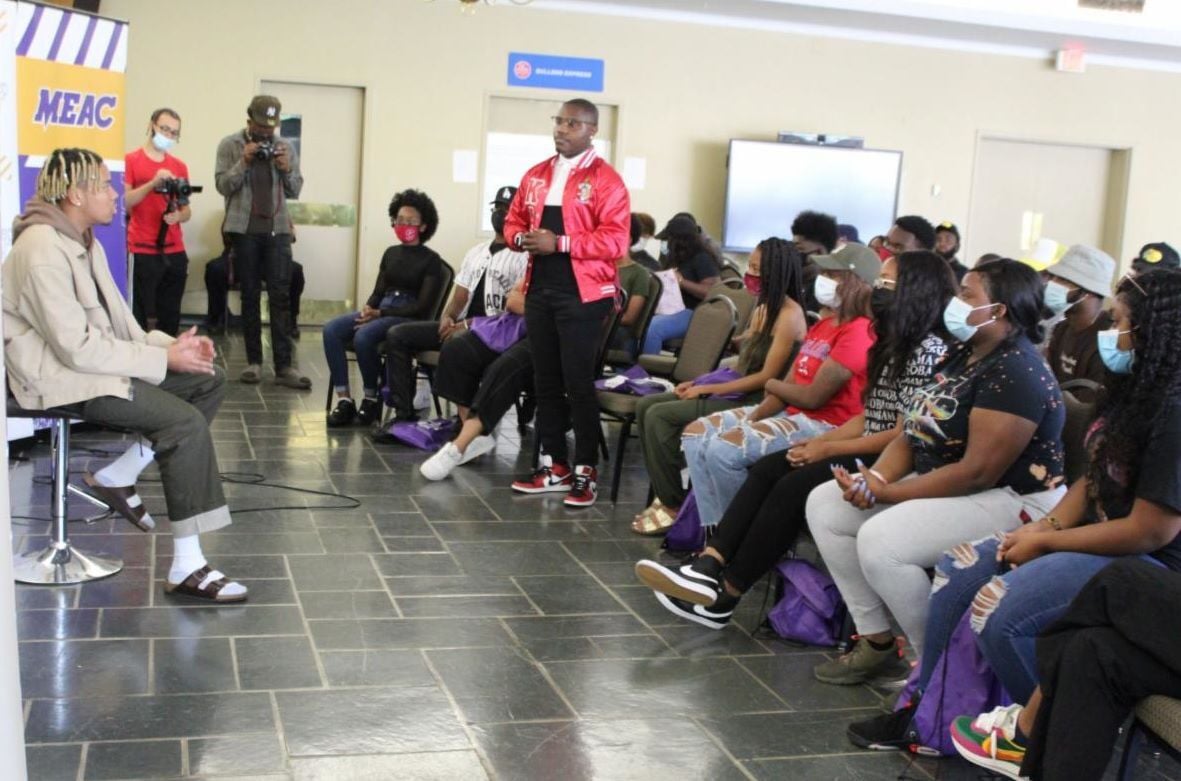 Grammy award-nominated rapper Cordae wrapped up his HBCU campus takeover, "Kickin' it with Cordae," last week in South Carolina State University's Bulldog Lounge.
The campus takeover, presented by Coca-Cola and Cxmmunity, was conducted among the Mid-Eastern Athletic Conference's (MEAC) eight member institutions from Sept. 14-21. As a part of the takeover, Cordae also partnered with each campus's Esports program.
"Cordae had this idea that he wanted to be connected with HBCUs and play his unreleased music as he gets ready to drop it. So, his manager reached out to me and I said, 'great'," said Sonja Stills, chief of staff, chief operating officer and director of Esports for MEAC. "This was also a great opportunity for the MEAC to promote Esports and their programs at these campuses."
At Tuesday's event, S.C. State students got an exclusive peek at some of Cordae's new music from his upcoming album, "From a Bird's Eye View", and engaged in conversations about important topics. Because of the partnership with the Esports program, they also had an opportunity to play NBA2K against Cordae in a session called "Gaming, Music and Conversations with Cordae."
MEAC added Esports to its arsenal through a partnership with Blaze Fire Games. Online tournaments are hosted through Blaze Fire Games, and participants battle against each other in games such as Rocket League, NBA2K, Madden and Super Smash Bros. Esports virtual learning opportunities also are available to all MEAC member institutions.
"This was a great collaboration – to have music and gaming, and also a great way for students to have a conversation and learn about Cordae," Stills said. "Talking with Cordae – he's very multifaceted, so the types of questions they're asking are very intuitive to sustaining their future and leading a legacy."
During the Q&A period, Cordae gave answers on how to be successful and taking advantage of opportunities. He encouraged students to do things like create a vision board and watch inspirational interviews and TED Talks for motivation.
"I get a lot of valuable information from the interviews I watch," Cordae said. "Everybody's path is different. So, it's important for you to focus on what you're doing and do your research on the things you truly want to do."
Cordae, 24, got his start with the rap group, YBN, and soon after branched out to pursue a solo rap career. He released his first album, "The Lost Boy," in 2019 and received a Grammy nomination for it in 2020.
Along with his passion for creating music, Cordae has an affinity for contributing to the success of HBCUs. Through his partnership with Disney's Dreamer Academy and UNCF, Cordae is offering scholarships to HBCU students. Two of those scholarships are designated for MEAC students.
#pu-email-form-daily-email-article { clear: both; background-color: #fff; color: #222; background-position: bottom; background-repeat: no-repeat; padding: 15px 20px; margin-bottom: 40px; border-top: 4px solid rgba(0,0,0,.8); border-bottom: 1px solid rgba(0,0,0,.2); display: none; } #pu-email-form-daily-email-article, #pu-email-form-daily-email-article p { font-family: -apple-system, BlinkMacSystemFont, "Segoe UI", Helvetica, Arial, sans-serif, "Apple Color Emoji", "Segoe UI Emoji", "Segoe UI Symbol"; } #pu-email-form-daily-email-article h1 { font-size: 24px; margin: 15px 0 5px 0; font-family: "serif-ds", Times, "Times New Roman", serif; } #pu-email-form-daily-email-article .lead { margin-bottom: 5px; } #pu-email-form-daily-email-article .email-desc { font-size: 16px; line-height: 20px; margin-bottom: 5px; opacity: 0.7; } #pu-email-form-daily-email-article form { padding: 10px 30px 5px 30px; } #pu-email-form-daily-email-article .disclaimer { opacity: 0.5; margin-bottom: 0; line-height: 100%; } #pu-email-form-daily-email-article .disclaimer a { color: #222; text-decoration: underline; } #pu-email-form-daily-email-article .email-hammer { border-bottom: 3px solid #222; opacity: .5; display: inline-block; padding: 0 10px 5px 10px; margin-bottom: -5px; font-size: 16px; } @media (max-width: 991px) { #pu-email-form-daily-email-article form { padding: 10px 0 5px 0; } }