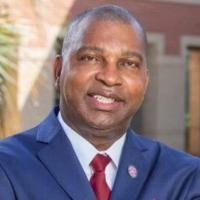 South Carolina State University trustees voted unanimously Wednesday to confer an honorary doctorate for the university's 13th president, Alexander Conyers.
"President Conyers has demonstrated his loyalty to South Carolina State University time and time again over the years as an active alumnus," Board of Trustees Chairman Douglas D. Gantt said. "His outstanding record in service to the U.S. Army and subsequently to the federal government warrants recognition at the highest level, as does his clear devotion to S.C. State."
Conyers, a 1989 S.C. State graduate who spent more than 30 years in military and federal service, remained intimately involved with S.C. State throughout his career.
"Throughout his pristine career in service to the nation, he never forgot about his beloved alma mater, having devoted his time and resources to uplifting the institution," Gantt said. "He shines bright in S.C. State's long history of producing leaders who achieve above and beyond expectations."
Conyers will receive a Doctor of Humane Letters on Friday, May 12, during the university's spring 2023 Commencement. He also will deliver the commencement address for the occasion.
The ceremony will get underway at 7 p.m. in Smith-Hammond-Middleton Memorial Center. Seating in SHM will be limited to S.C. State faculty and staff, members of the Class of 2023 and their guests. Graduating seniors have been allotted 10 tickets each for guests.
The university also will recognize members of the Golden Class of 1973 who are celebrating 50 years as S.C. State alumni.
#lee-rev-content { margin:0 -5px; } #lee-rev-content h3 { font-family: inherit!important; font-weight: 700!important; border-left: 8px solid var(–lee-blox-link-color); text-indent: 7px; font-size: 24px!important; line-height: 24px; } #lee-rev-content .rc-provider { font-family: inherit!important; } #lee-rev-content h4 { line-height: 24px!important; font-family: "serif-ds",Times,"Times New Roman",serif!important; margin-top: 10px!important; } @media (max-width: 991px) { #lee-rev-content h3 { font-size: 18px!important; line-height: 18px; } } #pu-email-form-daily-email-article { clear: both; background-color: #fff; color: #222; background-position: bottom; background-repeat: no-repeat; padding: 15px 0 20px; margin-bottom: 40px; border-top: 4px solid rgba(0,0,0,.8); border-bottom: 1px solid rgba(0,0,0,.2); display: none; } #pu-email-form-daily-email-article, #pu-email-form-daily-email-article p { font-family: -apple-system, BlinkMacSystemFont, "Segoe UI", Helvetica, Arial, sans-serif, "Apple Color Emoji", "Segoe UI Emoji", "Segoe UI Symbol"; } #pu-email-form-daily-email-article h2 { font-size: 24px; margin: 15px 0 5px 0; font-family: "serif-ds", Times, "Times New Roman", serif; } #pu-email-form-daily-email-article .lead { margin-bottom: 5px; } #pu-email-form-daily-email-article .email-desc { font-size: 16px; line-height: 20px; margin-bottom: 5px; opacity: 0.7; } #pu-email-form-daily-email-article form { padding: 10px 30px 5px 30px; } #pu-email-form-daily-email-article .disclaimer { opacity: 0.5; margin-bottom: 0; line-height: 100%; } #pu-email-form-daily-email-article .disclaimer a { color: #222; text-decoration: underline; } #pu-email-form-daily-email-article .email-hammer { border-bottom: 3px solid #222; opacity: .5; display: inline-block; padding: 0 10px 5px 10px; margin-bottom: -5px; font-size: 16px; } @media (max-width: 991px) { #pu-email-form-daily-email-article form { padding: 10px 0 5px 0; } } .grecaptcha-badge { visibility: hidden; }