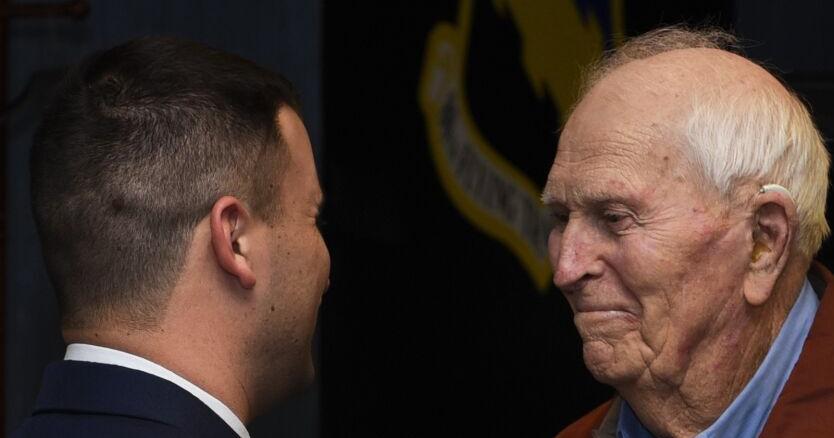 MCCONNELL AIR FORCE BASE, Kan. — Retired Capt. Joe Kenneth Jones, a 100-year-old World War II Army infantry veteran, will receive the National Order of the Legion of Honor on Nov. 11, 2023, at Memorial Field, Clemson University.
Joe Kenneth Jones, right, will be escorted on the field Saturday by his grandson and namesake, Master Sgt. Joe Furman Jones, 349th Air Refueli…
Joe Kenneth Jones will be escorted across the field by his grandson and namesake, Master Sgt. Joe Furman Jones, 349th Air Refueling Squadron aviation resource management operations flight chief, before Clemson's Military Appreciation Week game versus Georgia Tech.
"It just shows what kind of person he was and currently still is," said MSgt. Jones. "It's for the ones that didn't make it. That's what he always talks about, for the ones that didn't make it through."
Local news has never been this personal. Free to download. Subscribers enjoy unlimited access.
Then Lt. Jones matriculated into Clemson A&M College in September 1940, when Clemson was a military school. Most of the enrolled students were in the Enlisted Reserve. He received orders to report to Fort Jackson to be inducted on June 14, 1943. He went to basic training at Camp Croft near Spartanburg.
On June 14, 1944, he commissioned as a second lieutenant and got assigned to the 71st Infantry Division out of Camp Carson, Colorado. In December 1944, the 71st Infantry Division deployed to Le Harve, France, for combat training. After a few weeks of training, the division joined the 7th Army and was headed to Nancy, France. Lt. Jones was made the commanding officer of a weapons platoon of 36 soldiers.
He and his troops first entered into combat in Bitche, France. The 71st Infantry Division freed Gunskirken Lager, and Mauthausen, Austria, two of the Nazi's concentration camps, in April 1945. Lt. Jones stayed in Europe until June 1946 to assist displaced citizens, help keep order in Germany, arrest the remaining Nazis, transport prisoners, and continue training for combat with the Japanese. Just before he returned home, he was promoted to captain.
Capt. Jones graduated from Clemson in 1947 as a member of the Class of 1944. He served for 10 years in the U.S. Army Reserves before separating in 1953.
The National Order of the Legion of Honor is the highest French distinction. French citizens can obtain the Legion of Honor for good civil or military conduct. Recipients must have a clean criminal record and have served at least twenty years. Certain acts can get the service requirement waived. Foreigners can also receive the award if they have supported France, culturally or economically, or helped defend any of France's causes, such as human rights or humanitarian aid.
Anne-Laure Desjonquères, French Ministry for Europe and Foreign Affairs consul general of France in Atlanta, will present the medal to Joe Kenneth Jones before the start of the game.
"He's the reason I have been as successful as I have been in the Air Force," said Joe Furman Jones. "He's from the greatest generation and you can learn a lot from your past. He's smart, he's humble, and he's an example to live by."
#lee-rev-content { margin:0 -5px; } #lee-rev-content h3 { font-family: inherit!important; font-weight: 700!important; border-left: 8px solid var(–lee-blox-link-color); text-indent: 7px; font-size: 24px!important; line-height: 24px; } #lee-rev-content .rc-provider { font-family: inherit!important; } #lee-rev-content h4 { line-height: 24px!important; font-family: "serif-ds",Times,"Times New Roman",serif!important; margin-top: 10px!important; } @media (max-width: 991px) { #lee-rev-content h3 { font-size: 18px!important; line-height: 18px; } } #pu-email-form-daily-email-article { clear: both; background-color: #fff; color: #222; background-position: bottom; background-repeat: no-repeat; padding: 15px 0 20px; margin-bottom: 40px; border-top: 4px solid rgba(0,0,0,.8); border-bottom: 1px solid rgba(0,0,0,.2); display: none; } #pu-email-form-daily-email-article, #pu-email-form-daily-email-article p { font-family: -apple-system, BlinkMacSystemFont, "Segoe UI", Helvetica, Arial, sans-serif, "Apple Color Emoji", "Segoe UI Emoji", "Segoe UI Symbol"; } #pu-email-form-daily-email-article h2 { font-size: 24px; margin: 15px 0 5px 0; font-family: "serif-ds", Times, "Times New Roman", serif; } #pu-email-form-daily-email-article .lead { margin-bottom: 5px; } #pu-email-form-daily-email-article .email-desc { font-size: 16px; line-height: 20px; margin-bottom: 5px; opacity: 0.7; } #pu-email-form-daily-email-article form { padding: 10px 30px 5px 30px; } #pu-email-form-daily-email-article .disclaimer { opacity: 0.5; margin-bottom: 0; line-height: 100%; } #pu-email-form-daily-email-article .disclaimer a { color: #222; text-decoration: underline; } #pu-email-form-daily-email-article .email-hammer { border-bottom: 3px solid #222; opacity: .5; display: inline-block; padding: 0 10px 5px 10px; margin-bottom: -5px; font-size: 16px; } @media (max-width: 991px) { #pu-email-form-daily-email-article form { padding: 10px 0 5px 0; } } .grecaptcha-badge { visibility: hidden; }