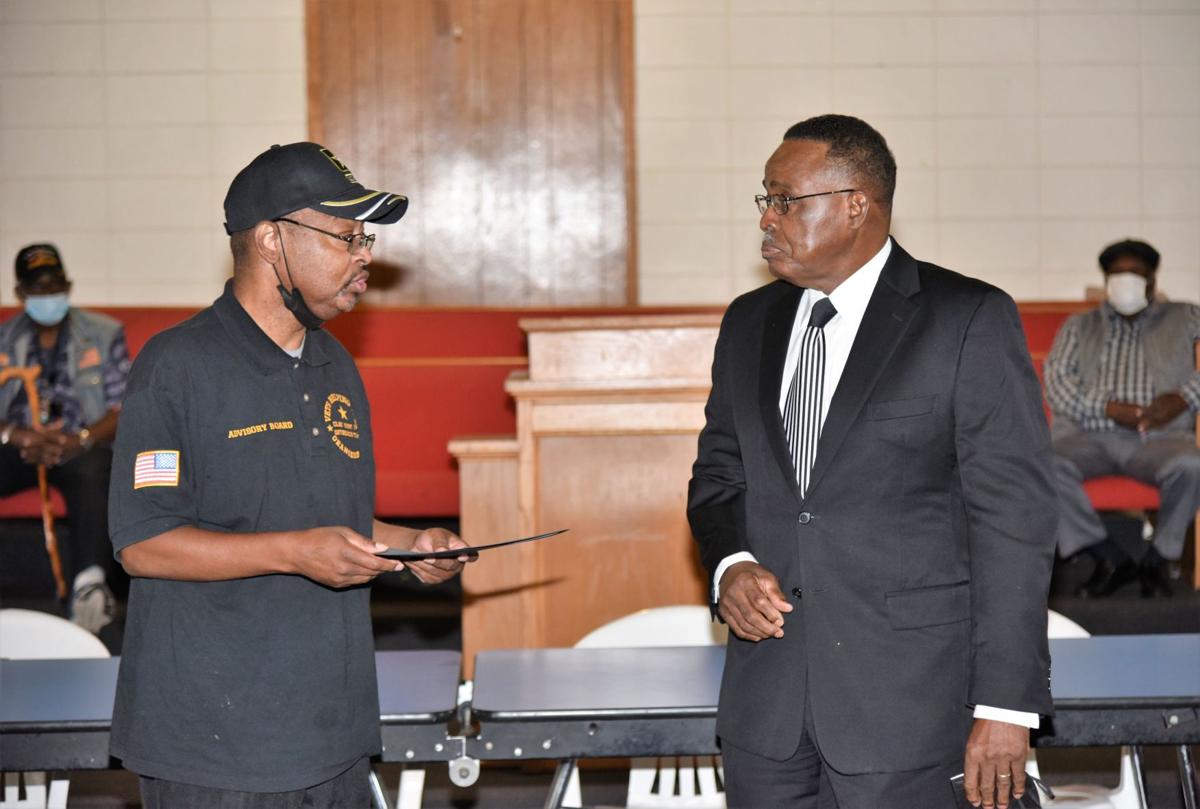 "Also I heard the voice of the Lord, saying, 'Whom shall I send, and who will go for us?' Then said I, 'Here am I; send me.'" – Isaiah 6:8.
Veterans could use Isaiah 6:8 as their testimony of service and sacrifice. The featured speaker at a ceremony honoring veterans said their selfless dedication to duty makes them all special and worthy of recognition.
"When the call came to man the forces, we all said, 'Here am I, send me,'" said retired U.S. Army Reserve Lt. Col. Broadus James Jamerson III.
Jamerson was the speaker at a veteran recognition program which the Orangeburg-based Vets Helping Vets organization held Wednesday morning at the Orangeburg Area Boys & Girls Club. They also held their annual luncheon.
"All of us have that pride of serving and protecting this great country. Ordinary people doing extraordinary things. All of us are proud to serve and place ourselves in harm's way," Jamerson said.
Jamerson said every branch of military service has a role to play in securing Americans' freedoms and way of life, with all vets displaying courage and perseverance in serving their country.
"It takes the collective group. … We need to tell our story. It's incumbent upon us to talk about our experience in the military. … It sure gave me a new lease on life," Jamerson said.
"If we don't share it, how can we expect anybody else to appreciate it?" he said.
The 77-year-old's father, U.S. Army Sgt. Broadus James Jamerson Jr., was posthumously inducted into the U.S. Army Chemical Corps Hall of Fame on June 22 at Fort Leonard Wood, Missouri.
He was one of seven soldiers who were on a secret mission to protect and maintain 125 tons of aerial mustard bombs when they came under an intense German aircraft attack in Bari Harbor, Italy, on Dec. 2, 1943. All ultimately perished following an explosion on the ship, which they did not abandon.
"That's definitely a personal story for me. There was not a question as to whether or not I was going to don the uniform," Jamerson said. He considered it a duty to serve his country.
He saluted the more than 20 veterans who gathered on Wednesday for their own personal service and sacrifice.
"It's not where you start in the beginning, it's how you end up that counts. … Let's keep pressing on," Jamerson said.
Vets Helping Vets is a veterans group that focuses on holistic care and support for veterans. The group has grown to 32 members and meets from 9 to 11:30 a.m. on the second Wednesday of each month at the Orangeburg Area Boys and Girls Club's Thomas B. Eklund Center at 1313 Cannon Bridge Road in Orangeburg.
Dr. Robert Johnson, who serves on the six-member advisory board, said, "We are an organization that helps each other."
Group members said they appreciate the work the organization does for them, as well as the message from Jamerson.
U.S. Army veteran Chris Baxter said it was very important to honor veterans on Veterans Day and every other day.
"It's very important because a lot of veterans went through a whole lot. A lot of them come back and can remember some things, and some things they can't remember. They've put up their life to fight for a cause for everybody to have a better way of life and to protect what is yours and ours," Baxter said.
"With the different types of things in this world today, we're fighting against an evil devil that will throw things all about and change things around. That's why it's very important to protect what belongs to us and our family members and keep going on," he said.
U.S. Army veteran McKinley Ransom Jr. said, "It doesn't matter what side you are, just as long as you're working together for one common goal. … We all need to be together to help one another. That's the goal of all life."
Ransom said he hopes people will display both unity and pride, along with appreciation for veterans, on Veterans Day.
"Veterans are always together, black or white. … The only way we can get this thing together is if we all stick together," Ransom said, noting that Vets Helping Vets helps promote both unity and awareness of resources veterans need to know about.
Roosevelt Fisher, a U.S. Army veteran who served in Vietnam and retired as a sergeant major in 1992, said veterans deserve recognition for the sacrifices they've made in serving the country.
"I just appreciate Veterans Day. I heard about veterans when I was a kid growing up, and it came to light when I retired and I became a vet. It feels good to be a veteran," he said.
Fisher said being a part of Vets Helping Vets allows him to do what he enjoys best.
"It really doesn't have to be vets. … I just like helping people," he said.
#pu-email-form-daily-email-article { clear: both; background-color: #fff; color: #222; background-position: bottom; background-repeat: no-repeat; padding: 15px 20px; margin-bottom: 40px; border-top: 4px solid rgba(0,0,0,.8); border-bottom: 1px solid rgba(0,0,0,.2); display: none; } #pu-email-form-daily-email-article, #pu-email-form-daily-email-article p { font-family: -apple-system, BlinkMacSystemFont, "Segoe UI", Helvetica, Arial, sans-serif, "Apple Color Emoji", "Segoe UI Emoji", "Segoe UI Symbol"; } #pu-email-form-daily-email-article h1 { font-size: 24px; margin: 15px 0 5px 0; font-family: "serif-ds", Times, "Times New Roman", serif; } #pu-email-form-daily-email-article .lead { margin-bottom: 5px; } #pu-email-form-daily-email-article .email-desc { font-size: 16px; line-height: 20px; margin-bottom: 5px; opacity: 0.7; } #pu-email-form-daily-email-article form { padding: 10px 30px 5px 30px; } #pu-email-form-daily-email-article .disclaimer { opacity: 0.5; margin-bottom: 0; line-height: 100%; } #pu-email-form-daily-email-article .disclaimer a { color: #222; text-decoration: underline; } #pu-email-form-daily-email-article .email-hammer { border-bottom: 3px solid #222; opacity: .5; display: inline-block; padding: 0 10px 5px 10px; margin-bottom: -5px; font-size: 16px; } @media (max-width: 991px) { #pu-email-form-daily-email-article form { padding: 10px 0 5px 0; } }