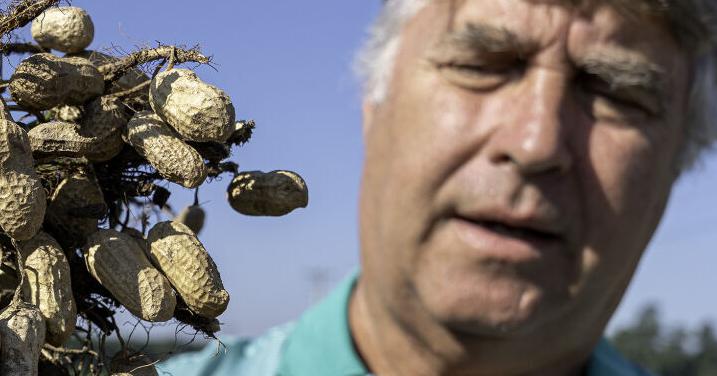 It's a journey that started, some say, more than 4,000 years ago.
Its voyages carried it through exotic locations in South America, Europe, Asia, Africa and North America, where it was exalted by some and vilified by others.
Monty Rast displays a peanut plant at Rast Farms near St. Matthews and explains how peanuts grow stronger and healthier when they're exposed t…
It was a companion to explorers, a sacrifice and spirit guide entombed with Incan mummies, a source of nourishment and strength for soldiers and, it's rumored, a fellow traveler that rocketed above the atmosphere with Astronaut Alan Shepard.
In a nutshell, this is the story of the humble peanut, the ground pea, the goober (derived from the African word "nguba") and, to Mr. Shepard, the "astro-nut."
The long-ago history of the peanut plant takes it around the world. According to numerous sources, the peanut makes its way to the United States from Mexico, South America or Central America, and from Africa via ships carrying enslaved people.
At Cross Generating Station, Adam Mims, Santee Cooper senior environmental specialist, examines gypsum that is slated for agricultural use.
According to the National Peanut Board, it wasn't until the early 1800s that peanuts were grown as a commercial crop in the United States and were regarded as food for poor people and livestock. They gained popularity during and after the Civil War when soldiers boiled and ate them for nourishment, enjoying them enough to take them home.
Gypsum is spread on young peanut plants to help them grow stronger and produce higher yields
Their popularity took off in the late 1800s when hawkers peddling "hot roasted peanuts!" sold them to salivating crowds alongside the wonders of PT Barnum's circus. Roasted peanuts then took to the streets, quickly becoming regular curbside fare. They also found their way into sports as a fan favorite and the ubiquitous salty snack during America's Favorite Pastime, the baseball game.
The real amp in production, though, came around 1900 when newly invented equipment made planting, cultivating, harvesting, picking and shelling more efficient.
The time had come for the minute peanut to be a mighty agricultural crop in the South, and this position was reinforced when the boll weevil decimated farmers' cotton crops in the early 1900s. Also helping solidify its importance, in 1916, George Washington Carver published "How to Grow the Peanut and 105 Ways of Preparing it for Human Consumption." (Carver, in fact, ended up developing more than 300 new uses for the peanut.)
While the importance of the peanut as a crop may not be part of regular dinner party conversation, it currently holds a special place in the South, including the South Carolina farming industry.
Gypsum-peanut connection
Peanut plants are good for farmed soil because they are nitrogen fixing, meaning they take nitrogen from the air and use it as food to help the plant grow, which replenishes the soil. But peanuts sometimes need a little extra love themselves in the way of nutrients – specifically calcium and sulfur. That's where Santee Cooper joins as an important player in the story of the modern South Carolina peanut.
"While coal keeps electricity flowing to our customers, it also produces byproducts, including gypsum. Santee Cooper believes it's important for us to do what we can to keep byproducts out of landfills. Our goal is to use those byproducts in a safe, environmentally responsible, and beneficial way," said Adam Mims, Santee Cooper senior environmental specialist.
"Beneficial use opportunities were evaluated for gypsum, and we discovered gypsum located in our ponds could be utilized for agriculture and cement."
In 2015, new environmental regulations were proposed, and later codified, that would impact how Santee Cooper stored and managed byproducts like gypsum. This triggered the utility to evaluate not only how byproducts were stored but also how they could be removed from ponds for beneficial use.
Santee Cooper evaluated the standards set by the U.S. Environmental Protection Agency (EPA) and U.S. Department of Agriculture (USDA) to ensure that any gypsum used for agricultural applications was safe and acceptable. The utility then worked with Clemson University's Department of Plant Industry and South Carolina Department of Health and Environmental Control (DHEC) Bureau of Solid Waste to receive approval to register and license the gypsum as a "landplaster" product for use in agriculture.
The process of making gypsum suitable for agricultural use takes the talents and know-how of team members working in Santee Cooper power stations, labs and environmental departments. These experts use limestone to chemically convert sulfur dioxide (SO2), a byproduct of burning coal, into calcium sulfite through a process called flue gas desulfurization. The limestone is converted to slurry, where it can be sprayed into an enclosed vessel as the flue gas and sulfur dioxide are passing through.
Additional air is injected into the system to chemically convert calcium sulfite, a process called forced oxidation, to calcium sulfate, which is also known as gypsum. Gypsum is then slated for beneficial use in wallboard or stored in the power plant's ponds. Before it's transported to farms, gypsum is recovered from the ponds, moisture is reduced and managed, and testing takes place.
Mims said the gypsum used for agricultural products specifically comes from Cross Generating Station, and Santee Cooper is the only utility in the state currently beneficially reusing gypsum for agriculture.
Power plants to peanut plants
Although Santee Cooper found it can produce high-quality gypsum, the utility needed to gain farmers' trust and find a way to sell and transport gypsum to South Carolina's farmers.
That's where Monty Rast and Cameron Ag Products comes in.
Rast has decades of experience in agriculture. When talking with him, his passion for the farming community and commitment to doing what's right for the environment and the state is unmistakable.
Rast understood gypsum could produce stronger crops with higher yields, and his conversations with Santee Cooper are one reason the utility seized the opportunity in 2015. Working closely with Santee Cooper, he tested gypsum on his crops and made sure his farm machinery could handle it. More than satisfied with the results, he advocated the benefits to his friends and neighbors in the agricultural community.
Rast believed in Santee Cooper gypsum enough to bid, through the utility's procurement process, to be the seller and distributor. That means Rast and his partner, Robert Johnson, at Cameron Ag Products play a crucial role in gypsum's supply chain from the power plant to the peanut plant. Cameron Ag also transports other coal combustion byproducts to places like cement plants, which helps keep those byproducts out of landfills.
"Cameron Ag takes the waste products we get from power plants and makes beneficial use of them," said Rast. "Whether we take gypsum to make cement or offer it to agriculture to enhance peanuts, or whether we take ash and send it to cement plants to use as fillers, we load and unload those products for beneficial use so they avoid going into landfills.
"And that's beneficial to the entire community and the state," he said.
Rast explained that peanuts, in particular, grow stronger and healthier when they're exposed to high-quality gypsum, and that cotton yields are much higher when they follow peanuts in field rotation. Rast Farms had around 500 acres of peanut plants in 2022, and he said it's crucial to add gypsum to the soil in the early stages of plant growth (around 35 days after planting) to help promote pod and nut development.
"The nut grows on what's called a 'peg' and the calcium goes through the shell to benefit nut development," he explained. "The calcium, which needs to be in the pegging zone or top 1/3rd of the soil, allows the nut to form in the shell. Full nut development increases yield and quality."
Once the peanut plant is ready to be harvested, a piece of machinery called a peanut inverter or "digger" gently pulls the plants out of the ground, turning them 180 degrees upside down so the shells can dry.
In a field at Rast Farms, Rast wrapped his hands around the stems of a Virginia-type peanut plant that was soaking up the sun. He listened while he shook it and dirt wafted back to the field.
"Do you hear them rattling?" he asked. "When we harvest them, we expose them to the sun so they can dry. They're ready when they rattle."
The peanuts are then harvested with a peanut combine and separated from the plants. If they're not dry enough – less than 10.49% moisture – the plants are trucked to the dryers at Carolina Peanut before going through an independent sorting and grading process.
Brian Wiggins with the Georgia Federal State Inspection Service oversees peanut grading after they're harvested, dried and weighed.
"After they weigh them in, they come to us. We have 'sample pullers' who probe every load that comes in, taking 15 samples per truck, and then take them to the cutdown station, where they're mechanically divided," Wiggins said.
He explained half of those divided then are sent to the grade room where foreign material, things like dirt or small rocks, are separated out before they're pre-sized, shelled and graded. Once they're graded, they can be sold to a buyer.
"Basically, we're the quality assurance," Wiggins said.
Peanut farmers in South Carolina typically grow Virginia-type and runner-type peanuts. Rast Farms sells their Virginia-type peanuts, which are larger than runners, for resale as select nuts and in-shell salted peanuts. Their runners, which are high-oleic nuts, are used in snacks such as Snickers and M&Ms.
Rast is just one of many who make the South Carolina peanut world 'go 'round.' According to the Virginia Carolinas Peanut Promotions organization, in 2021, South Carolina had 300 peanut farmers with 62,000 planted acres that produced 278 million pounds of peanuts. The organization's website states South Carolina farmers' average production is 3,400 pounds of peanuts per acre, or roughly 5% of the nation's peanut harvest annually.
Those are impressive numbers, and Santee Cooper is proud to play our part.
For Rast, it's a family tradition that's grown over the years.
Nicole Aiello is editor of PowerSource, a Santee Cooper utility magazine. This story is reprinted with permission.
#lee-rev-content { margin:0 -5px; } #lee-rev-content h3 { font-family: inherit!important; font-weight: 700!important; border-left: 8px solid var(–lee-blox-link-color); text-indent: 7px; font-size: 24px!important; line-height: 24px; } #lee-rev-content .rc-provider { font-family: inherit!important; } #lee-rev-content h4 { line-height: 24px!important; font-family: "serif-ds",Times,"Times New Roman",serif!important; margin-top: 10px!important; } @media (max-width: 991px) { #lee-rev-content h3 { font-size: 18px!important; line-height: 18px; } } #pu-email-form-business-email-article { clear: both; background-color: #fff; color: #222; background-position: bottom; background-repeat: no-repeat; padding: 15px 0 20px; margin-bottom: 40px; border-top: 4px solid rgba(0,0,0,.8); border-bottom: 1px solid rgba(0,0,0,.2); display: none; } #pu-email-form-business-email-article, #pu-email-form-business-email-article p { font-family: -apple-system, BlinkMacSystemFont, "Segoe UI", Helvetica, Arial, sans-serif, "Apple Color Emoji", "Segoe UI Emoji", "Segoe UI Symbol"; } #pu-email-form-business-email-article h2 { font-size: 24px; margin: 15px 0 5px 0; font-family: "serif-ds", Times, "Times New Roman", serif; } #pu-email-form-business-email-article .lead { margin-bottom: 5px; } #pu-email-form-business-email-article .email-desc { font-size: 16px; line-height: 20px; margin-bottom: 5px; opacity: 0.7; } #pu-email-form-business-email-article form { padding: 10px 30px 5px 30px; } #pu-email-form-business-email-article .disclaimer { opacity: 0.5; margin-bottom: 0; line-height: 100%; } #pu-email-form-business-email-article .disclaimer a { color: #222; text-decoration: underline; } #pu-email-form-business-email-article .email-hammer { border-bottom: 3px solid #222; opacity: .5; display: inline-block; padding: 0 10px 5px 10px; margin-bottom: -5px; font-size: 16px; } @media (max-width: 991px) { #pu-email-form-business-email-article form { padding: 10px 0 5px 0; } } .grecaptcha-badge { visibility: hidden; }