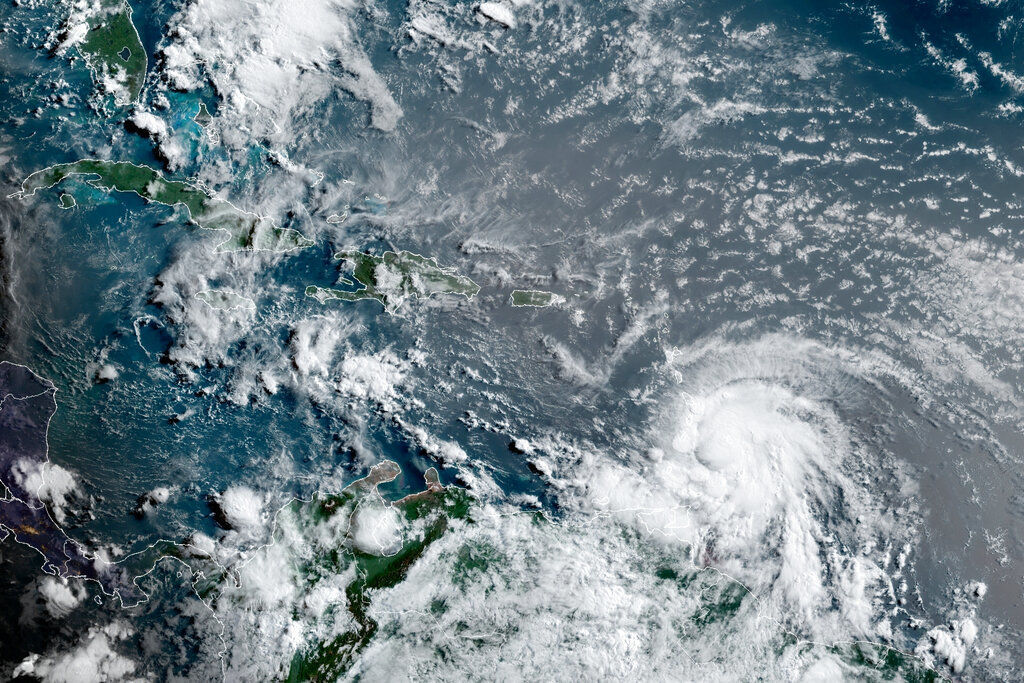 Sunshine and hot conditions will prevail in The T&D Region during the Fourth of July holiday. Meanwhile, forecasters are keeping an eye on a hurricane that may impact the area next week.
Saturday's high temperature is expected to be in the middle to upper 80s, with the high temperature for the Fourth forecast to be around 92 degrees.
High temperatures for Monday will be in the middle 90s. Sunny skies are forecast.
Moisture will increase Tuesday into Thursday with a chance of showers and thunderstorms forecast each day.
The wild card in the forecast is Hurricane Elsa, which strengthened into a Category 1 hurricane on Friday. A Category 1 storm has sustained winds of 74 mph to 95 mph.
The National Weather Service said Friday that it's too early to tell what, if any, impact Elsa could have on The T&D Region later next week.
Some weather models forecast the storm moving north toward Florida while others forecast the storm will dissipate.
Early forecasts have the storm retaining its strength before eventually decreasing to tropical storm status as it approaches Florida's west coast.
Preliminary forecasts have the storm making landfall in Florida as a tropical storm and then staying over the state and weakening to a minimal tropical storm.
There is a 5% to 20% chance the T&D Region could see winds reaching tropical storm force strength as early as Tuesday morning if Friday's storm track remains unchanged.
The South Carolina Emergency Management Division is monitoring the storm. Key local and state agencies have also been notified to be ready to respond if the need arises.
The SCEMD encourages everyone to monitor the storm via local news media and follow updates from the National Hurricane Center.
#pu-email-form-daily-email-article { clear: both; background-color: #fff; color: #222; background-position: bottom; background-repeat: no-repeat; padding: 15px 20px; margin-bottom: 40px; border-top: 4px solid rgba(0,0,0,.8); border-bottom: 1px solid rgba(0,0,0,.2); display: none; } #pu-email-form-daily-email-article, #pu-email-form-daily-email-article p { font-family: -apple-system, BlinkMacSystemFont, "Segoe UI", Helvetica, Arial, sans-serif, "Apple Color Emoji", "Segoe UI Emoji", "Segoe UI Symbol"; } #pu-email-form-daily-email-article h1 { font-size: 24px; margin: 15px 0 5px 0; font-family: "serif-ds", Times, "Times New Roman", serif; } #pu-email-form-daily-email-article .lead { margin-bottom: 5px; } #pu-email-form-daily-email-article .email-desc { font-size: 16px; line-height: 20px; margin-bottom: 5px; opacity: 0.7; } #pu-email-form-daily-email-article form { padding: 10px 30px 5px 30px; } #pu-email-form-daily-email-article .disclaimer { opacity: 0.5; margin-bottom: 0; line-height: 100%; } #pu-email-form-daily-email-article .disclaimer a { color: #222; text-decoration: underline; } #pu-email-form-daily-email-article .email-hammer { border-bottom: 3px solid #222; opacity: .5; display: inline-block; padding: 0 10px 5px 10px; margin-bottom: -5px; font-size: 16px; } @media (max-width: 991px) { #pu-email-form-daily-email-article form { padding: 10px 0 5px 0; } }