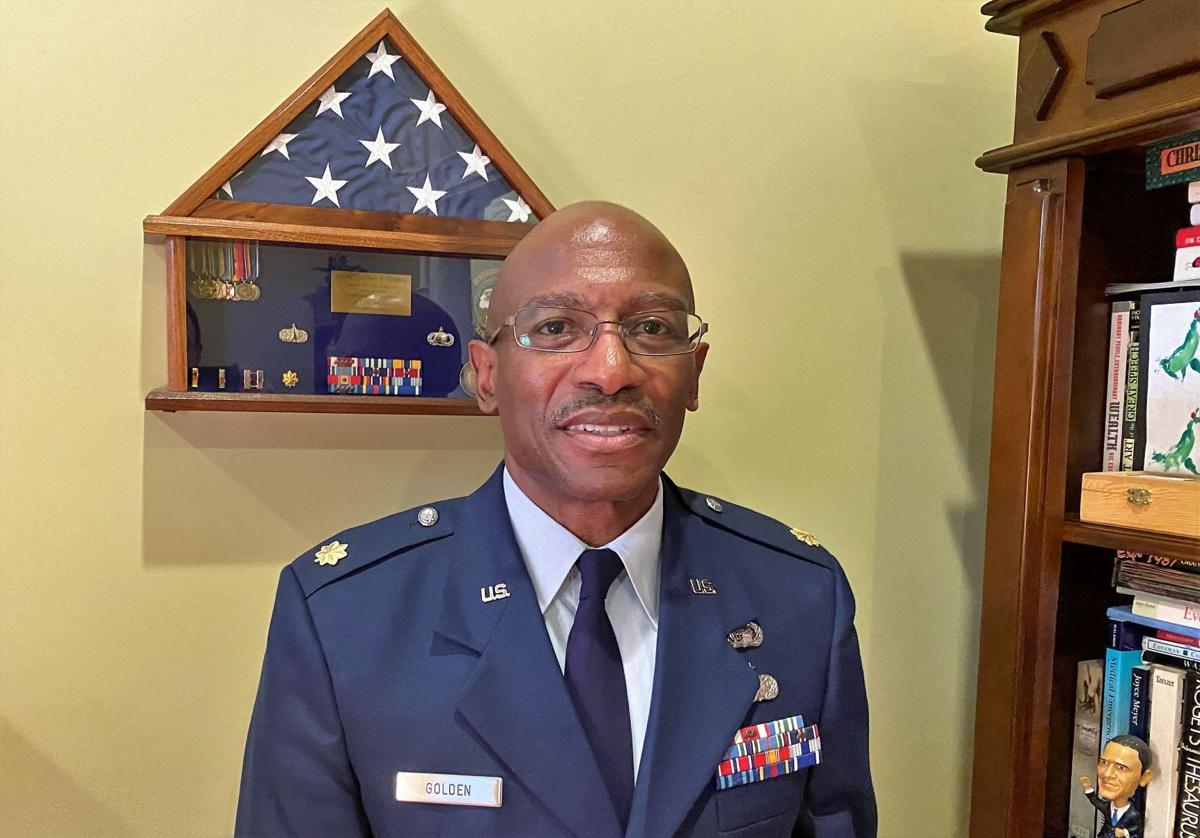 Retired Air Force Maj. Northan F. Golden didn't know much about the military growing up.
Most of the information he received came from what he saw in the movies.
Golden's father had enlisted in the U.S. Army Reserve in the 1960s, but that effort was quickly squashed.
Upon reporting to this assignment in the Upstate of South Carolina, he was told that there was no place for him as they did not have an integrated unit.
"They sent him home, told him not to return, but that he would still get full credit for his service obligation," Golden said.
So when Golden was first approached by his family dentist and U.S. Air Force Academy liaison officer, Maj. Amon Martin, about applying to the Air Force Academy, he did not give it much thought.
"My mind was set on going to Clemson and majoring in civil engineering," Golden said. "But something hit me over the Christmas holidays my senior year of high school. I decided to write to the Air Force Academy and my local congressman."
Two months later, Golden received an acceptance letter.
While attending the U.S. Air Force Academy, Golden was a standout track and field athlete competing in the long jump, triple jump and sprints. He broke several records and held the school's long jump record for two decades.
For his senior year, Golden was named captain and co-MVP of the track team.
Upon graduating from the academy, Golden went to pilot training at Reese Air Force Base in Lubbock, Texas.
"It was not for me," Golden recalled. "I was not very good at flying, although I did enjoy one particular maneuver.
"One of the first things they taught us was how to get out of a spin," he said. "We would fly to open space, intentionally put the plane in a 'death spiral,' then execute the recovery procedures."
"That was thrilling to me," he said. "However, I didn't do so well with the other aspects of flying."
As a result, after six months, the Air Force decided Golden would be better with his two feet on the ground and so he was reclassified as a scientific analyst.
Golden was then assigned to Los Angeles Air Force Base as an engineer and project manager in the NAVSTAR Global Positioning System Program Office.
There he worked as a systems engineer and helped to design and develop the first operational GPS satellite.
The 23-year old second lieutenant found himself placed in charge of a $50 million test and evaluation program.
"At that time, I couldn't believe the Air Force would entrust a 23-year old with that much responsibility," Golden said. "Fortunately, I was surrounded by an amazing team of scientists and engineers that gave me guidance and kept me on the right path."
Soon Golden would find out the complexities of the GPS system.
"In addition to its application as a navigation system, we were working with the private sector on dozens of other applications including ground surveying and redrawing world maps and predicting earthquakes," he said.
The GPS also had the most accurate clocks in the world, prompting AT&T wanting to use the system to synchronize telephones.
"This is the precursor to the digital cell phones and timekeeping systems we have today," Golden said.
Golden recalled being told by his supervisor back in 1988 that one day he would be able to punch an address into the system and be taken to the exact location.
"At that time, the general population knew very little about GPS, but we had many conversations in the late 1980s about how GPS would revolutionize the world," he said. "Everything we envisioned about GPS back then has come true."
In 1989, Golden had an opportunity to fly to Cape Canaveral and serve as the test director for the final systems test before launching the first operational GPS satellite.
The satellite was placed in a room and an antenna was secured on the roof of a building. The GPS receiver was then connected to the satellite.
"We sent signals from our master control station in Colorado to the satellite to ensure our receiver could process those signals," Golden said. "We wanted to detect any software bugs before launching the satellite into space."
Golden recalled the momentous occasion.
The United States Army was about to enter the first Gulf War and the Army made it known to senior leadership that GPS would be essential to their ability to fight the war.
"We accelerated the launch schedule to give the Army worldwide 3-D coverage," said Golden, who was a 26-year old captain at the time. "I was so excited to be given that level of responsibility. It is something I will never forget."
After leaving Los Angeles, Golden was assigned to Tyndall Air Force Base in Panama City, Florida. The air base was one of only two locations where pilots could practice firing air-to-air missiles at live targets.
Golden's job was to evaluate the effectiveness of the firings and prepare reports to pilots to help them practice and develop tactics for air-to-air combats.
Golden later left Florida and went to San Antonio, Texas, where he joined the Air Force Personnel Center (AFPC). He would be in charge of the assignment process for Air Force scientists.
Near the end of his time at the AFPC, Golden was made the executive officer for the Air Force's director of assignments. The new assignment gave Golden an opportunity for an overseas tour, which was unusual for scientists and engineers.
Golden was sent to Aviano Air Base in Italy. It was his first tour in an operational fighter wing.
"We were the only unit in the Air Force at that time to have an ongoing wartime mission," Golden said. That mission was to oversee the "no-fly zone," the U.S. had established for Iraq after defeating Saddam Hussein in the first Gulf War.
While there, Golden had an opportunity to command a personnel unit and saw another conflict erupt. This time, the conflict was in Serbia and the former republic of Yugoslavia.
Slobodan Milosevic, who was the president of Serbia at the time, was conducting a genocidal war against Bosnian people. The United States and NATO engaged in an air war over Serbia to end the genocide. Milosevic was eventually defeated and put on trial for criminal charges.
"I remember vividly at the start of that war when one of our F-16 pilots was shot down over Serbia," Golden said. "It was a tense night in the war room as we discussed how to rescue him."
Golden said the pilot was rescued.
Golden's unit won numerous awards during the campaign.
"Most notably, we were recognized twice as the best personnel unit in Europe and in 1999 won recognition as the best personnel unit in the entire Air Force," Golden said.
In the summer of 1999, Golden received a call from the Air Force Personnel Center asking him if he was interested in going to the Pentagon.
Accepting the offer, Golden was placed in charge of the Air Force's Officer Accessions Program. Golden's job was to oversee the Air Force's officer commissioning programs where he was tasked with establishing policies for the programs and serving as their representative in the budgeting process.
"This was an especially exciting role as there were numerous daily fires to put out, lots of congressional oversight and never enough resources," Golden said.
On his first day at the Pentagon, he was informed that the Air Force had a recruiting shortage and that he needed to organize a task force to solve the problem.
He did so to the point of receiving special recognition from the secretary of the Air Force and the Air Force chief of staff.
Among his successes was to get an increase in the ROTC stipend from $150 a month to $250 a month for the first-year cadets and $400 per month for senior cadets with the expectation that future stipends would increase with inflation.
The T&D Stories of Honor program is in its third year. The program accepts nominations of local veterans and active-duty military personne…
When he arrived to the program, the stipend had been the same for several decades.
Up until 2001, Golden had been involved in research, engineering and personnel and had not seen direct conflict.
That all changed on Sept. 11, 2001, when his world was invaded by a loud explosion.
A plane had crashed into the Pentagon as part of the concerted attacks by the terrorist group Al-Qaeda.
"My first reaction was that a plane had flown too low over the Pentagon causing a sonic boom," Golden said. "About 10 seconds later, sirens were going off in the building."
Over 20,000 people were working at the Pentagon at the time.
"It took us 30 minutes to exit the building, and when we did, there was total confusion," Golden said. "I was very fortunate that day. Many of my Army personnel colleagues perished, including the three-star general in charge of Army personnel and my Army counterpart, a retired colonel."
Golden, who had been dating his now wife Audrey at the time ended up asking her to marry him and she would soon leave Orangeburg and her work as a pediatric dentist and move to Virginia.
Golden took a job as an assistant professor and commandant of cadets for Howard University's ROTC program.
He then retired after having served from May 1986 to June 2006. During his tenure, Golden received a number of medals including five Meritorious Service Medals, joint service achievement medals as well as a medal for his NATO service.
Golden ended up relocating to Orangeburg to support his wife in her own dental practice.
"I really enjoyed my time in the Air Force," Golden said. "I initially joined just to see a different part of the country. I had no intent to stay for a full career."
Golden also never thought he would return to South Carolina.
"I truly believe this is the path that God intended for me," he said. "God sent me to see the world but sent Audrey to me with instructions to bring me back home."
Golden said being in the state has allowed him to be closer to family and has opened up an opportunity as a small business owner.
Though growing up in Seneca, Golden spent a lot of time in Orangeburg as a child.
His father is from St. Matthews and a graduate of Claflin University. His mother graduated from South Carolina State University.
Golden still has a number of relatives in both Orangeburg and Calhoun counties.
Today, Golden enjoys spending time with Audrey and his two boys as well as coaching track and field and participating in a number of community organizations.
#pu-email-form-daily-email-article { clear: both; background-color: #fff; color: #222; background-position: bottom; background-repeat: no-repeat; padding: 15px 20px; margin-bottom: 40px; border-top: 4px solid rgba(0,0,0,.8); border-bottom: 1px solid rgba(0,0,0,.2); display: none; } #pu-email-form-daily-email-article, #pu-email-form-daily-email-article p { font-family: -apple-system, BlinkMacSystemFont, "Segoe UI", Helvetica, Arial, sans-serif, "Apple Color Emoji", "Segoe UI Emoji", "Segoe UI Symbol"; } #pu-email-form-daily-email-article h1 { font-size: 24px; margin: 15px 0 5px 0; font-family: "serif-ds", Times, "Times New Roman", serif; } #pu-email-form-daily-email-article .lead { margin-bottom: 5px; } #pu-email-form-daily-email-article .email-desc { font-size: 16px; line-height: 20px; margin-bottom: 5px; opacity: 0.7; } #pu-email-form-daily-email-article form { padding: 10px 30px 5px 30px; } #pu-email-form-daily-email-article .disclaimer { opacity: 0.5; margin-bottom: 0; line-height: 100%; } #pu-email-form-daily-email-article .disclaimer a { color: #222; text-decoration: underline; } #pu-email-form-daily-email-article .email-hammer { border-bottom: 3px solid #222; opacity: .5; display: inline-block; padding: 0 10px 5px 10px; margin-bottom: -5px; font-size: 16px; } @media (max-width: 991px) { #pu-email-form-daily-email-article form { padding: 10px 0 5px 0; } }