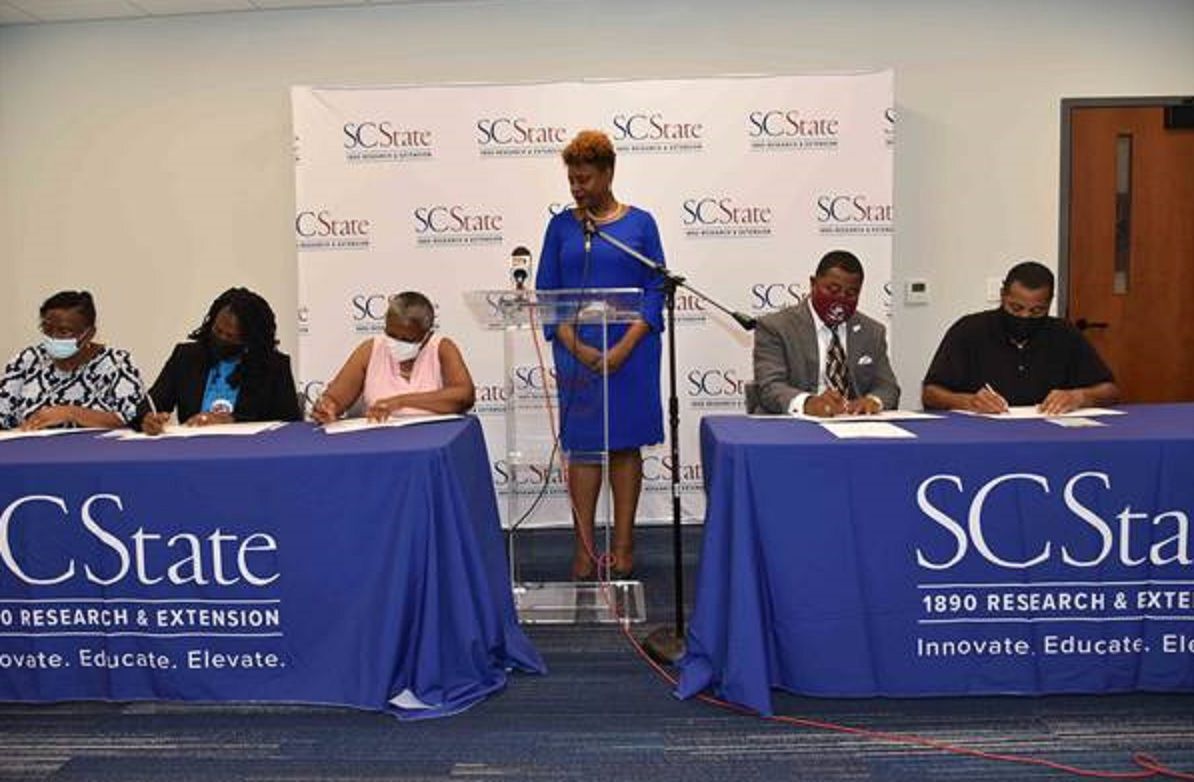 South Carolina State University 1890 Extension Midlands Region partnered with local childcare centers and after-school programs to sign a memorandum of agreement Wednesday, Aug. 18, that will leverage the power of technology in areas that lack resources and provide digital access to youth and families in vulnerable communities.
Access to technology has become a societal standard of living, and technology plays an important role in the advancement of communities on a global scale. As rural communities struggle to gain access to technological resources, SC State 1890 Extension's 4-H youth development program implemented the Computer Access Program, donating a total of 20 gently used desktop computers to three after-school programs and one child development center in Orangeburg and North, South Carolina.
"Initiatives like the Computer Access Program are needed now more than ever," said Demier Richardson-Sanders, state program leader for 4-H youth development.
"Having access to technology goes beyond being an essential tool for educational performance. Access to technology has the potential to elevate the economic standing of families and communities," she continued.
The Midlands region serves communities in Bamberg, Barnwell, Calhoun and Orangeburg counties. Through the partnerships, SC State 1890 Extension was able to deliver five computers, each equipped with Microsoft Office 2019 Pro and Avast Antivirus software, to four local centers to include: Bright Star Learning Center, Distinctive Learning, Greater Faith Baptist Church Child Development Center and the Orangeburg Area Boys and Girls Club.
"On behalf of all of the organizations, we would like to thank SC State 1890 for their generous support and for being that human resource to provide technological assistance to those in need," said Willie Booker, director and board member of the Orangeburg Area Boys and Girls Club.
"Those computers will enable our youth to use their skills and reach their dreams to become technological designers and operators in the future."
By donating computers to learning centers in rural areas, the Computer Access Program aims to bridge the digital divide and connect families to resources and opportunities to improve their quality of life and raise their standard of living.
"The Computer Access Program is one of several innovative means by which we will conquer this challenge. We aim to propel limited resource communities to a better standard of living within the state," said Dr. Louis Whitesides, vice president and executive director of SC State 1890 Research & Extension.
"When given access to the latest technologies, we have seen individuals that lack access to resources thrive. Students will be able to receive help with their homework, and family members will be able to apply for jobs. By working with other governmental agencies and other organizations, we will connect communities and support bringing broadband infrastructure to rural areas across the state."
#pu-email-form-daily-email-article { clear: both; background-color: #fff; color: #222; background-position: bottom; background-repeat: no-repeat; padding: 15px 20px; margin-bottom: 40px; border-top: 4px solid rgba(0,0,0,.8); border-bottom: 1px solid rgba(0,0,0,.2); display: none; } #pu-email-form-daily-email-article, #pu-email-form-daily-email-article p { font-family: -apple-system, BlinkMacSystemFont, "Segoe UI", Helvetica, Arial, sans-serif, "Apple Color Emoji", "Segoe UI Emoji", "Segoe UI Symbol"; } #pu-email-form-daily-email-article h1 { font-size: 24px; margin: 15px 0 5px 0; font-family: "serif-ds", Times, "Times New Roman", serif; } #pu-email-form-daily-email-article .lead { margin-bottom: 5px; } #pu-email-form-daily-email-article .email-desc { font-size: 16px; line-height: 20px; margin-bottom: 5px; opacity: 0.7; } #pu-email-form-daily-email-article form { padding: 10px 30px 5px 30px; } #pu-email-form-daily-email-article .disclaimer { opacity: 0.5; margin-bottom: 0; line-height: 100%; } #pu-email-form-daily-email-article .disclaimer a { color: #222; text-decoration: underline; } #pu-email-form-daily-email-article .email-hammer { border-bottom: 3px solid #222; opacity: .5; display: inline-block; padding: 0 10px 5px 10px; margin-bottom: -5px; font-size: 16px; } @media (max-width: 991px) { #pu-email-form-daily-email-article form { padding: 10px 0 5px 0; } }