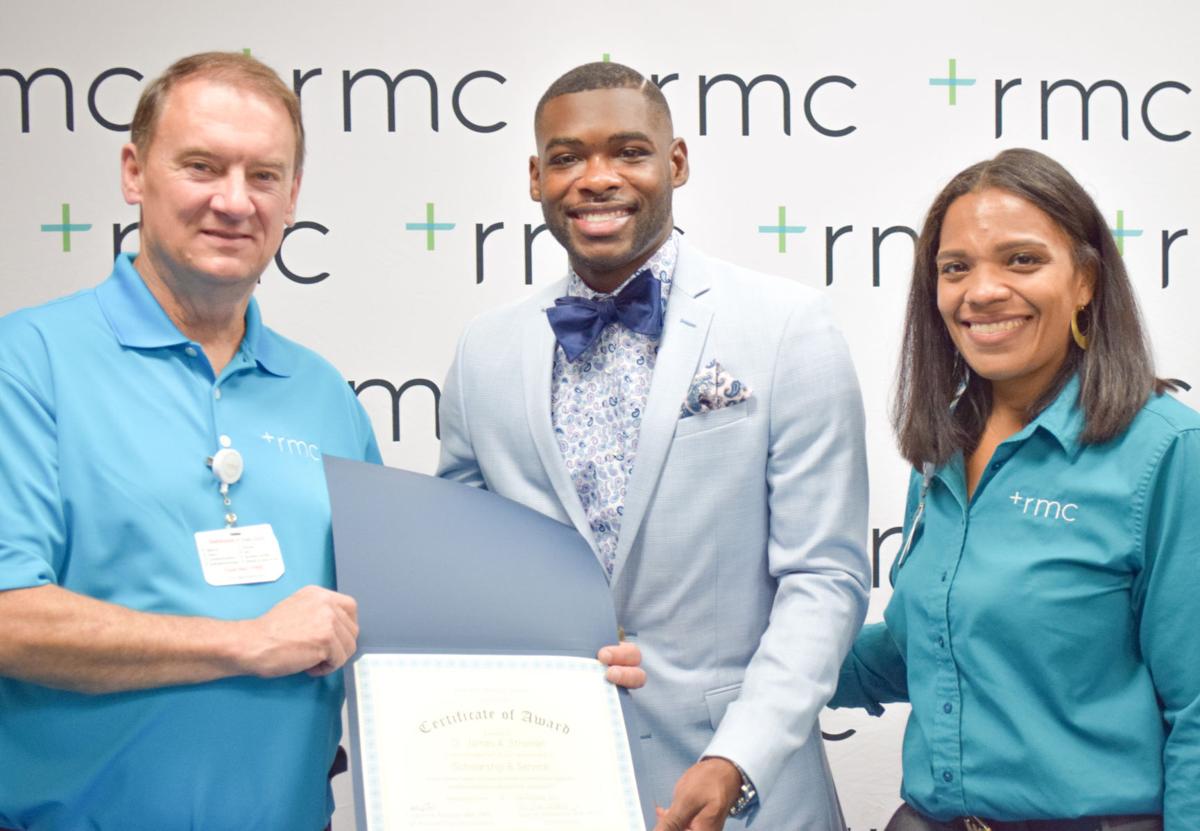 The Regional Medical Center is working to create a pipeline of physicians to provide medical care within the local community through its Residency Stipend Award Program.
The first recipient of the award, which the RMC Board of Trustees approved last year, is Dr. James A. Stroman II of Orangeburg. RMC officials presented Stroman with his award at the RMC earlier this month.
Stroman will receive $1,000 per month for three years to help cover his expenses while completing his residency training at Spartanburg Regional Hospital in Spartanburg. The 30-year-old, who begins his residency training on July 1, has committed to return to Orangeburg at the end of his residency in three years to practice family medicine.
Stroman, who was born and raised in Orangeburg, is thankful for the award. He said it is a blessing to be able to come back to serve a community which has given so much to him.
"I will be back to help invest in this community that has done so much for me. This hospital has done wonders in my life, and I plan to give back to this gracious community," Stroman said.
RMC's Residency Stipend Award Program is open to not only residents, but fellows in select specialties who will also have the unique opportunity to receive monthly financial assistance while completing their medical training. The stipend is also an incentive for them to commit to practicing with RMC.
"This is a wonderful day in the history of RMC. I would first like to extend my appreciation to the board of trustees. … Last year our board of trustees voted to allow Regional Medical Center to provide a stipend to the future doctors of Orangeburg, where we can have fellows and those going into residency come back to this wonderful community that we serve," said Sabrina Robinson, RMC vice president of physician services.
"We have to invest in our community, and it starts with our youth. … This is our very first offering with Dr. James Stroman. I've said to many people that if I had a dollar for every single doctor that Dr. Stroman rounded with that came to me and said, 'You better hire this doctor,' I really would be really wealthy," Robinson said.
David Southerland, RMC president and chief executive officer, presented Stroman with a certificate of award for his scholastic achievements and commitment to compassionate care.
"Being new in the community, this, for me, is very uplifting to see a young man advance through the educational system here in Orangeburg and reach his goal of becoming a physician. … Congratulations on your achievement. We hope to see you back in three years fully qualified and trained," Southerland said.
"We're really encouraged by this. In my view, family practice is the bottom bedrock, solid foundation for providing medical care in any community, and it helps feed the hospital and other specialties the patients that we need," the president said.
Dr. Franklin Coulter is a family medicine specialist with more than 40 years of experience. He runs the Coulter Clinic at 941 Summers Ave. in Orangeburg, where Stroman hopes to return to practice.
Coulter, a longtime role model and mentor to Stroman, was instrumental in advocating for Stroman to be part of the stipend program and is eager to welcome him back.
"I just turned 70. I could retire anytime, but I plan on trying to stay in practice until he gets out and maybe a couple of years afterward to matriculate him into the practice. So that's the plan. Hopefully it'll work out OK," Coulter said.
"You never know what holds in the future, but that's the plan to let him kind of take over," said Coulter, a RMC trustee who is happy that the board approved the stipend program.
"They talked about trying to do something like this previously and just really didn't have a candidate. So I've been kind of grooming him (Stroman) to go through and go into primary care because that's really what we need around here," Coulter said.
Dr. Yvonne Johnson is an RMC trustee who was also Stroman's third-grade teacher.
"He was an awesome student. He had awesome parents, awesome grandparents. He is going to give you the best that he has, and he will make us all proud," Johnson said.
Stroman, the son of James A. Stroman Sr. and Mary M. Stroman, was also the first recipient of RMC's Spencer C. Disher MD Scholarship in 2017.
Established in 2008, the scholarship is a private, local scholarship offered through the Nurturing the Pipeline program at RMC that is traditionally awarded to students from S.C. State University and Claflin University who have been accepted to medical school.
Stroman received $25,000 per year for four years to help defray the cost of his medical education. Dr. Disher served the local community for more than 43 years. He was a member of the RMC medical staff and served as chief of the medical staff in 1988.
Stroman is a graduate of the Edward Via College of Osteopathic Medicine in Spartanburg. He received his master's degree in health science from Meharry Medical College in Nashville, Tennessee, and his bachelor's degree in biology with a minor in chemistry from Claflin University. He is a 2009 graduate of Orangeburg-Wilkinson High School.
Dr. Terry Mac Math is the director of student medical education for Edward Via College of Osteopathic Medicine on the RMC campus. His office coordinates the clinical rotations for students at RMC, and during his tenure Mac Math has been instrumental in connecting students such as Stroman with opportunities in Orangeburg and supporting RMC's physician recruitment efforts.
"I feel fortunate and blessed. A lot of my classmates and people that I've talked to that have gone through medical school do not have the ideal story that I have in being able to start with a summer enrichment program here in high school, going to work as a medical scribe in the emergency room here for about three years, and then coming back to do all of my rotations and clerkships with amazing physicians … here in Orangeburg for two years as a third- and fourth-year medical student," Stroman said.
"You just don't get that consecutive training and experience from one community hospital. I think now is the time when I'm ready to reach back and help others," he said.
#pu-email-form-daily-email-article { clear: both; background-color: #fff; color: #222; background-position: bottom; background-repeat: no-repeat; padding: 15px 20px; margin-bottom: 40px; border-top: 4px solid rgba(0,0,0,.8); border-bottom: 1px solid rgba(0,0,0,.2); display: none; } #pu-email-form-daily-email-article, #pu-email-form-daily-email-article p { font-family: -apple-system, BlinkMacSystemFont, "Segoe UI", Helvetica, Arial, sans-serif, "Apple Color Emoji", "Segoe UI Emoji", "Segoe UI Symbol"; } #pu-email-form-daily-email-article h1 { font-size: 24px; margin: 15px 0 5px 0; font-family: "serif-ds", Times, "Times New Roman", serif; } #pu-email-form-daily-email-article .lead { margin-bottom: 5px; } #pu-email-form-daily-email-article .email-desc { font-size: 16px; line-height: 20px; margin-bottom: 5px; opacity: 0.7; } #pu-email-form-daily-email-article form { padding: 10px 30px 5px 30px; } #pu-email-form-daily-email-article .disclaimer { opacity: 0.5; margin-bottom: 0; line-height: 100%; } #pu-email-form-daily-email-article .disclaimer a { color: #222; text-decoration: underline; } #pu-email-form-daily-email-article .email-hammer { border-bottom: 3px solid #222; opacity: .5; display: inline-block; padding: 0 10px 5px 10px; margin-bottom: -5px; font-size: 16px; } @media (max-width: 991px) { #pu-email-form-daily-email-article form { padding: 10px 0 5px 0; } }