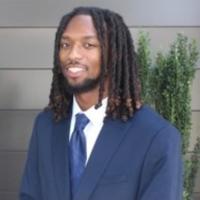 The American Red Cross of South Carolina has announced that it is honoring Dwight Priest Jr., a senior at Claflin University studying psychology, for collecting 96 units nationwide.
Kashif Alston, a junior at South Carolina State University studying mechanical engineering, and Kaiyah Robinson, a sophomore at Allen University studying biology, also were selected for the ambassadorship.
A senior at Claflin University studying psychology, Priest is in the second year of his ambassadorship and a member of the inaugural cohort.
The national program is part of the American Red Cross Sickle Cell Initiative, which aims to raise awareness of the inherited blood disorder impacting an estimated 100,000 Americans – the majority of whom are of African descent – and increase donations from blood donors who are Black. Blood donations from individuals of the same race or similar ethnicity and blood type have a unique ability to help patients experiencing a sickle cell crisis.
"To be a part of this program is a blessing to me. I didn't know much about sickle cell before participating in the program, and I learned why we need to help collect as much blood as we can," said Priest about his experience as an HBCU ambassador to influence his peers to donate blood.
"Sometimes, when people ask questions about giving blood, they ask out of fear. You have to build up their confidence with your confidence. If I'm confident and let them know that they'll be all right and give them a good understanding of why they should give, they're more willing to give," he said.
#lee-rev-content { margin:0 -5px; } #lee-rev-content h3 { font-family: inherit!important; font-weight: 700!important; border-left: 8px solid var(–lee-blox-link-color); text-indent: 7px; font-size: 24px!important; line-height: 24px; } #lee-rev-content .rc-provider { font-family: inherit!important; } #lee-rev-content h4 { line-height: 24px!important; font-family: "serif-ds",Times,"Times New Roman",serif!important; margin-top: 10px!important; } @media (max-width: 991px) { #lee-rev-content h3 { font-size: 18px!important; line-height: 18px; } } #pu-email-form-daily-email-article { clear: both; background-color: #fff; color: #222; background-position: bottom; background-repeat: no-repeat; padding: 15px 0 20px; margin-bottom: 40px; border-top: 4px solid rgba(0,0,0,.8); border-bottom: 1px solid rgba(0,0,0,.2); display: none; } #pu-email-form-daily-email-article, #pu-email-form-daily-email-article p { font-family: -apple-system, BlinkMacSystemFont, "Segoe UI", Helvetica, Arial, sans-serif, "Apple Color Emoji", "Segoe UI Emoji", "Segoe UI Symbol"; } #pu-email-form-daily-email-article h2 { font-size: 24px; margin: 15px 0 5px 0; font-family: "serif-ds", Times, "Times New Roman", serif; } #pu-email-form-daily-email-article .lead { margin-bottom: 5px; } #pu-email-form-daily-email-article .email-desc { font-size: 16px; line-height: 20px; margin-bottom: 5px; opacity: 0.7; } #pu-email-form-daily-email-article form { padding: 10px 30px 5px 30px; } #pu-email-form-daily-email-article .disclaimer { opacity: 0.5; margin-bottom: 0; line-height: 100%; } #pu-email-form-daily-email-article .disclaimer a { color: #222; text-decoration: underline; } #pu-email-form-daily-email-article .email-hammer { border-bottom: 3px solid #222; opacity: .5; display: inline-block; padding: 0 10px 5px 10px; margin-bottom: -5px; font-size: 16px; } @media (max-width: 991px) { #pu-email-form-daily-email-article form { padding: 10px 0 5px 0; } } .grecaptcha-badge { visibility: hidden; }