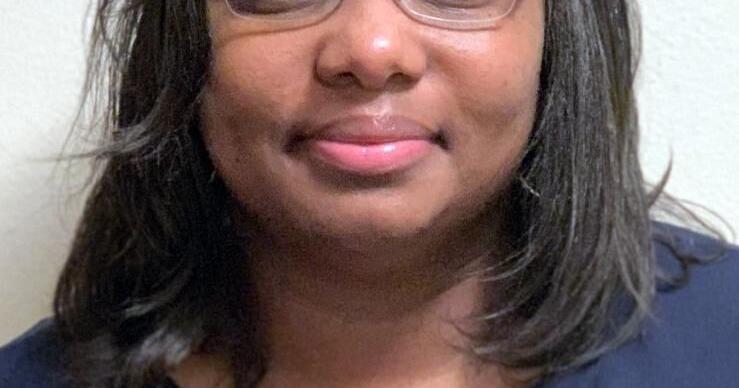 Note: This is the third in a series of four features about SC State University's Professors of the Year. Dr. LaToya Johnson is the honoree in the College of Agriculture, Family and Consumer Sciences.
Broadcast journalism was in Dr. LaToya Johnson's sights when she graduated from high school in Barnwell, South Carolina, but happenstance led her into an entirely different career.
Ranking high in her senior class, Johnson was set to study at Winthrop University in nearby Rock Hill on scholarship, but when the offer was cut in half, she reevaluated her outlook. A teacher suggested she look into family and consumer sciences (FCS) at South Carolina State University, a tip that changed her life.
She received a full scholarship and found a career that keeps her invested in learning.
"Even though it was a last-minute decision, it was the best decision of my life," said Johnson, who is SC State's Professor of the Year in the College of Agriculture, Family and Consumer Sciences.
Life skills in the classroom
As FCS educators, Johnson and her colleagues impart knowledge on a variety of topics. The discipline includes studies in such areas as nutrition, child development, family life education, fashion merchandising, financial fitness and professional decorum.
"The mission of family and consumer sciences is to improve the quality of life of individuals, families and communities," Johnson said. "Everybody is part of a family in some fashion. We all have a variety of relationships.
"The concepts that we teach are things people can immediately apply once they leave the classroom to make themselves better or their families better," she said.
Because the FCS curricula encompass so many academic disciplines, Johnson has to be ready to pivot.
"Just having that variety and knowing that I can teach almost any course in the department where I am needed, it keeps the job interesting," she said.
That also means keeping her instruction current and relevant. As society changes, so must her instruction. In nutrition for example, information may evolve in such areas as diabetes, celiac disease, obesity, eating disorders, food recalls and food-related illnesses.
Students also must have knowledge of legislation and legal decisions that affect practices. As a timely example, Johnson pointed to how her marriage and family relations discussions are affected by the U.S. Supreme Court's reversal of Roe vs. Wade and the ongoing fallout in South Carolina's legislative and judicial chambers.
Her students must learn to keep themselves abreast of developments. She emphasizes that they are the professionals in the field and must combat misinformation.
"I want to think our students have a better appreciation for our content area, because I have no choice but to incorporate what's going on in real time," Johnson said. "We don't have the luxury of going by the textbook and that's the end of it or rolling over the same assignments semester after semester.
"As society changes, that dictates what I teach and what I assign in my classes, because I cannot come with outdated information," she said.
Johnson also noted that the COVID-19 pandemic affected multiple aspects of FCS instruction – people who learned to grow their own food, those who sewed and sold masks, parents who coped with teaching young children at home and more.
"In any particular area of the pandemic, you could pull out some aspect of family and consumer sciences because of the different specializations we have in the profession," Johnson said.
Returning to her alma mater
After completing her undergraduate degree at SC State in 2003, Johnson taught high school FCS classes first in Columbia and then in her hometown while working on her master's degree in divergent learning at Columbia College. As she completed that degree in 2007, her former academic adviser at SC State, Dr. Ethel Jones, asked if she would consider returning to SC State on the faculty.
"When that opportunity presented itself, I felt like I needed to take advantage of it because how many opportunities are you going to have to teach at the collegiate level?" Johnson said. "It was really interesting to be the colleague of the individuals who were my professors because a lot of them still saw me in that student role. That was really interesting to navigate."
But Johnson was prepared for that transition, as Jones had set expectations for her students to achieve beyond their undergraduate training.
"She planted that seed early, and that's really why I'm here. I feel like I have a responsibility to give back to a department and a university that have given so much to me," Johnson said.
Johnson was able to continue her education while on faculty at SC State. In 2020, she completed her Ph.D. in family and consumer sciences education via Texas Tech University in Lubbock. Her dissertation was titled "Exploring the Self Efficacy of Family and Consumer Sciences Teachers Who Teach Food Science as a Science Credit." Her colleagues at SC State were behind her the whole way with encouragement and other forms of support.
"Many people are not fortunate enough to have colleagues who support you and see so much in you, so I really appreciate that," she said.
As the College of Agriculture, Family and Consumer Sciences continues to grow, Johnson hopes to facilitate some new programs based on demand and new legislation affecting the disciplines. In particular, she believes sports nutrition will be an expanding field.
"A lot of students have been asking about that and rightfully so. We have a lot of student-athletes in this program. Just getting them to see the meals that you eat – the food you consume before, during and after competition – are going to affect your performance," she said.
"The Warden" is a reader.
As the oldest of four in a close family, Johnson is an archetypical big sister. She's just as organized in her personal life as she is at the university.
"Because I am the oldest, my younger siblings tend to look at me almost like I'm another parent to an extent," she said. "Because they know I am very organized and orderly, they have a nickname for me. They call me 'The Warden.'"
Her late father started the nickname when she was helping him prepare for medical appointments – "You act just like a warden."
"When he said that, it just stuck," Johnson said.
In her downtime, Johnson finds joy in reading.
"I think I can honestly say if I were not in the position I am now, I would have been a librarian," she said. "Leisure reading brings me pleasure. As I've gotten older, leisure reading really brings me pleasure.
"I like books that don't require me to think. I love a good tearjerker — if I can hold my emotions in — or a good comedy, so my leisure reading is not heavy. I do enough heavy reading in my profession," Johnson said.
#lee-rev-content { margin:0 -5px; } #lee-rev-content h3 { font-family: inherit!important; font-weight: 700!important; border-left: 8px solid var(–lee-blox-link-color); text-indent: 7px; font-size: 24px!important; line-height: 24px; } #lee-rev-content .rc-provider { font-family: inherit!important; } #lee-rev-content h4 { line-height: 24px!important; font-family: "serif-ds",Times,"Times New Roman",serif!important; margin-top: 10px!important; } @media (max-width: 991px) { #lee-rev-content h3 { font-size: 18px!important; line-height: 18px; } } #pu-email-form-breaking-email-article { clear: both; background-color: #fff; color: #222; background-position: bottom; background-repeat: no-repeat; padding: 15px 0 20px; margin-bottom: 40px; border-top: 4px solid rgba(0,0,0,.8); border-bottom: 1px solid rgba(0,0,0,.2); display: none; } #pu-email-form-breaking-email-article, #pu-email-form-breaking-email-article p { font-family: -apple-system, BlinkMacSystemFont, "Segoe UI", Helvetica, Arial, sans-serif, "Apple Color Emoji", "Segoe UI Emoji", "Segoe UI Symbol"; } #pu-email-form-breaking-email-article h2 { font-size: 24px; margin: 15px 0 5px 0; font-family: "serif-ds", Times, "Times New Roman", serif; } #pu-email-form-breaking-email-article .lead { margin-bottom: 5px; } #pu-email-form-breaking-email-article .email-desc { font-size: 16px; line-height: 20px; margin-bottom: 5px; opacity: 0.7; } #pu-email-form-breaking-email-article form { padding: 10px 30px 5px 30px; } #pu-email-form-breaking-email-article .disclaimer { opacity: 0.5; margin-bottom: 0; line-height: 100%; } #pu-email-form-breaking-email-article .disclaimer a { color: #222; text-decoration: underline; } #pu-email-form-breaking-email-article .email-hammer { border-bottom: 3px solid #222; opacity: .5; display: inline-block; padding: 0 10px 5px 10px; margin-bottom: -5px; font-size: 16px; } @media (max-width: 991px) { #pu-email-form-breaking-email-article form { padding: 10px 0 5px 0; } }