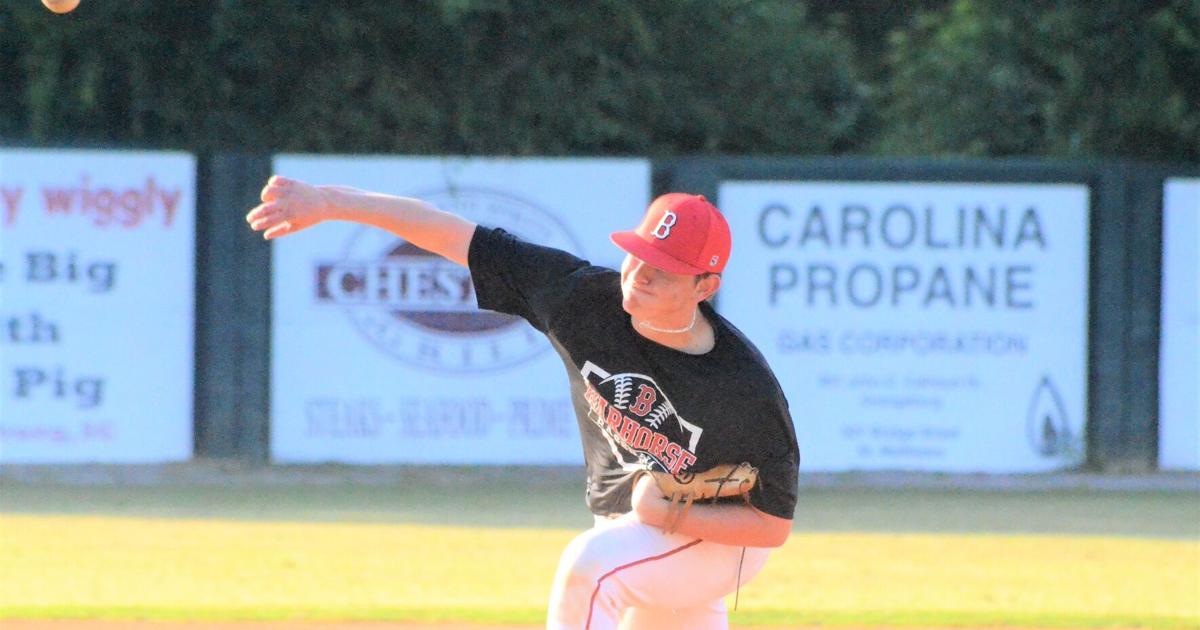 Orangeburg Post 4 baseball will open the 2022 season at home Monday against non-league opponent West Columbia.
This year's team features 17 players representing eight different area schools. The roster includes nine players with previous Post 4 experience.
"We have a good mix of experienced players to pair with some younger talent," Post 4 head coach Dukes Isgett said. "Practices have been very competitive, and all of them are ready to play."
Offensively, Isgett said the team has looked confident at the plate during practices.
"They have been squaring the ball up well against good live pitching," Isgett said. "We'll know more once the real games begin, but from what I've seen, I feel we should be able to execute in a number of situations. The team features plenty of speed, which should help us moving runners around the bases."
On defense, Isgett said there are still positions up for grabs as the team enters the first week of the season.
"We have not totally decided on our defensive rotation, and may not know our best options until we play a few games. All the players have looked good, and the competition has been fierce at every position. They are all trying to prove themselves to earn playing time."
Isgett said the strength of this year's team may be the flexibility of its pitching staff. Nearly every one of the 17 players has the ability to pitch and could be called upon at any time to take the mound.
Post 4 will take part in a three-team league that features Charleston and Hampton. Isgett said the original plan was to have a five-team league, but one team was forced to fold while another was moved to another area.
This year's schedule features eight league games along with a four-game series with non-league opponent West Columbia. All home games will be played at historic Mirmow Field in Orangeburg.
"We've had to change our schedule about five times," Isgett said. "But the coaches and players are eager to get the season started. I hope we can get a good crowd out to see our talented guys play, and help get us started on the right track to begin the season."
Orangeburg will face West Columbia Monday, June 6 with first pitch scheduled for 6:30 p.m.
Post 4 2022 roster
3 Tadd Jameson (Orangeburg Prep)
4 Javon Stokes (Orangeburg-Wilkinson)
5 Charlie McCutchen (Orangeburg Prep)
10 Forrest Sutcliffe (Orangeburg Prep)
11 Copeland Furtick (Orangeburg Prep)
13 Tahj Holloway (Edisto)
14 Peyton Inabinet (Orangeburg Prep)
16 John Mack (Orangeburg Prep)
17 Weathers Sanders (Edisto)
18 Nick Ulmer (Edisto/CIU)
19 Coy Ford (Calhoun County)
20 Jerry Sanders (Barnwell)
21 JT Edwards (Gray Collegiate)
22 Daeron James (Calhoun County)
23 Caleb Thompson (Dorchester Academy)
25 Hoyt Bailey (Barnwell)
28 Harrison Wimberly (Branchville)
Head coach: Dukes Isgett; assistant coaches: Andrew Isgett, Reggie Jamison
2022 Post 4 schedule
Monday, June 6 West Columbia
Wednesday, June 8 at West Columbia
Thursday, June 9 Charleston
Monday, June 13 at Charleston
Wednesday, June 15 West Columbia
Monday, June 20 at West Columbia
Thursday, June 23 at Charleston
Wednesday, June 29 at Hampton
Thursday, June 30 Charleston
Wednesday, July 6 at Hampton
Playoffs begin July 11-20
#lee-rev-content { margin:0 -5px; } #lee-rev-content h3 { font-family: inherit!important; font-weight: 700!important; border-left: 8px solid var(–lee-blox-link-color); text-indent: 7px; font-size: 24px!important; line-height: 24px; } #lee-rev-content .rc-provider { font-family: inherit!important; } #lee-rev-content h4 { line-height: 24px!important; font-family: "serif-ds",Times,"Times New Roman",serif!important; margin-top: 10px!important; } @media (max-width: 991px) { #lee-rev-content h3 { font-size: 18px!important; line-height: 18px; } } #pu-email-form-daily-email-article { clear: both; background-color: #fff; color: #222; background-position: bottom; background-repeat: no-repeat; padding: 15px 0 20px; margin-bottom: 40px; border-top: 4px solid rgba(0,0,0,.8); border-bottom: 1px solid rgba(0,0,0,.2); display: none; } #pu-email-form-daily-email-article, #pu-email-form-daily-email-article p { font-family: -apple-system, BlinkMacSystemFont, "Segoe UI", Helvetica, Arial, sans-serif, "Apple Color Emoji", "Segoe UI Emoji", "Segoe UI Symbol"; } #pu-email-form-daily-email-article h1 { font-size: 24px; margin: 15px 0 5px 0; font-family: "serif-ds", Times, "Times New Roman", serif; } #pu-email-form-daily-email-article .lead { margin-bottom: 5px; } #pu-email-form-daily-email-article .email-desc { font-size: 16px; line-height: 20px; margin-bottom: 5px; opacity: 0.7; } #pu-email-form-daily-email-article form { padding: 10px 30px 5px 30px; } #pu-email-form-daily-email-article .disclaimer { opacity: 0.5; margin-bottom: 0; line-height: 100%; } #pu-email-form-daily-email-article .disclaimer a { color: #222; text-decoration: underline; } #pu-email-form-daily-email-article .email-hammer { border-bottom: 3px solid #222; opacity: .5; display: inline-block; padding: 0 10px 5px 10px; margin-bottom: -5px; font-size: 16px; } @media (max-width: 991px) { #pu-email-form-daily-email-article form { padding: 10px 0 5px 0; } }