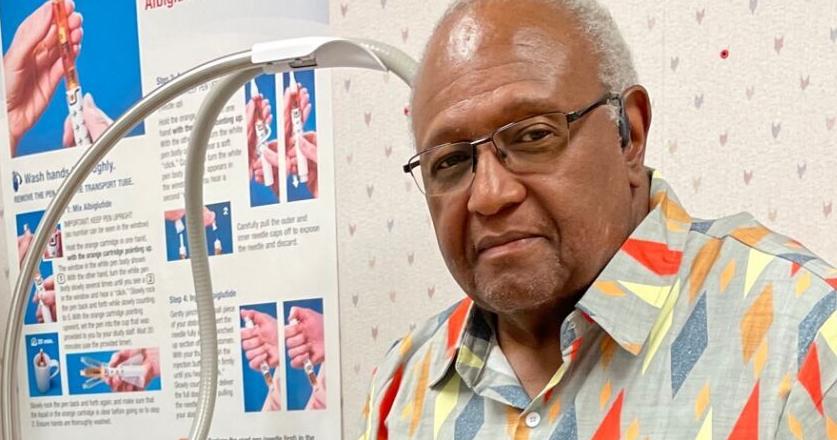 A family physician who has been in Orangeburg for more than 30 years is providing acne treatment with the first and only FDA-cleared energy device for the treatment of acne.
Dr. Franklin Coulter is using the power of laser light to selectively target and suppress sebaceous glands, eliminating acne at the source without the need for prescription medications with AviClear.
Dr. Franklin Coulter, an Orangeburg family physician, is using AviClear laser technology in his office at 941 Summers Ave. It is the first and…
"I'm leasing it through this company called Cutera. They have several lasers, but this particular one is just for acne. It's been cleared by the FDA for treatment of mild, moderate and severe acne," Coulter said.
"There are no prescriptions or chemicals involved. It involves three 30-minute treatment sessions," he said.
Coulter said a cooling technology in the device is paired with dampening of the skin during the treatment to make it tolerable.
"The three 30-minute treatment sessions are usually 30 days apart and 90 to 95% effective. It is expensive, and we recommend that individuals call and ask for a consultation, which is free, to find out how they come up with a payment schedule," the doctor said.
"It's available and we can do it with those good results. … It does have a little bit of pain associated with it, but it was tolerable for the people I've done it on," Coulter said, noting that the treatment is not the same as cryosurgery, or the use of extreme cold to destroy abnormal or diseased tissue.
"No, it's different than that. The wavelength of the laser will only go so deep. The acne problem is related to sebum glands. So it goes and destroys those glands so that it stops producing all that sebum," Coulter said.
In acne, the glands begin to produce too much sebum, Coulter explained, with the excess sebum mixing with dead skin cells and both substances forming a plug in the follicle.
"Then that's when it gets infected. That's why you have to go all over the area, even the areas that don't have any acne, to make sure it doesn't come back," the doctor said.
Coulter said acne treatments have advanced over the years, with each having its own advantages and disadvantages.
"Benzoyl peroxide is a topical treatment that we've used in the past. I've prescribed it a lot. It's kind of a drying agent. … It works pretty good, but it's kind of uncomfortable. It dries the skin out, that kind of thing," he said.
Coulter continued, "The one that's been the most popular is one called Accutane, but it has a lot of side effects and is also toxic to fetuses. So if you're pregnant, that's a problem. So AviClear is as effective as that, but nowhere near as toxic. In fact, there aren't hardly any side effects, just some mild discomfort."
He said comfort and effectiveness are two of the biggest advantages of AviClear, and he hopes it will help give some patients, for example, more confidence in their look.
"Well, yes, especially teenagers. That's when they start developing relationships. So they always want to try to look their best. When they have bad acne, it kind of bothers them. So it's going to be good for their mental health, too. There are some adults that have pretty bad acne also, and if it doesn't get treated properly, then they get pretty bad scarring on their face," Coulter said.
"We can do some after-hour treatments for this particular device as long as we make prearrangements," he said.
Coulter said individuals interested in learning more about AviClear as a possible treatment can call his office at 941 Summers Ave. from 8 a.m. to 3 p.m. Monday, Tuesday and Thursday and from 8 a.m. to noon on Friday.
#lee-rev-content { margin:0 -5px; } #lee-rev-content h3 { font-family: inherit!important; font-weight: 700!important; border-left: 8px solid var(–lee-blox-link-color); text-indent: 7px; font-size: 24px!important; line-height: 24px; } #lee-rev-content .rc-provider { font-family: inherit!important; } #lee-rev-content h4 { line-height: 24px!important; font-family: "serif-ds",Times,"Times New Roman",serif!important; margin-top: 10px!important; } @media (max-width: 991px) { #lee-rev-content h3 { font-size: 18px!important; line-height: 18px; } } #pu-email-form-business-email-article { clear: both; background-color: #fff; color: #222; background-position: bottom; background-repeat: no-repeat; padding: 15px 0 20px; margin-bottom: 40px; border-top: 4px solid rgba(0,0,0,.8); border-bottom: 1px solid rgba(0,0,0,.2); display: none; } #pu-email-form-business-email-article, #pu-email-form-business-email-article p { font-family: -apple-system, BlinkMacSystemFont, "Segoe UI", Helvetica, Arial, sans-serif, "Apple Color Emoji", "Segoe UI Emoji", "Segoe UI Symbol"; } #pu-email-form-business-email-article h2 { font-size: 24px; margin: 15px 0 5px 0; font-family: "serif-ds", Times, "Times New Roman", serif; } #pu-email-form-business-email-article .lead { margin-bottom: 5px; } #pu-email-form-business-email-article .email-desc { font-size: 16px; line-height: 20px; margin-bottom: 5px; opacity: 0.7; } #pu-email-form-business-email-article form { padding: 10px 30px 5px 30px; } #pu-email-form-business-email-article .disclaimer { opacity: 0.5; margin-bottom: 0; line-height: 100%; } #pu-email-form-business-email-article .disclaimer a { color: #222; text-decoration: underline; } #pu-email-form-business-email-article .email-hammer { border-bottom: 3px solid #222; opacity: .5; display: inline-block; padding: 0 10px 5px 10px; margin-bottom: -5px; font-size: 16px; } @media (max-width: 991px) { #pu-email-form-business-email-article form { padding: 10px 0 5px 0; } } .grecaptcha-badge { visibility: hidden; }