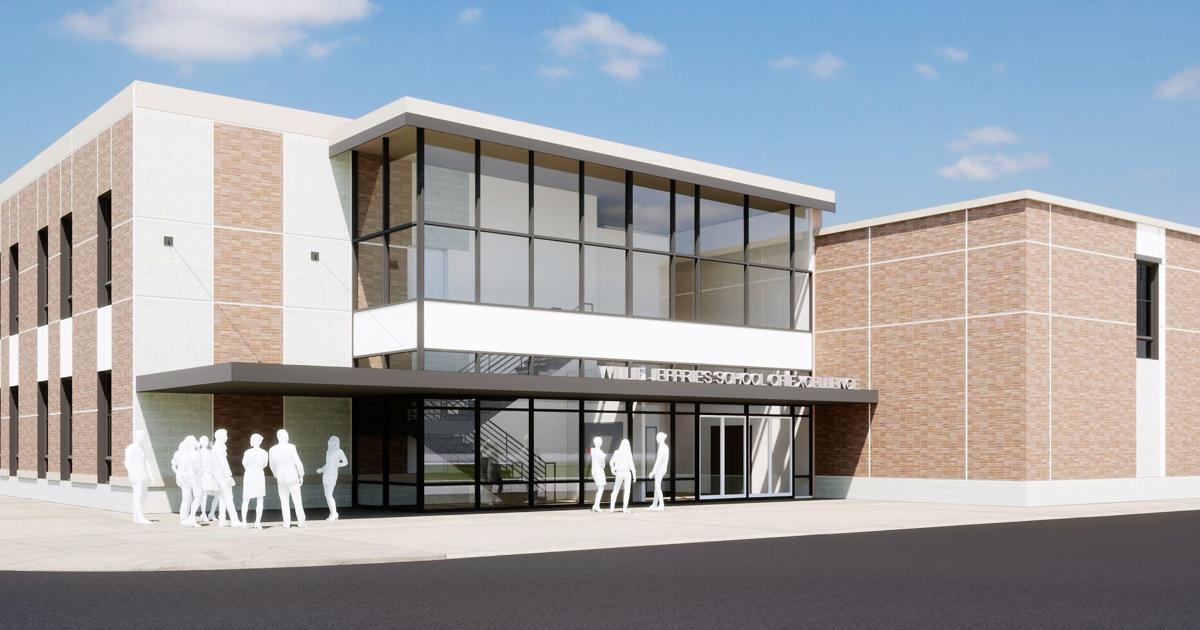 A new public charter school named after a legendary Orangeburg football coach is scheduled to open in Orangeburg for the 2024-25 school year.
The $15 million Willie Jeffries School of Excellence will be a tuition-free public charter school serving students in kindergarten through eighth grade, according to the 91-page South Carolina Public Charter School application.
Grade levels K-6 will be served in the first year of operation (2024-25), and a grade level will be added each year until grades K-8 are served, according to the application.
The approximately 65,000-square-foot to 70,000-square-foot, one- to three-floor school is expected to serve 765 students when at full capacity, according to the application. The school will have between 50 and 65 employees.
The school will include resource rooms for enrichment programs, common areas for gathering (lunch, assemblies, etc.) and space for WJSE's administration.
WJSE's site will also include appropriate outdoor recreational areas, designated pickup and drop-off zones, and parking for staff and guests.
The school will be located at the intersection of US-301/Five Chop Road and Roquemore Drive or near the 3,000 block of Five Chop Road. The intersection is near Interstate 26 Exit 154.
"It is an honor," Jeffries said about the school being named after him. "I have spent my entire life working with mostly young people, guys without daddies when I was the daddy to 70 or 80 guys at one time on the football team."
Jeffries said Orangeburg County businessman Jim Roquemore suggested Jeffries for the school's naming when the nonprofit Berkeley Charter Education Association Inc. (BCEA) approached him about bringing a charter school to Orangeburg County.
The two parcels of property totaling about 310 acres are currently owned by Superland Holdings LLC and Supersod Real Property Holdings LLC.
Roquemore is the retired CEO and chairman of the board of directors of Patten Seed Company, the parent company of SuperSod.
According to school officials, Michigan-based BC Construction Group is the general contractor.
Preliminary building plans have been presented to the Office of School Facilities. They are currently under review, according to school officials.
Construction will begin this spring.
Jeffries said he has two grandsons who attended the High School for Health Professions and he thought the school was top notch and that the students who attended were and are able to reach their full potential.
"I think our school will be that way," Jeffries said.
Jeffries will serve as an ambassador for the charter school and has been involved in some of the early details of planning. He is football coach emeritus at South Carolina State University.
The charter application states that in the first year, the school will have four classrooms per grade level for all students kindergarten through fifth grade, and three classrooms for sixth-grade students.
In the second year, there will be three classrooms added to accommodate the school's seventh-grade students. In year three, an additional three classrooms will be added to accommodate the eighth grade.
This projection includes 20 students in each kindergarten classroom; 23 students per classroom in the first through fifth grade; and 25 students per classroom in the sixth through eighth grade.
The facility layout will accommodate a logical separation of the elementary (K-5) and middle (6-8) school grades, according to the application.
WJSE's administration will consist of a principal, assistant principal, dean of students, enrollment manager and student services coordinator.
School officials say the charter school is not intended to compete with public schools.
"Public charter schools do not seek to compete with traditional public schools but rather just seek to provide another choice so that families have the freedom to choose what is best for their students," the school said in a statement.
The school is the third facility named after Jeffries.
The South Carolina State University football stadium as well as the gymnasium at Granard Middle School in Gaffney, where Jeffries began his head-coaching career, are also named after him. The middle school closed in June 2019.
According to the charter application, the school expects to receive a charter school Planning and Implementation Grant, amounts for which have been assumed at $170,000 in Year 1 and $161,000 in Year 2. WJSE also expects to receive grant funding for a nurse and assumes $31,000 in Year 3 and beyond.
For the first year, WJSE will seek five-year financing at prevailing interest rates. The amount financed is $828,323 in Year 1.
The financing will be used to cover furniture, fixtures and equipment and information technology capital expenditures.
BC Construction Group is to work with investors to fund construction.
The school will be funded primarily through state tax dollars.
Local educational need
According to the charter school application, the school will provide an "educational environment that will aim to take a whole-child approach, that will strive to provide real-world experience, and will focus on an individualized student learning approach to academics."
"We hope to provide a healthy school culture where students learn how to 'soar to success' while also preparing students to be competitive in life, college and their futures," school officials said. "As Coach Jeffries says — 'All students can fly to the skies of academic success; some of them need a longer runway.'"
According to the charter application, the need for a new school is based on a demographic study of the county.
"It has been determined that Orangeburg County is in the top 30% of counties across the state with 28.1% of children between the ages of 5 and 17 living in poverty," the application states. "With the Orangeburg County School District's student population at 11,321 across its elementary, middle and high schools, this area lands in the top 25% of school districts in terms of enrollment."
"With the number of students that must be served in this area, WJSE believes that students will benefit from the development of a new charter school to provide additional student learning opportunities," the application states. "By providing students with a quality education, WJSE can help advance students away from poverty and closer to self-sufficiency."
The application notes that by averaging the demographic data from within proximity of the school, it is projected that WJSE would serve the following students:
84.1% that are eligible for free or reduced-price lunch
81.92% that are minority
4.5% English Language Learners (ELL)
13% special education.
The application also notes the school will fill a need that is not currently being addressed in the county.
"The model and curriculum of the school will be unlike any other option in Orangeburg," school officials said. "It will also be a K-8 model."
The application notes the WJSE will target grade levels of schools that were listed as Priority Schools in 2018 (performing at or below the 10th percentile among all schools in the state).
Currently, South Carolina Connections Academy is a virtual charter school, and the Orangeburg High School for Health Professions serves grades 9-12.
"In setting a solid foundation for students in grades K-8, when students are ready to advance to the ninth grade, they will have developed the necessary drive and skills needed to graduate," school officials said. "By doing so, we can aid in closing achievement gaps in terms of poverty, academically, and more."
School governance
The new school would be managed by the 7-member nonprofit Berkeley Charter Education Association Inc. (BCEA) until such time when a school leader is selected. There would be plans to increase the existing governing board to include members from Orangeburg County.
Even after a principal is selected and hired, the board will retain ultimate control of WJSE's finances, according to the application.
Currently, South Carolina State University graduate Dr. Tamara Jeffries-Jackson sits on the board. Jeffries-Jackson received her master of arts in rehabilitation counseling from the university.
As vice president for student affairs, Jeffries-Jackson oversees student life and leadership; judicial affairs; residence life and housing; intramural sports; counseling and self development; health services; career placement and planning and university police.
"The BCEA Board is committed to providing excellent education for the students that attend the Willie Jeffries School of Excellence," BCEA Chair Dr. Stewart Weinberg said. "We believe it is our responsibility to provide a real choice for parents and guardians for high-quality public education that will 'move the needle' for all."
The BCEA has already chartered the Mevers School of Excellence in Goose Creek. The school opened in 2017-18. The new WJSE will be patterned after the Mevers School.
The BCEA also manages Berkeley Preparatory Academy.
The school will be sponsored and a part of the Charter Institute at Erskine school district of which the BCEA and Mevers are already a member.
The Charter Institute at Erskine is based in Columbia and consists of preK through 12th grades. It has 26 schools and a student population of about 23,600 students. The district employs about 880 teachers.
Getting the word out
There has been much community interest in the charter school and what has been an extensive community outreach campaign to build enrollment.
School officials say there have been 150 interest surveys (some of which represent multiple students) and lots of buzz in the community and on social media.
There is an online questionnaire circulating about the school in an effort to gauge interest.
"We cannot enroll students yet, but we have a large and growing interest list," the school said.
Thus far, school officials say meetings have been held with Jeffries to talk about the mission and vision of the school, and work has been done on the development of the school's branding and marketing. The school is also searching for a principal.
The school's first billboard is on Interstate 26 East heading toward Charleston about a half mile from Exit 154.
Education model
The school will use an educational model designed to facilitate each student's mastery of South Carolina College and Career Ready (SCCCR) standards and will be tailored toward instructional methods and techniques based on individual student needs.
The school will align its academic goals to South Carolina's accountability system to include South Carolina Palmetto Assessment of State Standards (SCPASS) (for science and social studies) and SC READY (for math and ELA) assessments.
In addition to state accountability specific goals, WJSE will utilize and set goals on nationally normed standards.
The school will provide intervention for students needing extra assistance.
The school will also stress the importance of parental engagement and involvement. The school will seek to partner with area businesses with the hope of establishing mentoring opportunities for children and will provide advanced academic opportunities.
Blended learning combining face-to-face instruction with technology mediated learning will also be available.
A minimum of six instructional hours per day will be provided in grades K-8, with a potential staggered dismissal time allowing for up to an additional 15 instructional minutes daily in grades 4-8.
The WJSE daily schedule will be formed by MSE's start/end times. Mevers' school hours are currently 8 a.m. to 3 p.m.
The school will offer a variety of courses including K-5 English language arts, math, science, social studies, world language, music, computer science and physical education.
Special education sources will be available for those with special needs. Activity and sporting clubs will also be offered.
For more information about the school, visit its website at wjschool.org
#lee-rev-content { margin:0 -5px; } #lee-rev-content h3 { font-family: inherit!important; font-weight: 700!important; border-left: 8px solid var(–lee-blox-link-color); text-indent: 7px; font-size: 24px!important; line-height: 24px; } #lee-rev-content .rc-provider { font-family: inherit!important; } #lee-rev-content h4 { line-height: 24px!important; font-family: "serif-ds",Times,"Times New Roman",serif!important; margin-top: 10px!important; } @media (max-width: 991px) { #lee-rev-content h3 { font-size: 18px!important; line-height: 18px; } } #pu-email-form-daily-email-article { clear: both; background-color: #fff; color: #222; background-position: bottom; background-repeat: no-repeat; padding: 15px 0 20px; margin-bottom: 40px; border-top: 4px solid rgba(0,0,0,.8); border-bottom: 1px solid rgba(0,0,0,.2); display: none; } #pu-email-form-daily-email-article, #pu-email-form-daily-email-article p { font-family: -apple-system, BlinkMacSystemFont, "Segoe UI", Helvetica, Arial, sans-serif, "Apple Color Emoji", "Segoe UI Emoji", "Segoe UI Symbol"; } #pu-email-form-daily-email-article h2 { font-size: 24px; margin: 15px 0 5px 0; font-family: "serif-ds", Times, "Times New Roman", serif; } #pu-email-form-daily-email-article .lead { margin-bottom: 5px; } #pu-email-form-daily-email-article .email-desc { font-size: 16px; line-height: 20px; margin-bottom: 5px; opacity: 0.7; } #pu-email-form-daily-email-article form { padding: 10px 30px 5px 30px; } #pu-email-form-daily-email-article .disclaimer { opacity: 0.5; margin-bottom: 0; line-height: 100%; } #pu-email-form-daily-email-article .disclaimer a { color: #222; text-decoration: underline; } #pu-email-form-daily-email-article .email-hammer { border-bottom: 3px solid #222; opacity: .5; display: inline-block; padding: 0 10px 5px 10px; margin-bottom: -5px; font-size: 16px; } @media (max-width: 991px) { #pu-email-form-daily-email-article form { padding: 10px 0 5px 0; } } .grecaptcha-badge { visibility: hidden; }