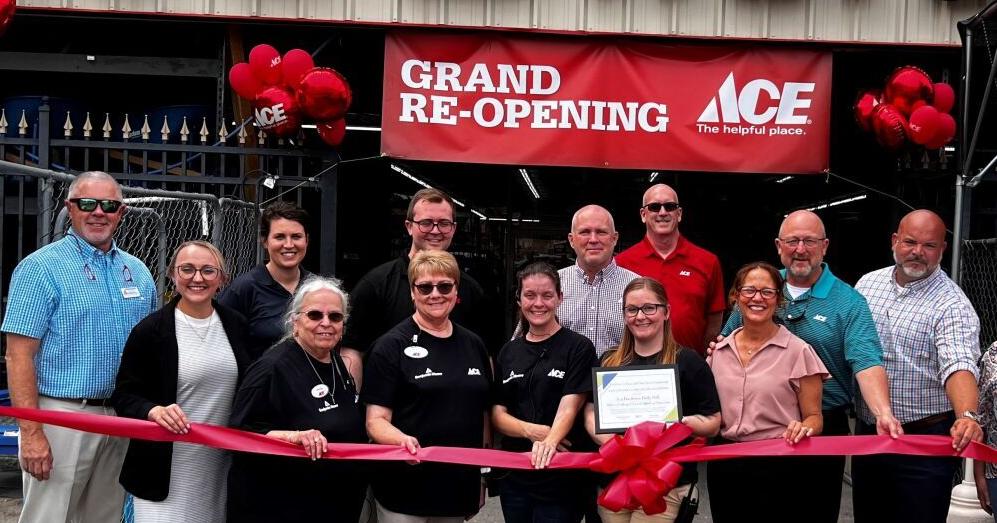 The Tri-County Regional Chamber of Commerce joined in a ribbon-cutting ceremony for the grand reopening of Westbury Ace Hardware in Holly Hill on June 30.
The chamber and Holly Hill Mayor Billy Chavis welcomed the new owner, Darren Workman.
A statement from Tri-County reads:
"The chamber couldn't overlook the remarkable contribution made by the previous owners, the Westbury family, towards providing quality services to the community. Their philanthropic attitude has set high standards, and we acknowledge their generous long-standing commitment to the business industry in Holly Hill.
"The chamber is delighted to have somebody like Darren Workman, committed to continuing the tradition, take over the reins. We are confident that he will successfully uphold the Westbury family's legacy and, in the future, take the business to new heights.
"Darren Workman, the new owner of Westbury Ace Hardware, is undoubtedly a great asset to the business community in Holly Hill. He has always believed in providing excellent customer service, which is evident from his remarkable track record.
"He looks forward to working alongside seasoned employees, local residents and businesses within the Tri-County Region, with the ultimate goal of providing unmatched services. His commitment to the community is evident from the fact that he intends to keep Westbury Ace Hardware as a valuable resource for the community."
#lee-rev-content { margin:0 -5px; } #lee-rev-content h3 { font-family: inherit!important; font-weight: 700!important; border-left: 8px solid var(–lee-blox-link-color); text-indent: 7px; font-size: 24px!important; line-height: 24px; } #lee-rev-content .rc-provider { font-family: inherit!important; } #lee-rev-content h4 { line-height: 24px!important; font-family: "serif-ds",Times,"Times New Roman",serif!important; margin-top: 10px!important; } @media (max-width: 991px) { #lee-rev-content h3 { font-size: 18px!important; line-height: 18px; } } #pu-email-form-business-email-article { clear: both; background-color: #fff; color: #222; background-position: bottom; background-repeat: no-repeat; padding: 15px 0 20px; margin-bottom: 40px; border-top: 4px solid rgba(0,0,0,.8); border-bottom: 1px solid rgba(0,0,0,.2); display: none; } #pu-email-form-business-email-article, #pu-email-form-business-email-article p { font-family: -apple-system, BlinkMacSystemFont, "Segoe UI", Helvetica, Arial, sans-serif, "Apple Color Emoji", "Segoe UI Emoji", "Segoe UI Symbol"; } #pu-email-form-business-email-article h2 { font-size: 24px; margin: 15px 0 5px 0; font-family: "serif-ds", Times, "Times New Roman", serif; } #pu-email-form-business-email-article .lead { margin-bottom: 5px; } #pu-email-form-business-email-article .email-desc { font-size: 16px; line-height: 20px; margin-bottom: 5px; opacity: 0.7; } #pu-email-form-business-email-article form { padding: 10px 30px 5px 30px; } #pu-email-form-business-email-article .disclaimer { opacity: 0.5; margin-bottom: 0; line-height: 100%; } #pu-email-form-business-email-article .disclaimer a { color: #222; text-decoration: underline; } #pu-email-form-business-email-article .email-hammer { border-bottom: 3px solid #222; opacity: .5; display: inline-block; padding: 0 10px 5px 10px; margin-bottom: -5px; font-size: 16px; } @media (max-width: 991px) { #pu-email-form-business-email-article form { padding: 10px 0 5px 0; } } .grecaptcha-badge { visibility: hidden; }