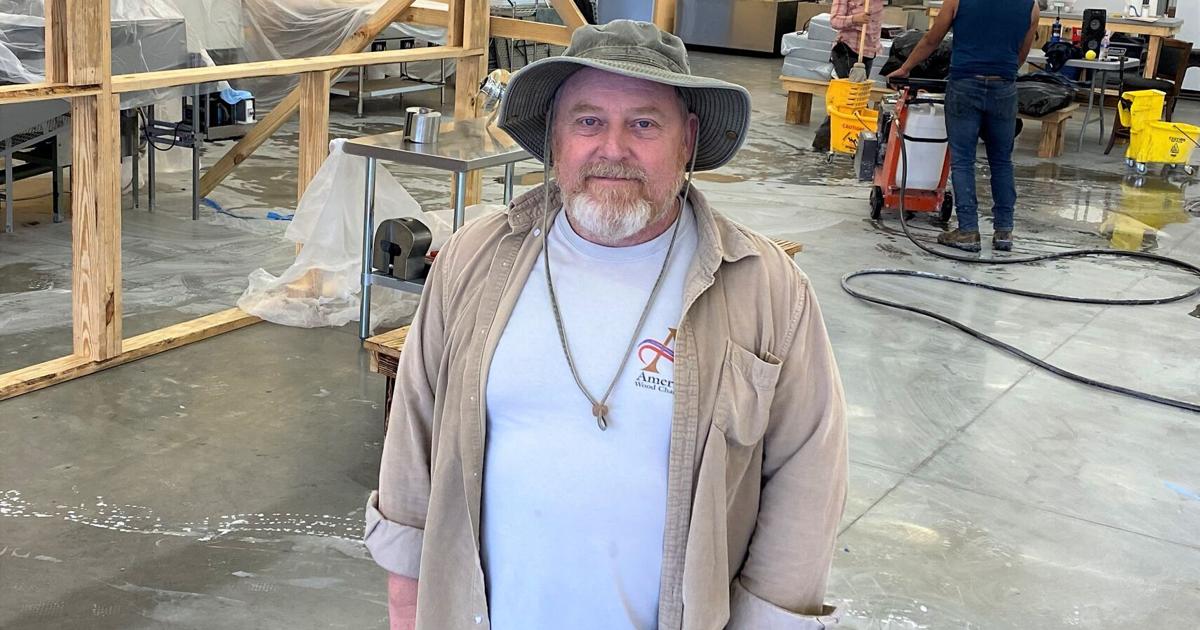 A new Mexican store and restaurant are opening in Orangeburg.
Migos is opening at Glover Street and Stonewall Jackson Boulevard across from the Edisto Village Shopping Center.
The 8,000-square-foot building formerly housed a Family Dollar, which closed a few years ago.
The building will house a Mexican restaurant and store with a focus on authentic Hispanic products and food, according to restaurant owner John Harrell.
The targeted opening date of the restaurant/store is the beginning of March.
The business will most likely open Thursdays through Sundays with the intention to eventually open seven days a week based on customer demand, Harrell said.
The hours will be from about 5 a.m. to 8 p.m. or 9 p.m.
Harrell, whose wife is from Mexico, says the restaurant will be different from local Mexican restaurants.
"I have been involved in the Hispanic community since I have been here," Harrell said. "I have seen that not just Orangeburg, but St. Matthews, Elloree, Bamberg, any Hispanic communities anywhere around here, everybody has to go all the way to Columbia. Everybody."
"This is authentic," Harrell said. "This is going to be just like if you went into a little village or pueblo down in Mexico and ordered food down there."
Harrell said most of the Mexican restaurants in the area have "been Americanized a lot so that it more fits our taste."
"This is going to be authentic from Mexico," he said, noting his wife and mother-in-law will be cooking the meals. "We have old-school Mexican folks that are going to be cooking here. It is going to be as authentic as you can find. That is the big difference."
The restaurant will also have its own tortilla-making machine.
"That is a huge staple for Hispanics," Harrell said.
Harrell said he is expecting the business to employ between 16-20 and will have dine-in, takeout and possibly delivery in the future based on demand.
He said the restaurant will seat about 60.
The restaurant and store will be alcohol-free.
"I think it will a real good family friendly place," Harrell said.
For Harrell it is a first venture into the restaurant business.
"I just like to eat," he said. "I think there is a real good opportunity. There is not real competition and there is a need for it."
In addition to the restaurant and store, Harrell says he is also looking to provide a variety of services.
He said eventually there are plans to add barbecue and smoked Boston butt, briskets, ribs, a coffee shop, a meat market, a bakery, a barber shop and a candy store.
A Georgia native, Harrell arrived to Orangeburg about 17 years ago to work at the former Cox Industries plant on Cannon Bridge Road.
Harrell eventually purchased the Orangeburg Distribuidora Los Parientes (DLP) LLC plant, which he currently owns.
Harrell said his first time entering the business world as an entrepreneur has been eye-opening. He was surprised by the amount of paperwork and up-front work involved in making a business a reality.
He thanked City of Orangeburg Building Official David Epting for helping him through the process.
#lee-rev-content { margin:0 -5px; } #lee-rev-content h3 { font-family: inherit!important; font-weight: 700!important; border-left: 8px solid var(–lee-blox-link-color); text-indent: 7px; font-size: 24px!important; line-height: 24px; } #lee-rev-content .rc-provider { font-family: inherit!important; } #lee-rev-content h4 { line-height: 24px!important; font-family: "serif-ds",Times,"Times New Roman",serif!important; margin-top: 10px!important; } @media (max-width: 991px) { #lee-rev-content h3 { font-size: 18px!important; line-height: 18px; } } #pu-email-form-daily-email-article { clear: both; background-color: #fff; color: #222; background-position: bottom; background-repeat: no-repeat; padding: 15px 0 20px; margin-bottom: 40px; border-top: 4px solid rgba(0,0,0,.8); border-bottom: 1px solid rgba(0,0,0,.2); display: none; } #pu-email-form-daily-email-article, #pu-email-form-daily-email-article p { font-family: -apple-system, BlinkMacSystemFont, "Segoe UI", Helvetica, Arial, sans-serif, "Apple Color Emoji", "Segoe UI Emoji", "Segoe UI Symbol"; } #pu-email-form-daily-email-article h2 { font-size: 24px; margin: 15px 0 5px 0; font-family: "serif-ds", Times, "Times New Roman", serif; } #pu-email-form-daily-email-article .lead { margin-bottom: 5px; } #pu-email-form-daily-email-article .email-desc { font-size: 16px; line-height: 20px; margin-bottom: 5px; opacity: 0.7; } #pu-email-form-daily-email-article form { padding: 10px 30px 5px 30px; } #pu-email-form-daily-email-article .disclaimer { opacity: 0.5; margin-bottom: 0; line-height: 100%; } #pu-email-form-daily-email-article .disclaimer a { color: #222; text-decoration: underline; } #pu-email-form-daily-email-article .email-hammer { border-bottom: 3px solid #222; opacity: .5; display: inline-block; padding: 0 10px 5px 10px; margin-bottom: -5px; font-size: 16px; } @media (max-width: 991px) { #pu-email-form-daily-email-article form { padding: 10px 0 5px 0; } }