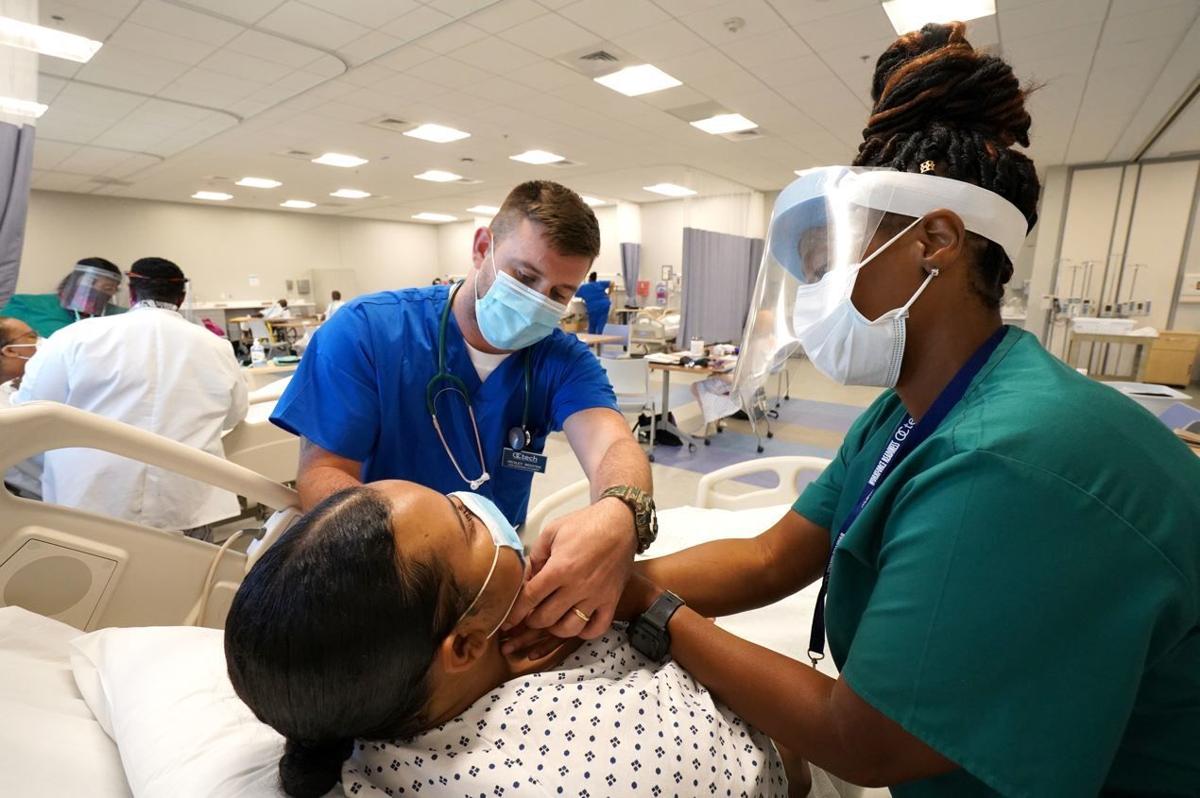 South Carolina's technical college students may be eligible for extra help through a new program designed to address the state's labor shortage by providing scholarships to cover the cost of tuition and required fees.
Gov. Henry McMaster announced Wednesday that $17 million will be invested into the Workforce Scholarships for the Future pilot program. The money comes from the Governor's Emergency Education Relief Fund.
He also called on state lawmakers to provide $124 million in American Rescue Plan Act funds to extend the program through June 30, 2024.
"South Carolina must be proactive in addressing the labor shortage. This funding will take on the crisis head-on by providing thousands of South Carolinians with the skills needed to thrive in a number of high-demand careers," McMaster said in a release.
"With this investment of $124 million into our most important resource — our people — we can ensure that South Carolina will have the workforce needed to attract further jobs and investment from companies worldwide," he said.
McMaster, S.C. Technical College System President Dr. Tim Hardee and representatives from the state's 16 technical colleges formally announced the initiative during a press conference Wednesday afternoon at AFL Global in Duncan.
Workforce Scholarships for the Future will cover tuition and required fees at S.C. technical colleges for state residents enrolled in high-demand fields such as manufacturing, health care, computer science and information technology, transportation, distribution and logistics, and construction.
The scholarship is not need-based and will be used after all other scholarships and grants have been applied. It will begin January 2022.
"Governor McMaster has demonstrated yet again his commitment to increasing the number of South Carolina citizens with the knowledge and skills to meet the workforce demands in our great state," OCtech President Dr. Walt Tobin said. "He believes that the South Carolina Technical College System, and colleges like OCtech, are the vehicle for equipping this generation and the next with degrees and industry-based credentials that lead to a living wage and successful careers for our state's residents.
"I believe an educated citizenry leads to increased economic development in all corners of South Carolina."
To qualify for the Workforce Scholarships for the Future, students must maintain a 2.0 GPA and either be employed, take a financial literacy course at the college or complete 100 community service hours.
OCtech offered paid tuition for South Carolina residents enrolled in at least six hours in a credit-seeking program in fall 2021. The college will again offer paid tuition to students enrolled for spring 2022.
"Over the years, South Carolina has been supportive of the technical colleges with several state-funded scholarship programs," Tobin said. "The addition of these funds will support OCtech's continued commitment to removing cost as a barrier to achieving a post-secondary credential."
Certificates and diplomas are available in most OCtech programs, offering short-term career training with options to continue working toward a degree. Flexible and online classes are available.
Spring classes begin Monday, Jan. 10. Students can find out more and apply at octech.edu or by calling 803-535-1234.
#pu-email-form-daily-email-article { clear: both; background-color: #fff; color: #222; background-position: bottom; background-repeat: no-repeat; padding: 15px 20px; margin-bottom: 40px; border-top: 4px solid rgba(0,0,0,.8); border-bottom: 1px solid rgba(0,0,0,.2); display: none; } #pu-email-form-daily-email-article, #pu-email-form-daily-email-article p { font-family: -apple-system, BlinkMacSystemFont, "Segoe UI", Helvetica, Arial, sans-serif, "Apple Color Emoji", "Segoe UI Emoji", "Segoe UI Symbol"; } #pu-email-form-daily-email-article h1 { font-size: 24px; margin: 15px 0 5px 0; font-family: "serif-ds", Times, "Times New Roman", serif; } #pu-email-form-daily-email-article .lead { margin-bottom: 5px; } #pu-email-form-daily-email-article .email-desc { font-size: 16px; line-height: 20px; margin-bottom: 5px; opacity: 0.7; } #pu-email-form-daily-email-article form { padding: 10px 30px 5px 30px; } #pu-email-form-daily-email-article .disclaimer { opacity: 0.5; margin-bottom: 0; line-height: 100%; } #pu-email-form-daily-email-article .disclaimer a { color: #222; text-decoration: underline; } #pu-email-form-daily-email-article .email-hammer { border-bottom: 3px solid #222; opacity: .5; display: inline-block; padding: 0 10px 5px 10px; margin-bottom: -5px; font-size: 16px; } @media (max-width: 991px) { #pu-email-form-daily-email-article form { padding: 10px 0 5px 0; } }