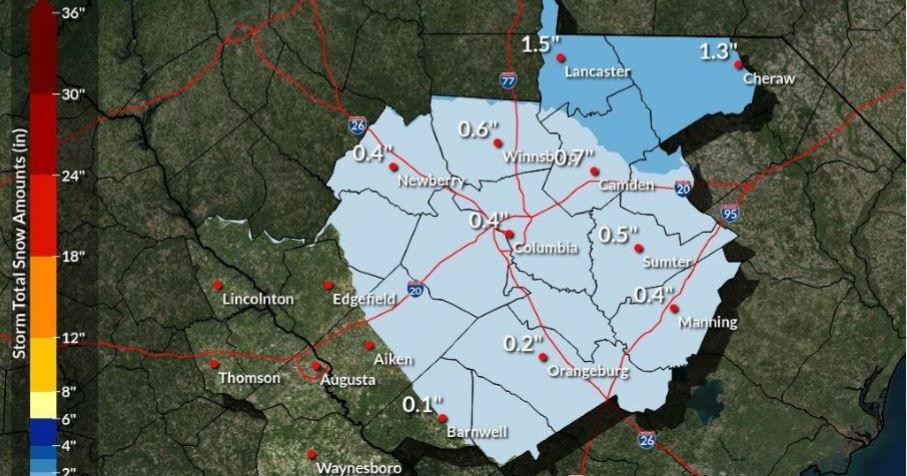 Snow remains in the forecast for early Saturday morning, but don't expect much if any accumulation.
Rain is forecast to change to a rain-snow mix after midnight before changing to all snow after 3 a.m. in the Orangeburg area.
"New snow accumulation of less than a half inch is possible," the National Weather Service said in its Friday forecast.
The chance of snow is about 30%. Orangeburg could receive two-tenths of an inch.
In some portions of Calhoun County, there is about a 40% to 50% chance of seeing at least one-tenth of an inch of snow.
In Bamberg County, the chance of seeing accumulating snow is less than 10%, according to the NWS.
Limited to minor travel impacts are expected, according to the NWS.
While a winter storm advisory has not been issued for the T&D Region, the area is under a lake wind advisory through 7 p.m. Saturday. Strong winds and rough waves on area lakes will create hazardous conditions for small craft.
The northern Midlands and Pee Dee areas are expected to receive the greatest impact.
Saturday will be sunny and cold with a high temperature of 41.
The Orangeburg area may see the coldest night of the winter season with a low temperature forecast for Orangeburg at 19 degrees early Sunday.
Individuals are encouraged to ensure all exposed water pipes are covered. Consider dripping indoor faucets to prevent pipes from freezing.
Temperatures are forecast to moderate during the week. Rain will also enter the forecast Wednesday through Thursday, though temperatures will be much too warm for any frozen precipitation.
#pu-email-form-daily-email-article { clear: both; background-color: #fff; color: #222; background-position: bottom; background-repeat: no-repeat; padding: 15px 20px; margin-bottom: 40px; border-top: 4px solid rgba(0,0,0,.8); border-bottom: 1px solid rgba(0,0,0,.2); display: none; } #pu-email-form-daily-email-article, #pu-email-form-daily-email-article p { font-family: -apple-system, BlinkMacSystemFont, "Segoe UI", Helvetica, Arial, sans-serif, "Apple Color Emoji", "Segoe UI Emoji", "Segoe UI Symbol"; } #pu-email-form-daily-email-article h1 { font-size: 24px; margin: 15px 0 5px 0; font-family: "serif-ds", Times, "Times New Roman", serif; } #pu-email-form-daily-email-article .lead { margin-bottom: 5px; } #pu-email-form-daily-email-article .email-desc { font-size: 16px; line-height: 20px; margin-bottom: 5px; opacity: 0.7; } #pu-email-form-daily-email-article form { padding: 10px 30px 5px 30px; } #pu-email-form-daily-email-article .disclaimer { opacity: 0.5; margin-bottom: 0; line-height: 100%; } #pu-email-form-daily-email-article .disclaimer a { color: #222; text-decoration: underline; } #pu-email-form-daily-email-article .email-hammer { border-bottom: 3px solid #222; opacity: .5; display: inline-block; padding: 0 10px 5px 10px; margin-bottom: -5px; font-size: 16px; } @media (max-width: 991px) { #pu-email-form-daily-email-article form { padding: 10px 0 5px 0; } }