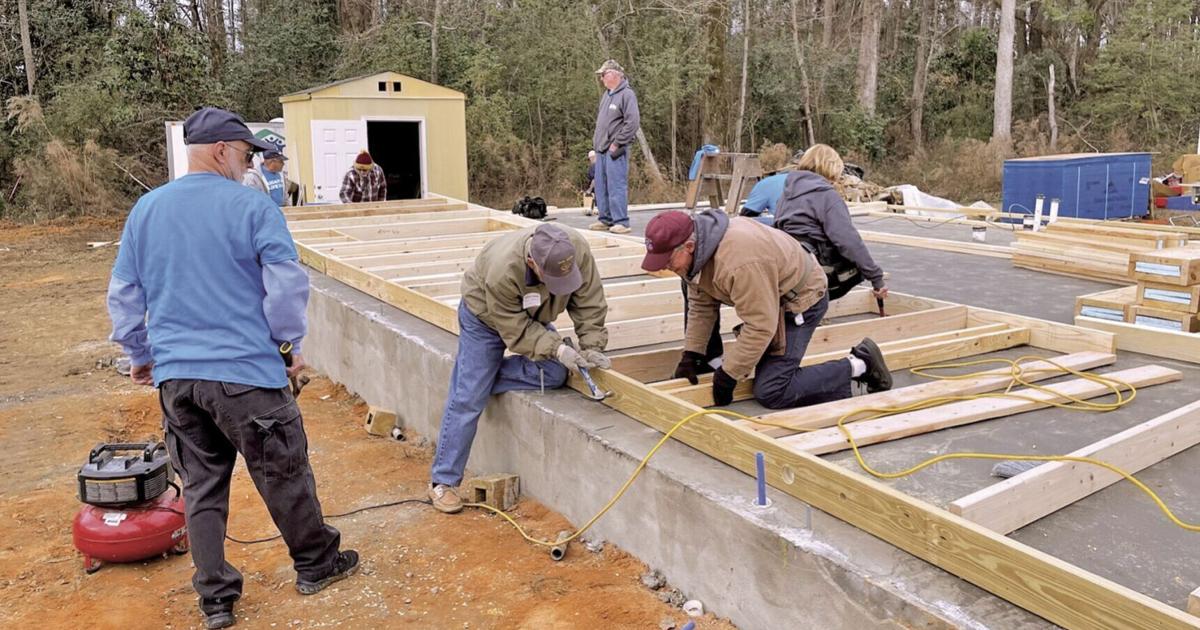 The extended family of the late Michael G. Salley Jr. said he would be smiling in heaven at the thought of them sponsoring a home to make the dream of home ownership for a family a reality.
Salley was a founder of Edisto Habitat for Humanity, a local housing ministry, in 1989 and went on to work on more than 80 homes. He passed away on May 8, 2022, at the age of 84, but his legacy of love and hard work was alive and well on Jan. 21.
'We need to help each other'
That is when members of his family and EHFH, along with other community members, converged at 111 Kings Road in Orangeburg for the groundbreaking of a home to be constructed in Salley's memory. The home is being built for Dorothy Miller and her family.
"We do it for the love of him and for the love of our community. Your community's everything. We need to all pitch in and help each other. We need to remember that and to remember that it's better to help," Salley's daughter Sara S. Ardis said.
Several family members joined her at the groundbreaking, including her mother, Sara "Penny" Moore Salley and her father's younger twin brothers, Leonard and Mackay Salley.
"Helping others helps yourself. Once you start giving, you get so much more out of it. I think he got so much more out of it. This is something he enjoyed doing," Ardis said of her father.
Miller, who was joined at the groundbreaking ceremony by several family members and well-wishers, was grateful for what she considered a blessing from God.
"I'm truly blessed. It's been a hard and a rough highway to walk down, but I just thank God for what he has done. My pastor always tells me the worst is over and the best is yet to come. I thank God for that," she said.
Miller gave a special thank you to her foster parents, the late Johnnie and Lucille Grays, as well as her biological parents, the late Emma Salley Stokes and the late David Patterson.
"I have a special thank you for my mother and father that raised me, Mr. Johnnie and Lucille Grays, for instilling in me great skills, and my biological mother, Mrs. Emma Salley Stokes. I grew up in a foster home, but it was one of the best homes you wanted to ever go to. I just thank God for both of them. All of these parents are deceased, but they're looking down, and my biological father," she said.
Her pastor, the Rev. Dr. Charcey Priester Sr., pastor of St. Paul Missionary Baptist Church, said he was also thankful for how far Miller had come.
"We're absolutely grateful and thankful that the Lord has opened this door. Our theme for the 2023 year has been about the breaker's anointing. Breakers mean as far as breaking through into new opportunities, new seasons. So this is a new season in her life, a breakthrough as far as the establishment of a new home," Priester said.
The pastor said the groundbreaking of Miller's new home represented her breaking into new territory.
"So we're celebrating with her and grateful that the Lord has enlarged her territory," he said.
'He really loved Habitat'
Mackay said he hoped the home would bring Miller and her family "many pleasures."
"I appreciate the team that's working. I remember my time working, the fellowship we had and all, but somebody is going to have to supervise because I can't supervise anymore," he said, smiling.
"I'm sure somebody will step up. … Thank y'all for coming out and participating and, as Michael would say, let's get to work," Mackey said.
He said his older brother was a patient, meticulous man when it came to his work with Habitat and really loved what he was doing. He said his brother "came into his own with Habitat" after having begun a career with the S.C. Forestry Commission and then going on to start his own forestry business.
"He really loved Habitat. I think Habitat gave more to him than he gave to Habitat. He instilled that in us. I was on a building team with our church. … We were on the siding team. We had a person just like Michael who was very particular," he said.
Mackay said while he is on the "tail end of actually doing the work now," he and his family provide financial support for Habitat for Humanity's continued mission.
Penny said her late husband would be happy with the groundbreaking of the memorial home.
"This was Michael's passion, and he loved doing it," she said.
Known as the "Edisto Habitat Father," Salley has been remembered for his commitment to his family, his church and the community members he enjoyed serving over the years. For example, EHFH officials, along with city and county government officials, converged upon 1071 Kings Road in Orangeburg in 2019 for the dedication of the Orangeburg County Community Park, which was named in Salley's honor.
Tom Kerr is an EHFH board member and build team chairman who also attended church with Salley at St. Andrew's United Methodist Church in Orangeburg.
"Michael got me started with Habitat. … St. Andrew's is glad to support and will continue to. Hopefully we'll have some more folks come on the Saturdays we've got coming forward. We were just lucky to have Michael as a member of our church," Kerr said.
He continued, "He worked as much around the church – it'd be hard to believe — as he did around Habitat. I appreciate Michael and am just thrilled to be able to participate with this project."
'His vision has been infectious'
EHFH Executive Director Jessica Burgoyne and build team member Mike Holinko presented a memorial cornerstone, which will be placed at the base of the flag pole at the EHFH office located at 1035 Windsor St. in Orangeburg in memory of Salley.
"Our intention is to add to it over time some of the other founding members, etc., who pass on, that we'll be able to honor them as well," Burgoyne said.
She said she appreciated the "amazing" generosity of the Salley family in sponsoring Miller's home.
"Mr. Michael Salley indeed had a legacy of love that he offered to Habitat for Humanity and his community. His family and Habitat wanted to honor him in this way. We're grateful for the community that has supported his efforts and our efforts," Burgoyne said.
Holinko said Salley was a special part of Habitat.
"You fell in love with him immediately…. I just hope that I can honor his legacy by keeping Habitat going," he said.
Randy Zeiger, EHFH construction supervisor, said he had worked with Salley for well over a decade and "enjoyed every minute of it."
Betty Stone of EHFH said Salley was remembered "with great warmth and great appreciation."
"Michael and I had been friends for a long, long time. I'm glad to see Penny here and other members of Mike's family. I knew Mike's mom and dad way back when. They were members of St. Paul's United Methodist Church, and I was a member there. I had just come to Orangeburg," Stone said.
"Today is really a day just to remember him. You all know what he did for Habitat. All the years that he worked, as loyal and faithful and hardworking as anybody in the world. One of the values that I hold dear is people who work hard, and Michael worked hard and steady every day," she said.
Burgoyne said she's grateful that the seed that Salley helped plant continues to grow throughout the community.
"That's why we wanted to honor Mr. Salley. His vision has been infectious in a good way. Everyone got the Habitat bug, as they say, and continued forward with this effort of kindness and love and long-term stabilization of our community," she said.
Burgoyne continued, "That's what we thrive to do every day. We have some of the most amazing volunteers. That's how this gets done. The businesses, the community that supports us. Without it, we can't do this work. So we're just extremely grateful."
#lee-rev-content { margin:0 -5px; } #lee-rev-content h3 { font-family: inherit!important; font-weight: 700!important; border-left: 8px solid var(–lee-blox-link-color); text-indent: 7px; font-size: 24px!important; line-height: 24px; } #lee-rev-content .rc-provider { font-family: inherit!important; } #lee-rev-content h4 { line-height: 24px!important; font-family: "serif-ds",Times,"Times New Roman",serif!important; margin-top: 10px!important; } @media (max-width: 991px) { #lee-rev-content h3 { font-size: 18px!important; line-height: 18px; } } #pu-email-form-breaking-email-article { clear: both; background-color: #fff; color: #222; background-position: bottom; background-repeat: no-repeat; padding: 15px 0 20px; margin-bottom: 40px; border-top: 4px solid rgba(0,0,0,.8); border-bottom: 1px solid rgba(0,0,0,.2); display: none; } #pu-email-form-breaking-email-article, #pu-email-form-breaking-email-article p { font-family: -apple-system, BlinkMacSystemFont, "Segoe UI", Helvetica, Arial, sans-serif, "Apple Color Emoji", "Segoe UI Emoji", "Segoe UI Symbol"; } #pu-email-form-breaking-email-article h2 { font-size: 24px; margin: 15px 0 5px 0; font-family: "serif-ds", Times, "Times New Roman", serif; } #pu-email-form-breaking-email-article .lead { margin-bottom: 5px; } #pu-email-form-breaking-email-article .email-desc { font-size: 16px; line-height: 20px; margin-bottom: 5px; opacity: 0.7; } #pu-email-form-breaking-email-article form { padding: 10px 30px 5px 30px; } #pu-email-form-breaking-email-article .disclaimer { opacity: 0.5; margin-bottom: 0; line-height: 100%; } #pu-email-form-breaking-email-article .disclaimer a { color: #222; text-decoration: underline; } #pu-email-form-breaking-email-article .email-hammer { border-bottom: 3px solid #222; opacity: .5; display: inline-block; padding: 0 10px 5px 10px; margin-bottom: -5px; font-size: 16px; } @media (max-width: 991px) { #pu-email-form-breaking-email-article form { padding: 10px 0 5px 0; } }