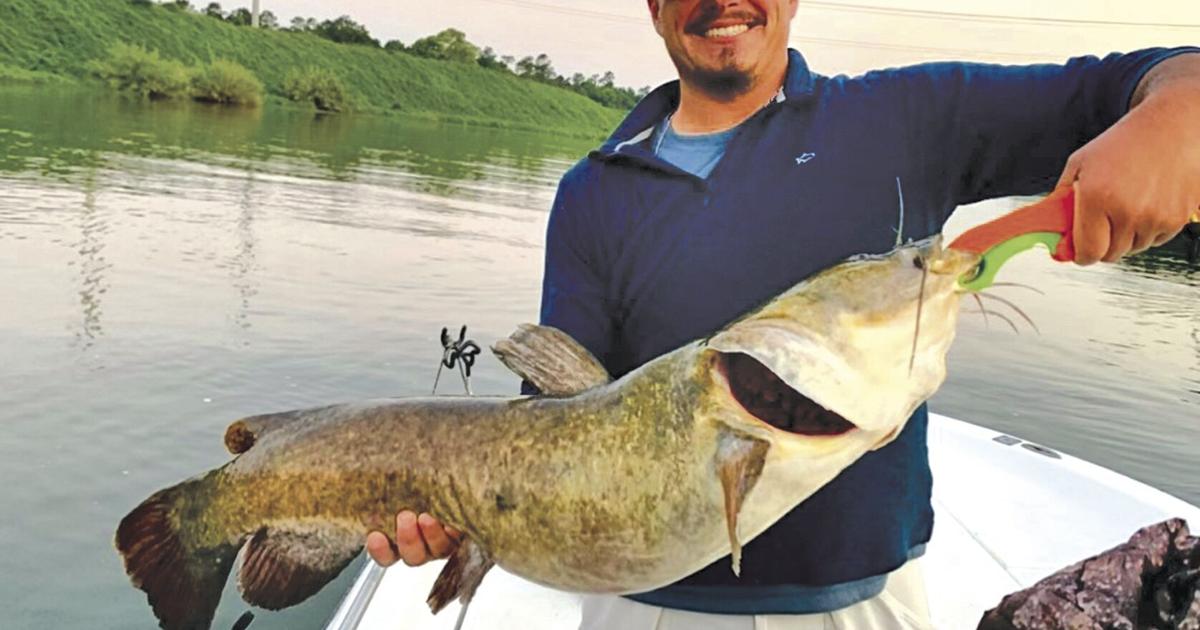 The King Kat Tournament Trail Sweet Sixteen on the Santee Cooper lakes is creating a buzz.
One of the people excited is Santee Cooper Country Executive Director Jane Powell. For her, the tournament is a big tourism draw for two of the counties sharing the lakes, Orangeburg and Clarendon.
"We're thrilled," Powell said. "We can't wait to have them come. I know that this would be very good publicity for our area and it's good for the economy," Powell said.
"We have people bringing in money from out of state. They come in, they spend locally, and it's good for economic development. It's a win-win situation for everybody, so we're thrilled to be having them," Powell said.
The tournament, part of a trail of national events, will run for three days, Jan. 26 to the 28. Some of the top catfishing teams in the country will be there.
The tournament base is Palmetto Shores RV Resort in Summerton. Daily weigh-ins are open to the public.
"Whenever people come in and they stay … that goes to accommodations tax. The State of South Carolina will receive from each one of them and that's what they say in the industry is putting heads in beds," Powell said.
"That money is put back into the economy. If you come in from Florida and you're bringing your family of four, they're already eating at restaurants, they've got to buy gas for the boat and buy gas for the cars, and they have to buy bait," Powell said.
Another added boost is jobs. Winter is generally a slow season, so having an event like this brings more travelers back to the area.
"The local people here in our area, it gives them job security. They go out to eat at night and you've got your hospitality staff, your wait staff, it just feeds back into local economies," Powell said.
"When you think about it, when they're here for four or five days, it's helping everybody," Powell said.
The people coming into the area have both a direct and indirect impact for Clarendon County's director of tourism, Jesse Surette, including exposure for Santee Cooper and its surrounding territory.
"The promotion of events like this continues to bring exposure to the counties and the lakes as a whole to get the word out to folks," Surette said.
"They may say, 'oh, yeah, I see they've got some great fish. We should go down there and visit it.' It's a direct economic impact, as soon as we booked their stay," Surette said.
Santee Cooper is deemed a top fishing destination, with fishing magazines having it ranked high nationally, primarily when it comes to bass. The lakes are ranked 10th in the Bassmaster listing of "Best Bass Lakes of 2022." The lakes are also renowned for their catfish.
"This is an opportunity to really see some of the biggest catfish around brought in, put up and shown off, so it's really cool event. It is something that you might not always see," Surette said.
The tournament is free admission for spectators. For Powell the opportunity to go out and experience a tournament like this is great and something for the family to enjoy together.
"With children, you can take them to these tournaments and its good, wholesome fun. It's something that the whole family can enjoy. They take them out and they watch these fish come in," Powell said.
"They'll learn how to create a tackle box, go out to sit on the lake, try to catch the fish, and enjoy that feeling with your family outside in the great outdoors. It gets them away from sitting in front of a television or computer," Powell said.
The tournament pits some of the best fishers on the planet against one another.
Terry Benjamin II, a Claflin University mass communications senior, is reporting for The Times and Democrat as a Lee Enterprises-sponsored news-sports intern.
#lee-rev-content { margin:0 -5px; } #lee-rev-content h3 { font-family: inherit!important; font-weight: 700!important; border-left: 8px solid var(–lee-blox-link-color); text-indent: 7px; font-size: 24px!important; line-height: 24px; } #lee-rev-content .rc-provider { font-family: inherit!important; } #lee-rev-content h4 { line-height: 24px!important; font-family: "serif-ds",Times,"Times New Roman",serif!important; margin-top: 10px!important; } @media (max-width: 991px) { #lee-rev-content h3 { font-size: 18px!important; line-height: 18px; } } #pu-email-form-daily-email-article { clear: both; background-color: #fff; color: #222; background-position: bottom; background-repeat: no-repeat; padding: 15px 0 20px; margin-bottom: 40px; border-top: 4px solid rgba(0,0,0,.8); border-bottom: 1px solid rgba(0,0,0,.2); display: none; } #pu-email-form-daily-email-article, #pu-email-form-daily-email-article p { font-family: -apple-system, BlinkMacSystemFont, "Segoe UI", Helvetica, Arial, sans-serif, "Apple Color Emoji", "Segoe UI Emoji", "Segoe UI Symbol"; } #pu-email-form-daily-email-article h2 { font-size: 24px; margin: 15px 0 5px 0; font-family: "serif-ds", Times, "Times New Roman", serif; } #pu-email-form-daily-email-article .lead { margin-bottom: 5px; } #pu-email-form-daily-email-article .email-desc { font-size: 16px; line-height: 20px; margin-bottom: 5px; opacity: 0.7; } #pu-email-form-daily-email-article form { padding: 10px 30px 5px 30px; } #pu-email-form-daily-email-article .disclaimer { opacity: 0.5; margin-bottom: 0; line-height: 100%; } #pu-email-form-daily-email-article .disclaimer a { color: #222; text-decoration: underline; } #pu-email-form-daily-email-article .email-hammer { border-bottom: 3px solid #222; opacity: .5; display: inline-block; padding: 0 10px 5px 10px; margin-bottom: -5px; font-size: 16px; } @media (max-width: 991px) { #pu-email-form-daily-email-article form { padding: 10px 0 5px 0; } }