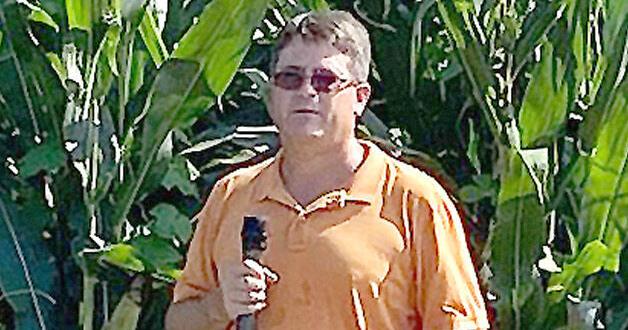 South Carolina corn acreage is up from 2022 and Clemson Extension specialists offer tips such as checking for nematodes, controlling pests and weeds, and properly managing inputs to help ensure corn remains one of the state's most lucrative crops.
Corn acreage planted in South Carolina in 2023 was 390,000 acres, up from 320,000 acres planted in 2022. The USDA Crop Production Report released Aug. 11 shows South Carolina farmers expect to produce 51.1 million bushels, up 40% from 2022, and make it on 370,000 acres with a 138-bushel-per-acre average yield.
To help South Carolina growers learn how to keep corn a top commodity, the Clemson Cooperative Extension Service held the 2023 Corn Field Day at the Edisto Research and Education Center (REC) in Blackville.
Topics included a discussion about double-cropping corn and soybeans. In this project, led by Michael Plumblee, Clemson Extension corn and soybean specialist, he and Bennett Harrelson, Clemson doctoral student, are looking at every aspect of this system to generate a set of best management practices. One topic is to determine if using this system leads to issues with increased plant parasitic nematodes.
During the 2023 Clemson Extension Corn Field Day, Michael Marshall, Clemson Extension weed scientist, talks about herbicides being studied for…
"Fewer nematodes were found during the fall sampling, said Plumblee, field day coordinator. "So the nematicide is working, but we're not seeing a huge impact in corn yields."
Variety selection in soybean is critical, Harrelson said. In a double crop corn/soybean nematicide trial, Clemson researchers are studying a shorter season (109 RM) corn hybrid treated with insecticide/nematicide Counter 20G at 6.5 pounds/acre and not treated.
Soybean following corn includes varieties with root-knot nematode (RKN)-resistance and RKN-susceptibility, both treated with AgLogic 15C at 5 pounds per acre. Also included in the study are plots of the same varieties not treated.
"From this research, we hope to determine what is profitable and sustainable," Harrelson said.
This research is funded by the South Carolina Soybean Board.
"We're seeing a lot of damage in corn related to Columbia lance nematodes," said John Mueller, plant pathologist. "Damage resulting from early season infections can lead to yield losses."
Nematodes are non-segmented worms typically 1/500 of an inch in diameter and 1/20 of an inch in length. The most common species are Columbia lance nematode, lesion nematode, Southern root-knot nematode, sting nematode and stubby root nematode. Columbia lance nematodes are causing the most problems this year.
Symptoms of possible nematode damage include areas of corn fields that are a lighter green than the rest of the field or areas where plants are noticeably stunted. To determine if nematodes are part of the problem, Mueller advises growers to dig up the roots and compare the roots of healthy plants to roots of damaged plants. Roots of nematode-infected corn plants may exhibit small galls. More commonly, infected roots have very stubby side roots which are typically swollen.
Harvest is a good time to check for nematodes. Growers can work with their local county agent to submit samples to the Clemson University Nematode Assay Laboratory. Additional information about nematodes and other crop-related issues also is available from the Crop Protection Network, https://cropprotectionnetwork.org/.
Insect pests and weeds
Excessive rain this year has resulted in more herbicides being applied to corn. Michael Marshall, Clemson Extension weed scientist, is evaluating new corn herbicides for South Carolina growers. Herbicides evaluated in this study included Storen, Halex GT, Callisto, Anthem Maxx, Harness Max, Capreno and Kyro.
Marshall said weeds to look out for include annual morning glories, which "are an enemy of corn, especially at harvest time," and Texas Panicum, which "is not a problem in soybeans but can be a major problem in corn later in the season."
As for insect pests, Bt (Bacillus thuringiensis) corn can help control some insect pests. Francis Reay-Jones, Clemson entomologist and Integrated Pest Management (IPM) program coordinator housed at the Pee Dee REC near Florence, South Carolina, said since its commercialization in 1996, the Bt corn technology has helped reduce and manage pests including corn earworm.
The corn earworm, also known as the bollworm, attacks both corn and cotton. Selection for resistance to corn earworm in Bt corn is leading to resistance issues in Bt cotton. Farmers may be dealing with this problem for some time.
"We are years away from any new Bt trait in corn and cotton," Reay-Jones said. "However, resistance development can be delayed by planting the required non-Bt corn refuge on each farm."
Other corn insect pests growers should pay attention to include the brown stink bug, green stink bug and southern green stink bug.
"Stink bug is a major economic pest of corn," said Tim Bryant, assistant coordinator for the Clemson IPM program. "Scouting is important."
To help manage pests, Clemson researchers and researchers from other Land Grant Institutions developed the MyIPM for Row Crops app. This is a free app available for Android smartphones in the Google Play Store and for iPhones in the Apple Store.
Corn fertility update
Fertilizers claim a large portion of input costs for growing crops and Clemson University nutrient management specialist Bhupinder Farmaha said precise input management is important. In a corn fertility update, Farmaha said proper nitrogen management can be ensured by periodic soil testing, liming soils, following Clemson's fertilizer recommendations and diversifying crop rotations with cover crops. If animal manure is used as fertilizer, it should be tested before deciding on application rates. Farm management history should be considered to maximize benefits and minimize minimal environmental concerns.
"It's not how much manure to apply, but how to manage it," Farmaha said. "When animal manure is applied to a field, adjust inorganic fertilizer nitrogen rates for the nitrogen supplied by the manure. Because animal waste is highly variable in nutrient content such as in, nitrogen, phosphorus and potassium, laboratory analyses are needed to determine nutritive value."
Soil tests can help determine fertilizer amounts needed. Soil testing and manure analyses are available from the Clemson Regulatory Services Agricultural Service Laboratory, https://bit.ly/CU_AgServiceLab.
In addition to these topics, field day participants also learned about services offered by the Clemson Extension Agronomic Crops Team. Jay Crouch, agronomic crop agent in the Newberry County office, said this team of Clemson Extension agents, researchers and specialists can provide information related to crop production, pest management, harvesting and post-harvesting processes for commodities such as soybeans, corn and tobacco. The South Carolina Crops Blog also provides producers with the latest pest, weather, disease and variety trial information, and posts about news and updates from workshops and Field Days.
Field day participants also were given updates on corn official variety trials, hybrid trials and using fungicides to control foliar diseases.
Denise Attaway reports for Public Service and Agriculture in the Clemson University College of Agriculture, Forestry and Life Sciences.
#lee-rev-content { margin:0 -5px; } #lee-rev-content h3 { font-family: inherit!important; font-weight: 700!important; border-left: 8px solid var(–lee-blox-link-color); text-indent: 7px; font-size: 24px!important; line-height: 24px; } #lee-rev-content .rc-provider { font-family: inherit!important; } #lee-rev-content h4 { line-height: 24px!important; font-family: "serif-ds",Times,"Times New Roman",serif!important; margin-top: 10px!important; } @media (max-width: 991px) { #lee-rev-content h3 { font-size: 18px!important; line-height: 18px; } } #pu-email-form-business-email-article { clear: both; background-color: #fff; color: #222; background-position: bottom; background-repeat: no-repeat; padding: 15px 0 20px; margin-bottom: 40px; border-top: 4px solid rgba(0,0,0,.8); border-bottom: 1px solid rgba(0,0,0,.2); display: none; } #pu-email-form-business-email-article, #pu-email-form-business-email-article p { font-family: -apple-system, BlinkMacSystemFont, "Segoe UI", Helvetica, Arial, sans-serif, "Apple Color Emoji", "Segoe UI Emoji", "Segoe UI Symbol"; } #pu-email-form-business-email-article h2 { font-size: 24px; margin: 15px 0 5px 0; font-family: "serif-ds", Times, "Times New Roman", serif; } #pu-email-form-business-email-article .lead { margin-bottom: 5px; } #pu-email-form-business-email-article .email-desc { font-size: 16px; line-height: 20px; margin-bottom: 5px; opacity: 0.7; } #pu-email-form-business-email-article form { padding: 10px 30px 5px 30px; } #pu-email-form-business-email-article .disclaimer { opacity: 0.5; margin-bottom: 0; line-height: 100%; } #pu-email-form-business-email-article .disclaimer a { color: #222; text-decoration: underline; } #pu-email-form-business-email-article .email-hammer { border-bottom: 3px solid #222; opacity: .5; display: inline-block; padding: 0 10px 5px 10px; margin-bottom: -5px; font-size: 16px; } @media (max-width: 991px) { #pu-email-form-business-email-article form { padding: 10px 0 5px 0; } } .grecaptcha-badge { visibility: hidden; }