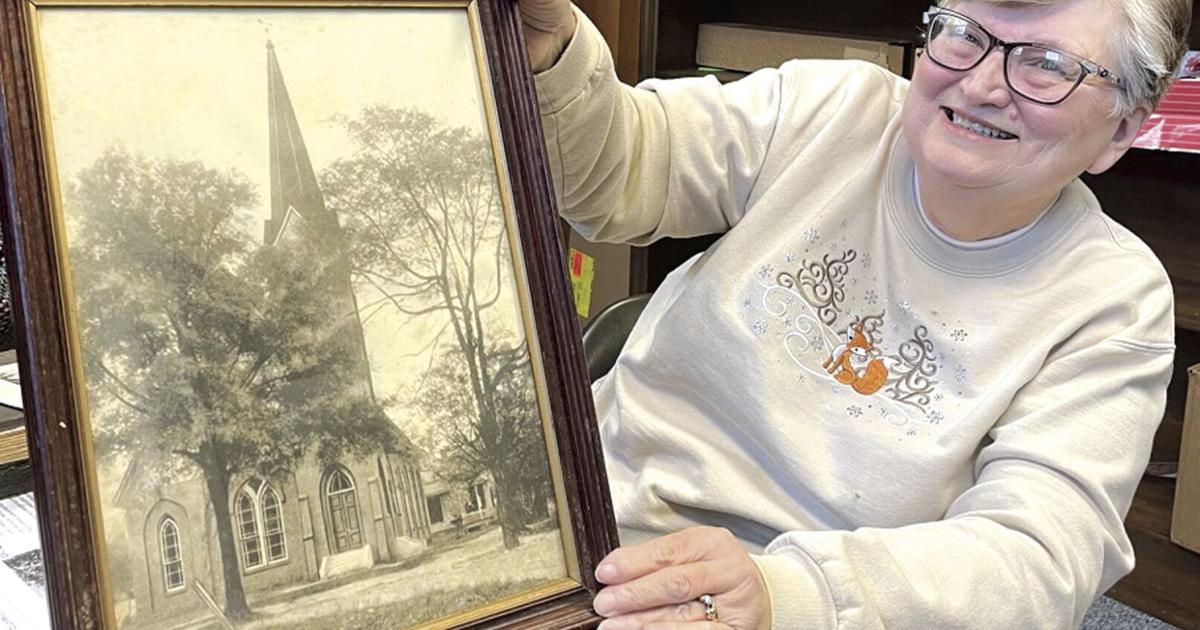 First Baptist Church of Bamberg marked a milestone in the church's long history with the celebration of its 150th anniversary in November. It's an achievement members say reflects the church's faithfulness and dedication to God.
Church pastor the Rev. Brad Hudson said he is proud of how far the church has come.
"There's not a lot of things that last 150 years. So I think it speaks of God's faithfulness, but it also speaks of the folks that have been in the leadership of the church and their faithfulness to work for God's purpose and plan for Bamberg through our church," Hudson said.
"I think that they've been faithful. God has rewarded that for 150 years, and it's our prayer that God's going to continue to use us, hopefully, for another 150-plus years," he said.
First Baptist Church of Bamberg was formed by 11 people on the night of Nov. 3, 1872, when those assembled prayed: "May the Lord make this little one a mighty one."
The Rev. J.F. Buist served as the first pastor of the church, which organized its first Sunday school in 1873.
The church began as Bamberg Baptist Church and was originally situated on West Church Street next to the first Bamberg school building.
The church history noted the strict discipline imposed on members in the late 1880s, including being summoned before the conference for wrongdoing. Members also voluntarily came before the conference to confess sins and ask for forgiveness.
Also in the church history, the building was described as inadequate and uncomfortable. A ceiling was eventually put up in 1876, while money was raised to pay for glass windows in 1877. A church bell was installed in 1881.
Land was purchased at the corner of Railroad Avenue and Carlisle Street in 1892. That was where a new church building was completed and dedicated in 1894. The church had a steeple which was struck by lightning at least twice, and crossties were provided for hitching posts.
In 1905, an artesian well was completed, the church auditorium was equipped with pews and electric lights were installed. The congregation decided to demolish the church building and build the present church in the 1920s because the congregation had outgrown the building.
The present church building had a pipe organ and an electrically-equipped kitchen installed. It was dedicated in March 1928.
The bell from the second church sits on the side of the present building, which is adorned with distinctive double-curved stairs.
The name of the church was officially changed from Bamberg Baptist Church to First Baptist Church in 1951.
Hudson said the church's mission, however, has not changed.
"It's not my idea, it's Jesus' idea. He said: Go, therefore, making disciples, baptizing them in the name of the Father, Son and Holy Spirit, and teaching them the ways of Christ. So I believe if we forget our calling as a church, then we'll be found unfaithful. God's not going to bless that.
"As long as we're being a light to our community, loving and serving our community, God's going to honor that. I don't believe it's a suggestion. It's a command for us as a church to go to our community and not just our community, but all the world proclaiming Jesus as king," the pastor said.
Church member Macey Bonnette, 16, said growing up in the church has helped her.
"Growing up in today's world, it's crazy with all the different outside points of view, different things you can hear … and judgment on how people want you to live and how you should actually live. I think growing up with a strong faith in the church really helped me," she said.
Bonnette continued, "I think Brad's been a very positive impact, too, because he is a younger person who has been leading our church. I think he's helped me stay on the right path, with growing up in high school and stuff. It can be tempting for every teenager growing up."
"We are also very active in the community. We do lots of different things like at football games with the barbecue we had this past summer to bring people out just to enjoy each other's company. … We've gone to summer camps and different retreats, too," the teen said.
She said the church's various activities for 4K-sixth graders and seventh-12th graders makes a difference. The children and youth participate in Sunday school on Sunday morning, but each age group also has Sunday and Wednesday night classes.
"Every Wednesday night, the younger kids have a theme," she said, including "Jammies for Jesus," where the kids can wear pajamas, or "U Can If You Care," where canned goods are brought in to support the church's outreach initiatives.
Like the pastor, church member Murdell Sandifer, 92, said she thinks faith has a lot to do with the church's long existence.
"I think it attests to our faith that we are together after 150 years and still determined to stay together in spite of the things out there that saying, 'Cut back, don't do this and that. Temper your sermons so that no one gets offended,' and that sort of thing. I think the fact that we are still here shows the world that we are determined that we're going to have our church," Sandifer said.
She said the pastor's connection with a younger generation is still undergirded by faith in Christ. The church also has youth teachers Donnie and Corrie Groff, with Donnie also providing music on Sunday mornings.
"To me, it's comforting to know that in spite of our leaders being so knowledgeable of the things that's out there now, underneath is that faith that they instill in every one of them. When something comes up, anything in your life that's testing you, if you don't have that faith background where do you go? I do think Brad and the (Groff) couple are also emphasizing that faith you've got to have," Sandifer said.
Church member Libby Marchant, 66, said the she is impressed at how the church has adapted to change over its 150 years of existence.
"Isn't it wonderful that the church has existed in this day and age? You think about the way our world is right now, and for it to have existed for 150 years" is remarkable, Marchant said. "Of course, it's like everything, it's made changes throughout the years, but then we all have to adapt to our environment as it changes."
She enjoys the closeness among the members.
"I was enrolled in the cradle roll. When you are a baby in the Baptist Church, you enroll in the cradle roll, or either go into the nursery. I've been here all my life, 66 years, but I think it's the fellowship and the friendship of all the people and all the relationships throughout the years," she said.
Sandifer said, "I think so, too. And I think that in spite of what we're doing, underneath the church is always working at developing your faith. This is the place you come when you need guidance. And not only that, most of the staff have always let us know that they are there if we need additional help. I feel secure."
Marchant said while COVID had slowed down some activities at the church, its doors are open to anyone and everyone, including those from the surrounding community. Vacation Bible School, for example, is a time when the pastor will pick up several children from the neighborhood in the church bus for them to participate.
"He doesn't have to do that. We could stay within ourselves. When we were growing up, it was just the children in this church and whoever they invited to come. But he goes out and does a lot of outreach," Marchant said.
Sandifer said, "We had one pastor here – and I've just never forgotten it – that said, 'You are not doing missions until you get beyond the walls of the church.' As long as it stays in the church, that's not missions. That's your responsibility."
#lee-rev-content { margin:0 -5px; } #lee-rev-content h3 { font-family: inherit!important; font-weight: 700!important; border-left: 8px solid var(–lee-blox-link-color); text-indent: 7px; font-size: 24px!important; line-height: 24px; } #lee-rev-content .rc-provider { font-family: inherit!important; } #lee-rev-content h4 { line-height: 24px!important; font-family: "serif-ds",Times,"Times New Roman",serif!important; margin-top: 10px!important; } @media (max-width: 991px) { #lee-rev-content h3 { font-size: 18px!important; line-height: 18px; } } #pu-email-form-daily-email-article { clear: both; background-color: #fff; color: #222; background-position: bottom; background-repeat: no-repeat; padding: 15px 0 20px; margin-bottom: 40px; border-top: 4px solid rgba(0,0,0,.8); border-bottom: 1px solid rgba(0,0,0,.2); display: none; } #pu-email-form-daily-email-article, #pu-email-form-daily-email-article p { font-family: -apple-system, BlinkMacSystemFont, "Segoe UI", Helvetica, Arial, sans-serif, "Apple Color Emoji", "Segoe UI Emoji", "Segoe UI Symbol"; } #pu-email-form-daily-email-article h2 { font-size: 24px; margin: 15px 0 5px 0; font-family: "serif-ds", Times, "Times New Roman", serif; } #pu-email-form-daily-email-article .lead { margin-bottom: 5px; } #pu-email-form-daily-email-article .email-desc { font-size: 16px; line-height: 20px; margin-bottom: 5px; opacity: 0.7; } #pu-email-form-daily-email-article form { padding: 10px 30px 5px 30px; } #pu-email-form-daily-email-article .disclaimer { opacity: 0.5; margin-bottom: 0; line-height: 100%; } #pu-email-form-daily-email-article .disclaimer a { color: #222; text-decoration: underline; } #pu-email-form-daily-email-article .email-hammer { border-bottom: 3px solid #222; opacity: .5; display: inline-block; padding: 0 10px 5px 10px; margin-bottom: -5px; font-size: 16px; } @media (max-width: 991px) { #pu-email-form-daily-email-article form { padding: 10px 0 5px 0; } }