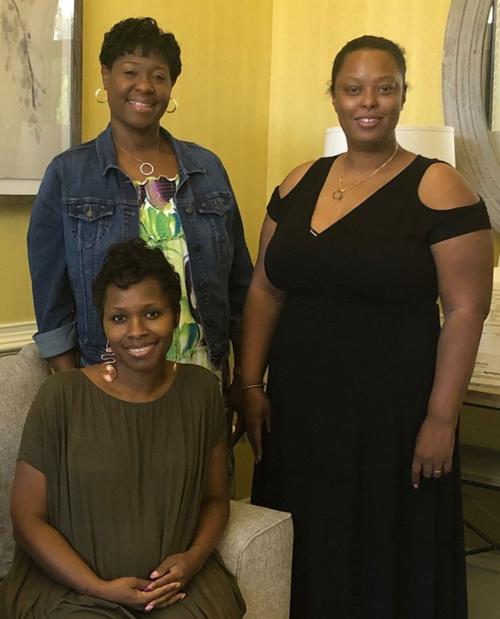 An Orangeburg-based family wellness program will hold its 14th annual Infant Mortality Awareness and Scholarship Luncheon on Sept. 10 even as it continues to address other family health components, including rising rates of maternal mortality.
The Family Solutions of the Low Country event coincides with September's observance of Infant Mortality Awareness Month.
The luncheon will be held at noon at the Edisto Fork United Methodist Church Family Life Center. The event will celebrate 14 years of spreading awareness about infant mortality and providing clients with necessary support services.
While last year's event was held virtually because of the coronavirus pandemic, there are plans to hold the event in person this year with safety protocols in place.
"We are taking the necessary precautions with social distancing and limiting the number of guests that we invite this year," FSLC Director Lamikka Purvis Samuel said.
This year's speaker is motivational speaker and media personality Brandy "Beasy Baybie" Henshaw, who also spoke at last year's event and whose story of personal struggles resonated with many FSLC clients, Samuel said.
"Beasy has a story that sounds so familiar to our program participants. She had such a huge impact on the individuals who were able to attend virtually last year, but she didn't even tell her whole story. So we reached back out to her and asked if she would be willing to come in person this year to really tell it," Samuel said.
This year's event will be hosted by counselor and motivational speaker Terrance "Tuck" Tucker. He is founder of the T.U.C.K Project LLC, a nonprofit mentoring program which stands for Together Uplifting Community Kids and promotes male achievement.
"He understands how important is for fathers to be involved in the lives of their children. We at Family Solutions also have our male involvement program because a father's involvement has a positive impact not just on the pregnancy outcome for the woman, but for the overall health of the woman and the baby," Samuel said.
This year's luncheon theme is "From Here Anything is Possible."
Three scholarships will also be presented at the luncheon.
"We're asking clients (male and female) from all five counties that we serve to write an essay on how Family Solutions has impacted their lives. We will be choosing winners from our clients," said Tracy Golden, FSLC senior program manager.
Family Solutions, a program of the South Carolina Office of Rural Health, is the name for an umbrella of services that include Healthy Start, an infant and maternal wellness program; Opportunity Knocks, a male involvement program; and Nurse-Family Partnership, a home visitation program for first-time mot hers.
Healthy Start, which Family Solutions administers along with the NFP, works to reduce infant mortality in Barnwell, Allendale, Bamberg, Hampton and Orangeburg counties. The NFP program serves Orangeburg County.
"One thing we've been able to do is add a maternal mortality component to our work because we've been hearing over the last couple of years a lot more about how African-American women are dying within the first year of delivery," Samuel said.
She continued, "So at Family Solutions we were able to bring on a women's health nurse practitioner, and her primary focus is on that high-risk population, those women who fit into that category of being at risk for death during that postpartum period."
Samuel said clients still have their primary OB/GYN provider, but the women's health nurse practitioner "can help the clients more in their homes."
Romaine Stephens, FSLC community engagement specialist, said, "She brings a human aspect because she's a mom, she's an African-American mom and a she's a new mom too. So she can bring in her own pregnancy experience and when she talks to them, it makes them feel comfortable to just be open and when you're open and honest, you can get the best care."
Golden, FSLC senior program manager, said, "We're glad to know that because then we know they are getting the treatment. They have told somebody. She can relate to the doctor what needs to happen, then relate that back to them because sometimes they don't understand everything that the providers are telling them."
Samuel said infant mortality continues to be an issue that the FSLC continues to tackle, particularly as it pertains to the widening disparity in the mortality rates between babies born to Black mothers versus those born to white mothers.
The latest data released by the S.C. Department of Health and Environmental Control in October showed that South Carolina's infant mortality rate decreased from 7.2 infant deaths per 1,000 live births in 2018 to 6.9 infant deaths per 1,000 live births in 2019.
This is reflective of 26 fewer deaths in 2019 than in the previous year, but the infant mortality rate among births to minority women remained moderately constant from 2018 to 2019 at 11.1 and 11.2, respectively, while the infant mortality rate among births to white mothers decreased 9.8% from 5.1 in 2018 to 4.6 infant deaths per 1,000 live births in 2019.
"So there is a huge gap, and the gap is even larger than it was some years ago. So the work that we're doing and partnering with others to do is still very important," said Samuel, who became director following the retirement of longtime former director Virginia Berry-White at the end of last year.
"The face of Family Solutions as far our leader is different, but our focus is still the same. Our commitment to the community is still the same," she said.
Tickets for the luncheon are $35. For more information on the Sept. 10 luncheon, including how to get tickets, call Tracy Golden or Romaine Stephens at 803-531-8008 or toll free at 1-888-581-0319. Tickets can also be purchased at www.eventbrite.com.
#pu-email-form-daily-email-article { clear: both; background-color: #fff; color: #222; background-position: bottom; background-repeat: no-repeat; padding: 15px 20px; margin-bottom: 40px; border-top: 4px solid rgba(0,0,0,.8); border-bottom: 1px solid rgba(0,0,0,.2); display: none; } #pu-email-form-daily-email-article, #pu-email-form-daily-email-article p { font-family: -apple-system, BlinkMacSystemFont, "Segoe UI", Helvetica, Arial, sans-serif, "Apple Color Emoji", "Segoe UI Emoji", "Segoe UI Symbol"; } #pu-email-form-daily-email-article h1 { font-size: 24px; margin: 15px 0 5px 0; font-family: "serif-ds", Times, "Times New Roman", serif; } #pu-email-form-daily-email-article .lead { margin-bottom: 5px; } #pu-email-form-daily-email-article .email-desc { font-size: 16px; line-height: 20px; margin-bottom: 5px; opacity: 0.7; } #pu-email-form-daily-email-article form { padding: 10px 30px 5px 30px; } #pu-email-form-daily-email-article .disclaimer { opacity: 0.5; margin-bottom: 0; line-height: 100%; } #pu-email-form-daily-email-article .disclaimer a { color: #222; text-decoration: underline; } #pu-email-form-daily-email-article .email-hammer { border-bottom: 3px solid #222; opacity: .5; display: inline-block; padding: 0 10px 5px 10px; margin-bottom: -5px; font-size: 16px; } @media (max-width: 991px) { #pu-email-form-daily-email-article form { padding: 10px 0 5px 0; } }