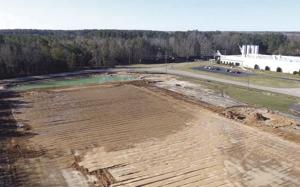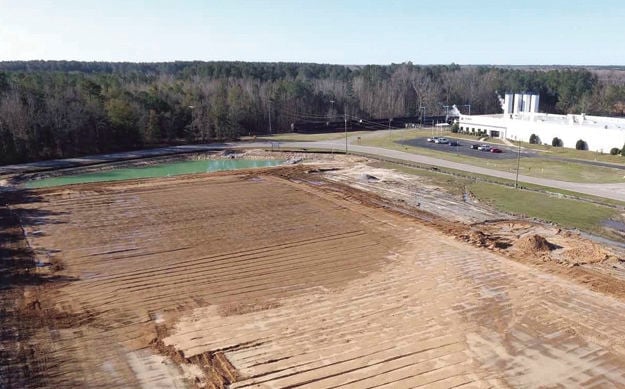 Construction has started on a new, 100,000-square-foot industrial facility for INDEVCO Plastics in Orangeburg, according to Frampton Construction Company.
"This project is off to a great start with an impressive team, and we're confident this will be a swift and successful endeavor we'll all be proud to witness," said Lindsay Sewell, principal at Brookwood Capital Partners, which is developing the project.
INDEVCO Plastics produces a range of recyclable plastic film and bags. Orangeburg County Council has approved economic development incentives with the INDEVCO North America, but details about project have not been officially released.
Orangeburg County Development Commission Executive Director Gregg Robinson said additional details will be released at the appropriate time.
Construction on the Orangeburg project began in February and is currently in the sitework phase.
The 100,000-square-foot, pre-engineered metal building will house manufacturing, storage, office and lab space for the flexible packaging company.
"We're looking forward to establishing a presence in the Southeast, and Frampton Construction has been a reliable partner in that venture. We're set for an on-time opening and excited to make our entry into Orangeburg and the larger S.C. community," said Robert Laird, president at INDEVCO Plastics.
The facility includes a 20,000-square-foot penthouse area with 63-foot-high ceilings designed to accommodate large manufacturing machinery.
The remaining 80,000-square-feet has a 30-foot clear height.
Rail access enables efficient transportation of plastic resin to the facility, which is then manufactured into flexible packaging and distributed throughout North America for a range of industries.
Keaton Green, vice president of Frampton Construction, said, "To have the chance to build a new facility for a multi-national company like INDEVCO, known not just for plastics, but for recyclable materials that make for a more sustainable world, is an honor for all of us at Frampton Construction."
Carlisle Associates completed the design for the building and Hoyt + Berenyi provided civil engineering services. Construction is expected to conclude in the fall of 2021.
#pu-email-form-daily-email { clear: both; background-color: #fff; color: #222; background-position: bottom; background-repeat: no-repeat; padding: 15px 20px; margin-bottom: 40px; box-shadow: 0px 2px 0px 0px rgba(0,0,0,.05); border-top: 4px solid rgba(0,0,0,.8); border-bottom: 1px solid rgba(0,0,0,.2); display: none; } #pu-email-form-daily-email, #pu-email-form-daily-email p { font-family: -apple-system, BlinkMacSystemFont, "Segoe UI", Helvetica, Arial, sans-serif, "Apple Color Emoji", "Segoe UI Emoji", "Segoe UI Symbol"; } #pu-email-form-daily-email h1 { font-size: 24px; margin: 15px 0 5px 0; font-family: "serif-ds", Times, "Times New Roman", serif; } #pu-email-form-daily-email .lead { margin-bottom: 5px; } #pu-email-form-daily-email .email-desc { font-size: 16px; line-height: 20px; margin-bottom: 5px; opacity: 0.7; } #pu-email-form-daily-email form { padding: 10px 30px 5px 30px; } #pu-email-form-daily-email .disclaimer { opacity: 0.5; margin-bottom: 0; line-height: 100%; } #pu-email-form-daily-email .disclaimer a { color: #222; text-decoration: underline; } #pu-email-form-daily-email .email-hammer { border-bottom: 3px solid #222; opacity: .5; display: inline-block; padding: 0 10px 5px 10px; margin-bottom: -5px; font-size: 16px; }