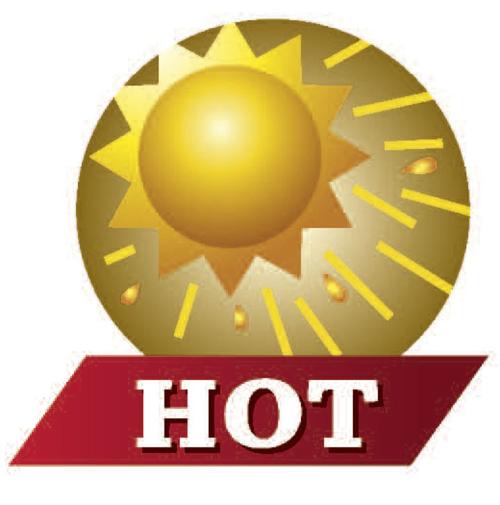 The hottest temperatures this summer are forecast to arrive in The T&D Region through the weekend.
Temperatures are to soar to the century mark Friday and remain in the upper 90s through Sunday before cloud cover and rainfall move into the area early next week dropping temperatures, according to the National Weather Service.
The NWS issued a heat advisory Friday from noon until 8 p.m. with heat index values up to 110 degrees expected.
Heat advisories are issued when heat indices reach over 110 degrees for two or more hours, according to the NWS.
High temperatures for Orangeburg on Friday is forecast to be 100, for Saturday 99, and for Sunday 98.
There is a slight chance of showers and thunderstorms Saturday with a greater chance for Sunday.
Temperatures are expected to cool down into the 80s next week as rains move into the area.
The Centers for Disease Control and Prevention offers the following tips for beating the heat.
Stay in air-conditioned buildings as much as you can.
If your home is not air-conditioned, reduce your risk for heat-related illness by spending time in public facilities that are air-conditioned and using air conditioning in vehicles.
Do not rely on a fan as your main cooling device during an extreme heat event.
Drink more water than usual and don't wait until you're thirsty to drink.
Check on a friend or neighbor and have someone do the same for you.
Don't use the stove or oven to cook — it will make you and your house hotter.
Limit your outdoor activity, especially midday when the sun is hottest.
Wear and reapply sunscreen as indicated on the package.
Pace your activity. Start activities slow and pick up the pace gradually.
Wear loose, lightweight, light-colored clothing.
Take cool showers or baths to cool down.
Never leave children or pets in cars.
If you play a sport that practices during hot weather, protect yourself and look out for your teammates.
If you are wearing a cloth face covering and feel yourself overheating or having trouble breathing, put at least 6 feet of distance between yourself and others and remove the face covering.
Schedule workouts and practices earlier or later in the day when the temperature is cooler.
Monitor a teammate's condition, and have someone do the same for you.
Seek medical care right away if you or a teammate has symptoms of heat-related illness.
Residents should also continue to be cognizant of the health effects related to smoke that originated from wildfires burning across parts of central and western Canada and the western United States.
Smoke from these fires can irritate the eyes and respiratory system, as well as aggravate or exacerbate chronic heart and lung diseases.
Health and visibility impacts from the smoke could be experienced in all regions of the state.
DHEC recommends individuals with respiratory health issues limit time spent outdoors to avoid the smoke.
Keep windows and doors closed.
If running an air conditioner, keep the fresh-air intake closed and the filter clean to prevent outdoor smoke from getting inside.
#pu-email-form-daily-email-article { clear: both; background-color: #fff; color: #222; background-position: bottom; background-repeat: no-repeat; padding: 15px 20px; margin-bottom: 40px; border-top: 4px solid rgba(0,0,0,.8); border-bottom: 1px solid rgba(0,0,0,.2); display: none; } #pu-email-form-daily-email-article, #pu-email-form-daily-email-article p { font-family: -apple-system, BlinkMacSystemFont, "Segoe UI", Helvetica, Arial, sans-serif, "Apple Color Emoji", "Segoe UI Emoji", "Segoe UI Symbol"; } #pu-email-form-daily-email-article h1 { font-size: 24px; margin: 15px 0 5px 0; font-family: "serif-ds", Times, "Times New Roman", serif; } #pu-email-form-daily-email-article .lead { margin-bottom: 5px; } #pu-email-form-daily-email-article .email-desc { font-size: 16px; line-height: 20px; margin-bottom: 5px; opacity: 0.7; } #pu-email-form-daily-email-article form { padding: 10px 30px 5px 30px; } #pu-email-form-daily-email-article .disclaimer { opacity: 0.5; margin-bottom: 0; line-height: 100%; } #pu-email-form-daily-email-article .disclaimer a { color: #222; text-decoration: underline; } #pu-email-form-daily-email-article .email-hammer { border-bottom: 3px solid #222; opacity: .5; display: inline-block; padding: 0 10px 5px 10px; margin-bottom: -5px; font-size: 16px; } @media (max-width: 991px) { #pu-email-form-daily-email-article form { padding: 10px 0 5px 0; } }