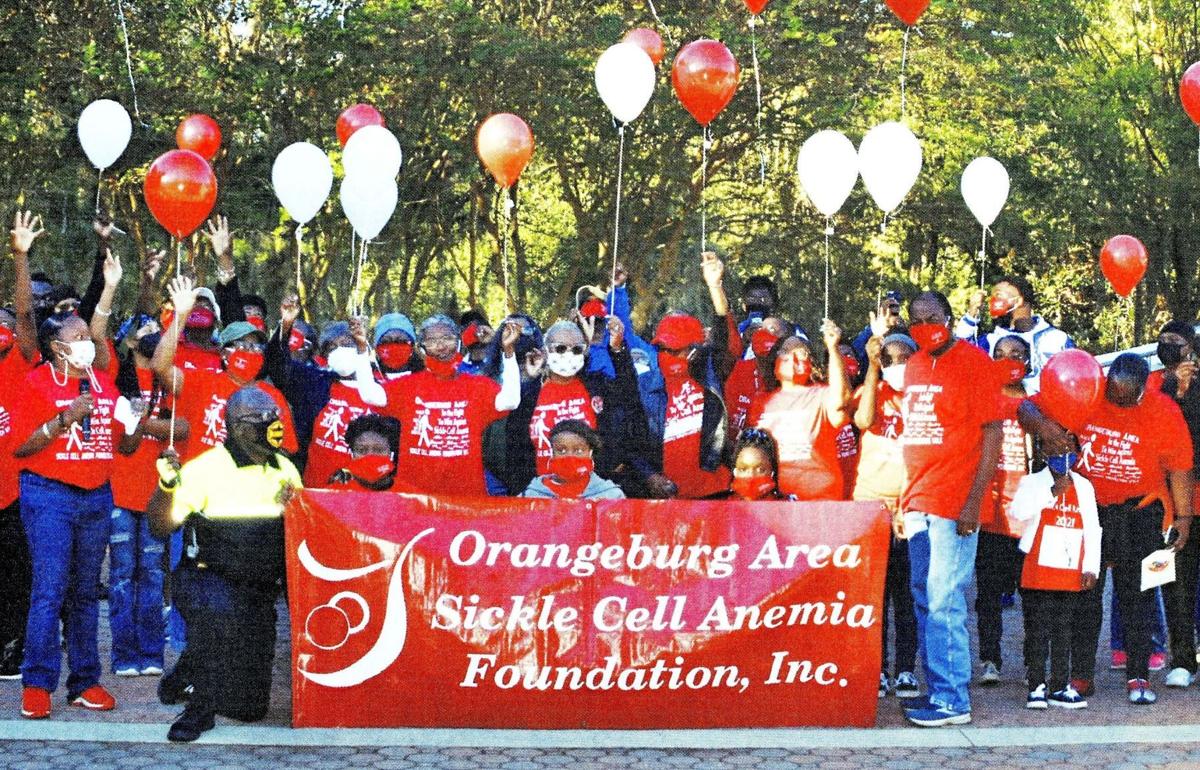 The Orangeburg Area Sickle Cell Anemia Foundation Inc. invited the public to "Walk a Mile in My Shoes," and the public responded.
More than 100 walkers turned out last month for an event, which raised more than $11,000 for the foundation's work.
"I'm still jumping up and down. God is good. If you do things for the people and do it in the right way, God will continue to bless you," foundation Executive Director Isaac "Ike" Haigler said.
"I give all the credit to him. He's allowed us to carry this foundation for 47 years, and I hope he allows us to make it stronger and make it better," he said.
The coronavirus pandemic forced the foundation to hold a drive-thru event last year to raise funds to address growing needs among individuals living with the debilitating disease.
This year it was able to once again hold a walk. The event at Edisto Memorial Gardens' Centennial Park drew 130 walkers who helped break the silence surrounding the incurable and sometimes-painful blood disorder.
This was the eighth year the event has been held.
Haigler said the funds raised are appreciated and that the event would not have been a success without the support of the community.
The campaign raised $11,500 as of Oct. 27, with money still coming in.
"We're just blessed to have it. I thought the event was very successful," Haigler said.
The Orangeburg Area Sickle Cell Foundation garnered the support of several individuals and organizations, including Islam Temple No. 3 of Orangeburg and Islam Temple No. 4 of Aiken, to support the foundation's work. Islam Temple No. 3 donated $1,000 and Islam Temple No. 4 donated $2,000.
"Everything else comes from different businesses, organizations and people," Haigler said.
He said the foundation has also received proclamations from the city and county, which designated September as Sickle Cell Awareness Month and Sept. 25 as Sickle Cell Day in Orangeburg.
The event included other special features, including Pat Funderburk, community outreach manager at the Regional Medical Center, who performed blood pressure and glucose checks. There was also an appearance by Orangeburg County Sheriff Leroy Ravenell and the Orangeburg County Sheriff's Office's bike team, who lead this year's walk.
"The support I got this year was outstanding, much more than what I expected. Throughout the pandemic, the community has really supported us. I can't do it without the community and their support," Haigler said.
"This year, patients have got to stay in more, with utilities, medication and transportation costs going up. So this is so beneficial. We've been in the system for 47 years, and I've been with the foundation from day one. I've seen the growth, participation and support from far and near, including North Carolina and Virginia," he said.
The nonprofit foundation serves Aiken, Allendale, Bamberg, Barnwell, Calhoun and Orangeburg counties. Its services include genetic counseling, emergency patient assistance, testing, referrals and community education, including health fairs.
The foundation office is normally open from 9 a.m. to 5 p.m., Monday through Friday.
For more information on the foundation or to make a donation, call the office at 803-534-1716 or mail: Orangeburg Sickle Cell Anemia Foundation Inc., P.O. Box 892, Orangeburg, SC 29116.
#pu-email-form-daily-email-article { clear: both; background-color: #fff; color: #222; background-position: bottom; background-repeat: no-repeat; padding: 15px 20px; margin-bottom: 40px; border-top: 4px solid rgba(0,0,0,.8); border-bottom: 1px solid rgba(0,0,0,.2); display: none; } #pu-email-form-daily-email-article, #pu-email-form-daily-email-article p { font-family: -apple-system, BlinkMacSystemFont, "Segoe UI", Helvetica, Arial, sans-serif, "Apple Color Emoji", "Segoe UI Emoji", "Segoe UI Symbol"; } #pu-email-form-daily-email-article h1 { font-size: 24px; margin: 15px 0 5px 0; font-family: "serif-ds", Times, "Times New Roman", serif; } #pu-email-form-daily-email-article .lead { margin-bottom: 5px; } #pu-email-form-daily-email-article .email-desc { font-size: 16px; line-height: 20px; margin-bottom: 5px; opacity: 0.7; } #pu-email-form-daily-email-article form { padding: 10px 30px 5px 30px; } #pu-email-form-daily-email-article .disclaimer { opacity: 0.5; margin-bottom: 0; line-height: 100%; } #pu-email-form-daily-email-article .disclaimer a { color: #222; text-decoration: underline; } #pu-email-form-daily-email-article .email-hammer { border-bottom: 3px solid #222; opacity: .5; display: inline-block; padding: 0 10px 5px 10px; margin-bottom: -5px; font-size: 16px; } @media (max-width: 991px) { #pu-email-form-daily-email-article form { padding: 10px 0 5px 0; } }