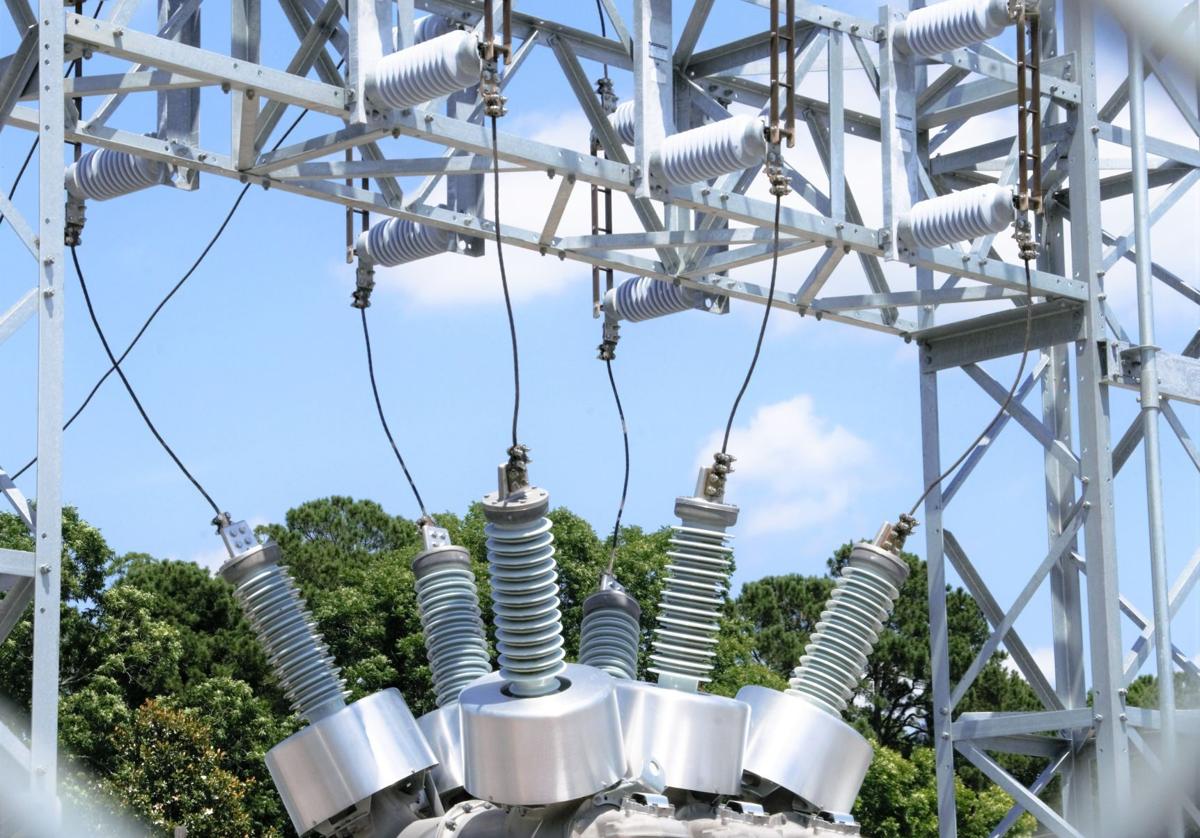 Farmers have received some much-needed rain, but recent storms also caused power outages and other problems.
Orangeburg's Department of Public Utilities experienced outages throughout its service area Saturday afternoon due to a strong storm. About 3,460 customers were without power at the height of the storm.
"That was a very aggressive storm that rolled through. It was short but very powerful," DPU spokesman Randy Etters said. "We had sporadic outages across our system."
Within three hours of the storm, the number of customers without power was down to about 163.
Etters said a tree fell in the Fairfield Street area off of Boulevard Street, ripping the tops off of two utility poles.
While the average customer was without power for about two hours, those impacted by the damaged utility poles were without power for at least 12 hours.
"We called in additional crews to speed up the process," Etters said. Sumter Utilities was called in to help.
Orangeburg County Emergency Services Director Billy Staley said there were reports of downed trees throughout the county, but no reports of structural damage.
A weather reporter on Mason Drive in Orangeburg reported about 3.18 inches of rain fell from 7 a.m. Friday to 7 a.m. Sunday.
The recent rains have been a godsend for farmers.
"We are doing better than we were," Orangeburg County Clemson Extension Agent Jonathan Croft said.
He said the rains may have been a little too late for some of the early planted corn to yield maximum yields, but the "rains have saved a lot of it."
"It has been scattered enough that I think everyone has caught some amount of rain, but not everybody has gotten heavy rain," he said. "We will continue to need more to get the corn crop finished in most areas."
He said the rains have allowed farmers – who had stopped planting cotton and soybeans – to finish up those crops.
Isolated heavy rains have made it more difficult to get back in some fields in areas around Cordova, Holly Hill and Eutawville.
Drier weather forecast this week it should allow farmers to do crop maintenance
One of the drawbacks of the rain is that it has negatively impacted wheat and oat harvests, but the drier weather expected this week should provide a window to pick up the harvest of these two crops.
Before the recent rains, Calhoun County and most of Orangeburg County were in a moderate drought while portions of Bamberg County were in a moderate drought or abnormally dry. The latest drought status has not yet be released by the National Drought Mitigation Center.
A survey of weather reporting stations across the T&D Region shows rainfall totals ranging from 2 inches to 7 inches since June 1.
Some station totals since June 1 include:
• Nine miles northwest of St. Matthews: 6.6 inches
• Cannon Bridge Road, south of Orangeburg: 6.26 inches.
• Fire Tower Road near the Regional Medical Center: 5.91 inches.
• DPU substation on Windsor Street: 5.34 inches
• Orangeburg Municipal Airport: 5.20 inches
• Southeast of Springfield: 4.15 inches
• About 3 miles northwest of Denmark: 4.1 inches.
• Edisto Memorial Gardens: 3.80 inches
• Carolina Highway near the Orangeburg County and Bamberg County line: 2.76 inches.
• North Auxiliary Air Field: 2.45 inches
• Santee State Park: 2.39 inches
The North Fork of the Edisto River was about 7 feet Monday morning. This was about one foot under flood stage.
According to the National Weather Service forecast, the area will have a chance to dry out some this week.
There is only a slight chance of showers and thunderstorms forecast for Tuesday. The high is expected to reach 94.
The rest of the week is forecast to be sunny and dry with high temperatures hovering around 90.
There is a 40% chance of showers and thunderstorms forecast for Sunday as an upper trough approaches the area.
Tropical moisture from a developing system in the Gulf of Mexico is expected to remain west of the area, according to the NWS.
#pu-email-form-daily-email { clear: both; background-color: #fff; color: #222; background-position: bottom; background-repeat: no-repeat; padding: 15px 20px; margin-bottom: 40px; box-shadow: 0px 2px 0px 0px rgba(0,0,0,.05); border-top: 4px solid rgba(0,0,0,.8); border-bottom: 1px solid rgba(0,0,0,.2); display: none; } #pu-email-form-daily-email, #pu-email-form-daily-email p { font-family: -apple-system, BlinkMacSystemFont, "Segoe UI", Helvetica, Arial, sans-serif, "Apple Color Emoji", "Segoe UI Emoji", "Segoe UI Symbol"; } #pu-email-form-daily-email h1 { font-size: 24px; margin: 15px 0 5px 0; font-family: "serif-ds", Times, "Times New Roman", serif; } #pu-email-form-daily-email .lead { margin-bottom: 5px; } #pu-email-form-daily-email .email-desc { font-size: 16px; line-height: 20px; margin-bottom: 5px; opacity: 0.7; } #pu-email-form-daily-email form { padding: 10px 30px 5px 30px; } #pu-email-form-daily-email .disclaimer { opacity: 0.5; margin-bottom: 0; line-height: 100%; } #pu-email-form-daily-email .disclaimer a { color: #222; text-decoration: underline; } #pu-email-form-daily-email .email-hammer { border-bottom: 3px solid #222; opacity: .5; display: inline-block; padding: 0 10px 5px 10px; margin-bottom: -5px; font-size: 16px; }