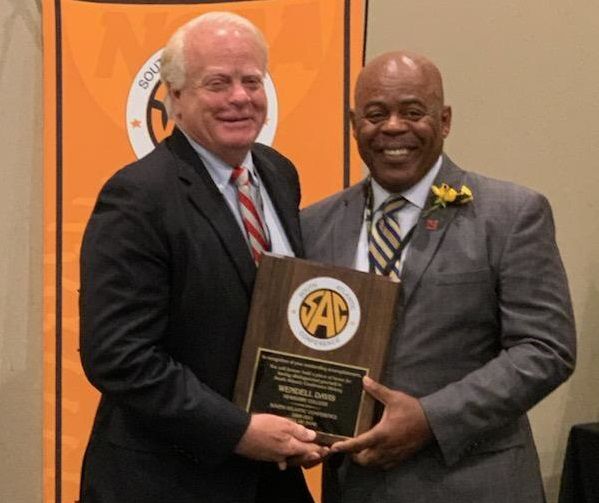 "Make it Yours" is the slogan of the South Atlantic Conference and served as a recurring theme when the league honored its 2021 Hall of Fame inductees.
The 21st class of the SAC Hall of Fame includes former Orangeburg Director of Public Safety Wendell Davis. Due to his performance on the football field for Newberry College and his community contributions after graduating, Davis was inducted as this year's Distinguished Alumni.
Davis, a 1981 graduate of Newberry, was a four-year member of the football team. He amassed 299 career rushing yards, four rushing touchdowns and eight receptions for 58 yards.
After college and football, he launched a career in law enforcement.
After serving with the Aiken Department of Public Safety, he was named Orangeburg's chief of police and fire in 1993. He merged the police and fire departments to create the Orangeburg Department of Public Safety and subsequently assisted in gaining accreditation from the Commission on Accreditation for Law Enforcement Agencies. While leading Orangeburg DPS, Davis was a catalyst in Orangeburg moving from being ranked #1 in violent crime to #38 in the state.
Davis credits the teachings of his parents as a driving force in his life and career. He said his mother would make sure that the elderly members of her community had everything they needed even if it was just a ride to and from church. She would make sure that he helped out with these errands, which instilled in him the importance of community and inclusion.
Davis said he owes a debt of gratitude to the citizens of Orangeburg and Aiken for all they contributed to him receiving this honor, and for all people did in making his accomplishments in law enforcement possible.
Davis is most proud of his contributions to community.
He co-founded the Simba/Rites of Passage Program in Aiken, which assists young African American males transitioning from boyhood to manhood. He was also the organizer/chairman of the Citizen's Advisory Committee in Aiken, which was formed to focus on the needs of the youth in Aiken County. He worked with Big Brothers and Big Sisters in Aiken, as well as the Boys and Girls Club of Orangeburg.
He is a member of the Rotary Club of Orangeburg-Morning and lifetime member of the International Association of Chiefs of Police and the S.C. Police Chief's Association. He received the Alpha Phi Alpha Drum Major Award for mentoring and community awareness, was named the Omega Psi Phi Citizen of the Year in 1995 and was the first recipient of the Newberry College Alumni Distinguished Service Award for outstanding achievement and service to the recipient's profession, community society or college.
Davis was honored as the recipient of the SAC Distinguished Alumni Award on June 3 at the Hyatt Regency in Greenville.
#pu-email-form-daily-email-article { clear: both; background-color: #fff; color: #222; background-position: bottom; background-repeat: no-repeat; padding: 15px 20px; margin-bottom: 40px; border-top: 4px solid rgba(0,0,0,.8); border-bottom: 1px solid rgba(0,0,0,.2); display: none; } #pu-email-form-daily-email-article, #pu-email-form-daily-email-article p { font-family: -apple-system, BlinkMacSystemFont, "Segoe UI", Helvetica, Arial, sans-serif, "Apple Color Emoji", "Segoe UI Emoji", "Segoe UI Symbol"; } #pu-email-form-daily-email-article h1 { font-size: 24px; margin: 15px 0 5px 0; font-family: "serif-ds", Times, "Times New Roman", serif; } #pu-email-form-daily-email-article .lead { margin-bottom: 5px; } #pu-email-form-daily-email-article .email-desc { font-size: 16px; line-height: 20px; margin-bottom: 5px; opacity: 0.7; } #pu-email-form-daily-email-article form { padding: 10px 30px 5px 30px; } #pu-email-form-daily-email-article .disclaimer { opacity: 0.5; margin-bottom: 0; line-height: 100%; } #pu-email-form-daily-email-article .disclaimer a { color: #222; text-decoration: underline; } #pu-email-form-daily-email-article .email-hammer { border-bottom: 3px solid #222; opacity: .5; display: inline-block; padding: 0 10px 5px 10px; margin-bottom: -5px; font-size: 16px; } @media (max-width: 991px) { #pu-email-form-daily-email-article form { padding: 10px 0 5px 0; } }