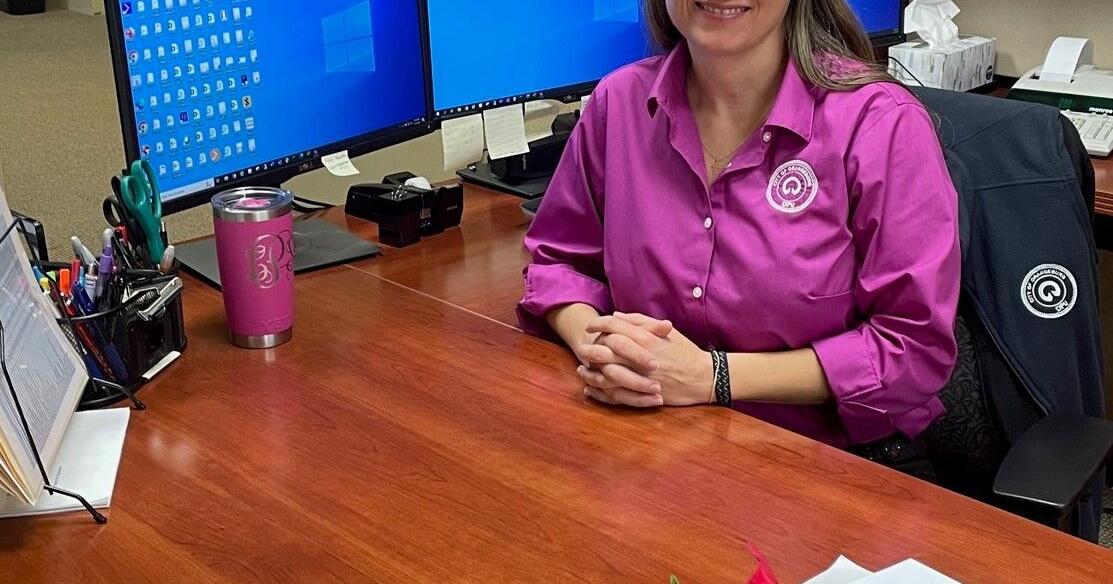 Lauren S. Privett considers it a privilege to be able to supervise the quality of accounting and financial reporting of the Orangeburg Department of Public Utilities — and to be the first female in the role.
Privett succeeded longtime DPU Comptroller Billy Beeks six years ago and has been dedicated to her position ever since.
"It's a privilege, it's an honor. I really enjoy it. It's a huge responsibility. There are multiple people that work for me. There are multiple divisions that I have to answer questions for and help and make sure their finances are straight. I'm in charge of all of the money that goes in, all of the money that goes out. There's just a lot to it in making sure everything is properly accounted for," she said.
The Hopkins resident commutes to work each day and said being a good leader is less about being a woman than it is about treating others the way she would like to be treated herself.
"What makes a good leader is not asking my employees to do anything that I wouldn't do. I will be down there taking payments with my girls at 6 o'clock on a Friday night if that's what it takes. There's nothing that I expect them or ask them to do that I will not do myself," she said.
Privett, who has a bachelor of science in business administration from the University of South Carolina, enjoys her co-workers and the challenges her job brings.
"It's something different every day. So it keeps me on my toes," she said, noting that handling staffing issues is what she likes least.
"Staffing is a big challenge. That probably is my least favorite thing," Privett said.
She encourages young girls to believe in themselves and know that there is nothing they cannot do.
"Believe in yourself and do your best. It's not a competition with anybody else. It's a competition with yourself," said Privett, who also appreciates the support she's gotten from DPU.
"It has been very important. My direct supervisor is also a CPA. So it's been very good to have somebody to talk to, bounce ideas off of. All of the directors, the manager, everybody has been very supportive and very helpful," she said.
Privett continued, "I never really thought of breaking into a man's world, but I guess I do feel a sense of pride and accomplishment. This has always been a male role. Billy was here like 20 years. So it was some big shoes to fill."
She knew she could fill those shoes, though.
"I know accounting, and I'm very self-disciplined. I feel like I make fairly good decisions. So I just believe in myself. I see myself retiring from here. I have a long time to work. So I see myself being in this role for quite a few years," the 44-year-old said.
DPU Manager Warren Harley said, "We want to be the kind of organization that looks to develop what we have within for those next-level positions. As we're able to do that more, we'll see more opportunities for people to grow and really contribute to our organization.
"We have a ton of highly qualified and trained ladies at DPU who are helping us more forward. I want everybody to know that we are one of the best groups in the community to work for no matter who you are."
DPU spokesman Randy Etters said, "While no longer employed at DPU, it is still relevant to mention Ms. Laci Crosby, the first female lineperson in DPU's history."
"She has moved on to another line worker company, but she moved up the ranks from meter reader and attended the lineman school at Trident Tech to specifically become a line worker for DPU. Her determination and 'will-do' attitude certainly resonated with the team here … and she will always be a part of the DPU family," he said.
#lee-rev-content { margin:0 -5px; } #lee-rev-content h3 { font-family: inherit!important; font-weight: 700!important; border-left: 8px solid var(–lee-blox-link-color); text-indent: 7px; font-size: 24px!important; line-height: 24px; } #lee-rev-content .rc-provider { font-family: inherit!important; } #lee-rev-content h4 { line-height: 24px!important; font-family: "serif-ds",Times,"Times New Roman",serif!important; margin-top: 10px!important; } @media (max-width: 991px) { #lee-rev-content h3 { font-size: 18px!important; line-height: 18px; } } #pu-email-form-daily-email-article { clear: both; background-color: #fff; color: #222; background-position: bottom; background-repeat: no-repeat; padding: 15px 0 20px; margin-bottom: 40px; border-top: 4px solid rgba(0,0,0,.8); border-bottom: 1px solid rgba(0,0,0,.2); display: none; } #pu-email-form-daily-email-article, #pu-email-form-daily-email-article p { font-family: -apple-system, BlinkMacSystemFont, "Segoe UI", Helvetica, Arial, sans-serif, "Apple Color Emoji", "Segoe UI Emoji", "Segoe UI Symbol"; } #pu-email-form-daily-email-article h2 { font-size: 24px; margin: 15px 0 5px 0; font-family: "serif-ds", Times, "Times New Roman", serif; } #pu-email-form-daily-email-article .lead { margin-bottom: 5px; } #pu-email-form-daily-email-article .email-desc { font-size: 16px; line-height: 20px; margin-bottom: 5px; opacity: 0.7; } #pu-email-form-daily-email-article form { padding: 10px 30px 5px 30px; } #pu-email-form-daily-email-article .disclaimer { opacity: 0.5; margin-bottom: 0; line-height: 100%; } #pu-email-form-daily-email-article .disclaimer a { color: #222; text-decoration: underline; } #pu-email-form-daily-email-article .email-hammer { border-bottom: 3px solid #222; opacity: .5; display: inline-block; padding: 0 10px 5px 10px; margin-bottom: -5px; font-size: 16px; } @media (max-width: 991px) { #pu-email-form-daily-email-article form { padding: 10px 0 5px 0; } }