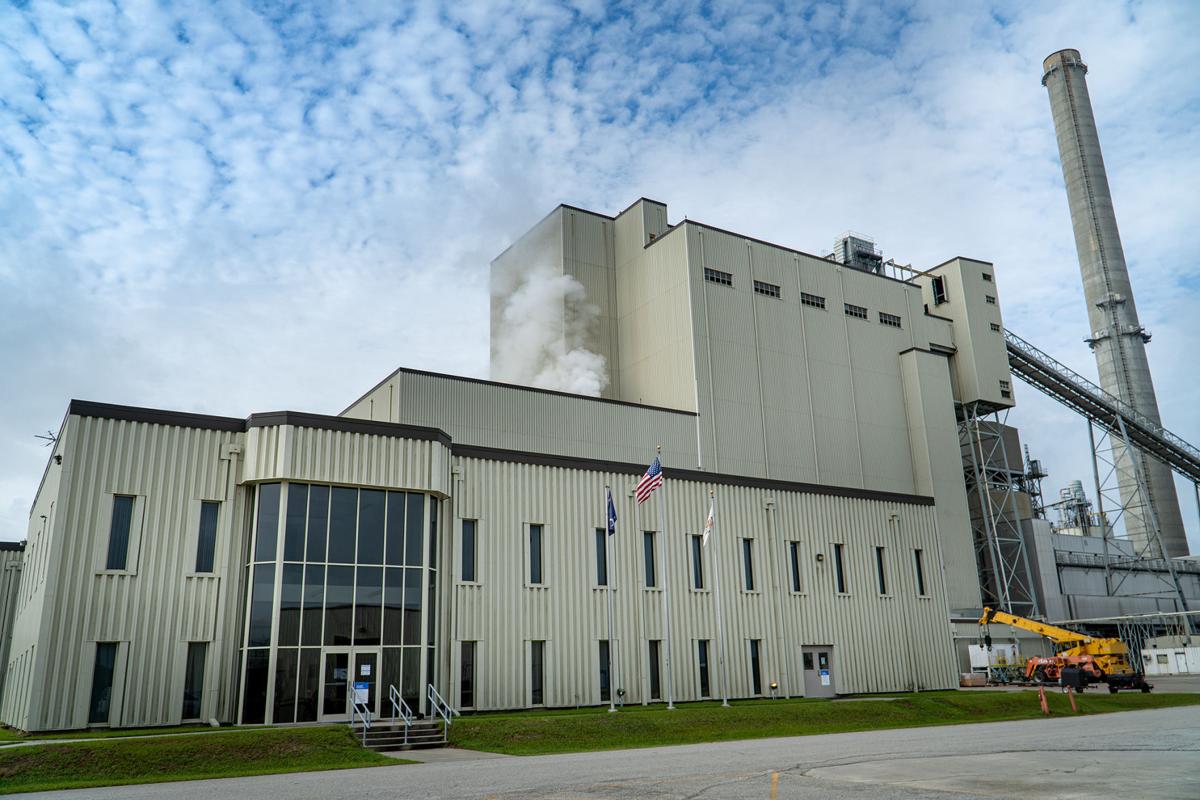 The Cope Generating Station currently burns a mix of coal and natural gas to produce 415 megawatts of power for the region. That could change.
Dominion Energy South Carolina has released a 15-year integrated resource plan calling for the plant to burn all natural gas beginning in 2030.
"Dominion Energy is on a trajectory to achieve our goal of net-zero carbon dioxide and methane spokesman Matt Long said. "The modified 2020 (integrated resource plan) highlights details about how DESC has already reduced our dependence on coal generation, increased our percentage of solar generation and created a cleaner generation fleet."
"The plan also presents alternatives that could be pursued in the future to provide customers a path to clean, renewable energy while allowing technologies to mature," Long said.
When it was originally placed in service in 1996, the Cope plant was designed for operation on coal and natural gas up to its full design capacity of 415 MW.
The Cope plant has the ability to operate up to its full original design capacity when using natural gas. The station frequently operates up to this load when natural gas supplies are available and economical, Long said.
Converting the plant from its current dual-fuel capability to gas-only will not require any physical modifications, Long said. No staffing changes have been announced based on that plan.
Currently, the Cope plant employs 65 and pays about $9 million annually in taxes to Orangeburg County.
"Since the plan proposes that Cope Station continue operating, DESC would not anticipate a major change in property tax as a result of the plan," Long said.
The plant, formerly owned by South Carolina Electric and Gas, has a number of environmental controls designed to reduce sulfur dioxide, nitrogen oxide and mercury emissions.
"Natural gas operations emit significantly lower amounts of carbon dioxide per megawatt of energy generated compared to coal," Long said. "Natural gas combustion also emits less nitrous oxides, sulfur dioxide, mercury and particulate matter than coal combustion."
As part of its plan, Dominion will shut down operations at two of its other coal-fired plants by 2028. The plants are its Wateree Station south of Columbia and the Williams Station north of Charleston.
Currently, the company's three coal plants provide 1,709 megawatts of power. Natural gas would mostly replace the coal generation.
Dominion's plan calls for adding more gas-fired generation capacity by 2028, including 523 MW of large-frame internal combustion turbines and 553 MW of combined cycle gas units.
Dominion Energy announced its 15-year plan earlier this year. In June, South Carolina regulators approved the energy company's integrated resource plan, which spells out its power development and purchasing plans for the next 15 years.
The utility's preferred option would also ramp up solar, adding 100 MW by 2028 and an additional 300 MW by 2032.
Dominion's plan also calls for adding 100 MW of storage by 2032.
Dominion would further bolster its solar power lineup from 2030 to 2048, potentially adding as much as 2,000 MW by mid-century. That's compared to the 973 MW of utility-scale solar power that Dominion currently has under contract.
The state's Public Service Commission has accepted the utility's integrated resource plan. It rejected an earlier version last December due to the company's failure to include a demand-side management option.
Environmental watchdog group, The Sierra Club, said the updated plan represented a significant turnaround.
The Cope Station has generated electricity by burning about 160 tons of coal per hour. At full load, the plant can produce enough power in one hour to supply the average electric needs of 430 residential customers for one month.
The facility has consistently ranked in the top 20 plants for efficiency, according to Electric Light & Power magazine.
The plant was designed and built with a dry scrubber to reduce sulfur dioxide emissions. The scrubber eliminates more than 95 percent of sulfur dioxide. A co-benefit is that approximately 60-90 percent of mercury emissions are eliminated.
The Cope Station was also equipped with baghouses that remove 99 percent of fly ash from the combustion process. The boiler also had low-nitrous oxide burners installed in its initial construction.
Selective catalytic reduction equipment officially came online in 2008 to reduce nitrous oxide gases even further. The total cost was more than $69 million.
The Cope plant's 525-foot stack can be seen from miles around. It emits condensation from the plant's cooling system.
Plant construction began in 1992. The station was ready for operation before its May 1996 deadline, officially coming online Jan. 15, 1996.
The $411 million project came in about $34 million under budget.
At the peak of its construction, the plant employed about 750 and paid a combined $65 million in wages.
The facility, which sits on 3,200 acres, was designed so that only half an acre of the 1,700 acres of wetlands would be disturbed.
Nearly 400 acres of wetlands along the South Fork of the Edisto River were included in a conservation easement to the Congaree Land Trust as a hardwood and cypress preserve.
#pu-email-form-daily-email-article { clear: both; background-color: #fff; color: #222; background-position: bottom; background-repeat: no-repeat; padding: 15px 20px; margin-bottom: 40px; border-top: 4px solid rgba(0,0,0,.8); border-bottom: 1px solid rgba(0,0,0,.2); display: none; } #pu-email-form-daily-email-article, #pu-email-form-daily-email-article p { font-family: -apple-system, BlinkMacSystemFont, "Segoe UI", Helvetica, Arial, sans-serif, "Apple Color Emoji", "Segoe UI Emoji", "Segoe UI Symbol"; } #pu-email-form-daily-email-article h1 { font-size: 24px; margin: 15px 0 5px 0; font-family: "serif-ds", Times, "Times New Roman", serif; } #pu-email-form-daily-email-article .lead { margin-bottom: 5px; } #pu-email-form-daily-email-article .email-desc { font-size: 16px; line-height: 20px; margin-bottom: 5px; opacity: 0.7; } #pu-email-form-daily-email-article form { padding: 10px 30px 5px 30px; } #pu-email-form-daily-email-article .disclaimer { opacity: 0.5; margin-bottom: 0; line-height: 100%; } #pu-email-form-daily-email-article .disclaimer a { color: #222; text-decoration: underline; } #pu-email-form-daily-email-article .email-hammer { border-bottom: 3px solid #222; opacity: .5; display: inline-block; padding: 0 10px 5px 10px; margin-bottom: -5px; font-size: 16px; } @media (max-width: 991px) { #pu-email-form-daily-email-article form { padding: 10px 0 5px 0; } }