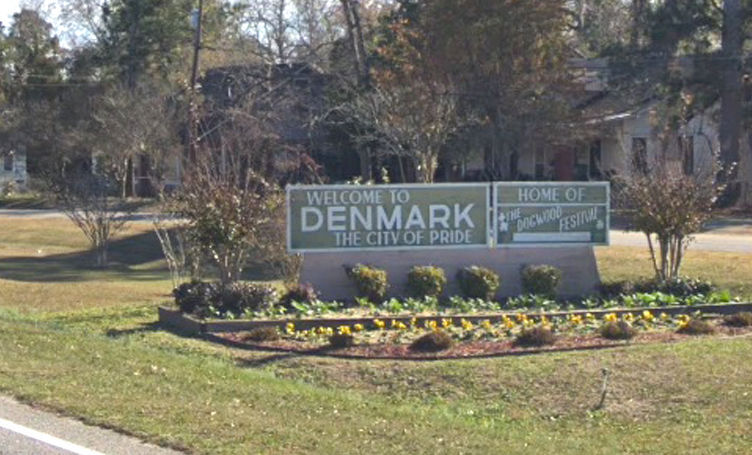 DENMARK – Denmark City Council gathered Monday in its first live meeting since COVID-19 restrictions and municipal precautions were put in place last year.
Officials announced three wells have finally been closed by the city, as requested by the South Carolina Department of Health and Environmental Control. Also, the Water Distribution Modernization Project is underway.
City Administrator Heyward Robinson stated, "Three wells, as requested by DHEC, have been closed by inserting cement in the well shafts. The Brooker Well, Cox Mill Well and the well at the old middle school have been sealed."
Also, "The Water Distribution Modernization Project, which is funded with RIA (Rural Infrastructure Authority) funds, is underway," Robinson stated earlier.
In addition to these ongoing improvements, the city has made seven water line repairs and completed sewer cleanouts at two locations.
Mayor Dr. Gerald Wright stated, "We have been very active. We have taken advantage of funds other than local sources to add to and improve what we already have."
He asked the public to make comparisons with cities Denmark's size and see what Denmark has done.
Wright added that the city has closed wells, expanded pipes and replaced pipes to improve the Denmark water system.
"There have been folks, including our administrator, focusing on funds for water improvement, sewer improvements and streets," Wright said.
Council also gave second reading to the city's 2021-2022 fiscal year budget during the meeting. It includes $1.4 million for the water and sewer budget and almost $1.5 million for the general fund budget, with a 2% increase in pay for full-time employees. No increases in taxes or water or sewer rates were budgeted.
"We are looking forward to our new fiscal year with maybe a focus on some different things," Wright stated.
Police Chief Leroy Grimes stated the department is investigating the shooting death of a young man in the town.
Councilwoman Hope Long Weldon mentioned the need for further funding, including for equipment, for the department.
Wright stated there has been a nationwide increase in violent crimes in the past three to four months, and the city will do its best to provide additional resources for the police department.
Councilman Calvin Odom mentioned a party with a large number of people which seemed to be a block party in the city.
Grimes stated that the party was in one yard/property and not a block, and there were 200 to 300 people there when he was called.
Grimes added that council could work on an ordinance to address the issue if it wishes.
Regarding the water fund (and not the water projects which are grant funded), City Accountant Rusty Munoz mentioned the water fund is still short in revenue and not as high as expected.
He said they are still investigating this and that usually it would be due to less usage.
Weldon asked if the lower water fund revenue is due to a lack of payment.
Munoz stated this is a possibility.
"For a while during COVID-19, we did suspend late payment penalties," Munoz added.
Council announced former Councilmember James J. Robinson will receive a certificate of recognition for 12 years of dedicated and outstanding service as a member of the Denmark City Council.
Also, the Rev. Isaiah Odom will receive a certificate of recognition for being the longest-serving councilperson in Bamberg County's history and for dedicated and outstanding service throughout the state of South Carolina.
Council's meeting agenda was amended to include an executive session to discuss a personnel issue. The executive session was held at the end of the regular meeting.
No decisions or motions were made upon return from the executive session.
#pu-email-form-daily-email { clear: both; background-color: #fff; color: #222; background-position: bottom; background-repeat: no-repeat; padding: 15px 20px; margin-bottom: 40px; box-shadow: 0px 2px 0px 0px rgba(0,0,0,.05); border-top: 4px solid rgba(0,0,0,.8); border-bottom: 1px solid rgba(0,0,0,.2); display: none; } #pu-email-form-daily-email, #pu-email-form-daily-email p { font-family: -apple-system, BlinkMacSystemFont, "Segoe UI", Helvetica, Arial, sans-serif, "Apple Color Emoji", "Segoe UI Emoji", "Segoe UI Symbol"; } #pu-email-form-daily-email h1 { font-size: 24px; margin: 15px 0 5px 0; font-family: "serif-ds", Times, "Times New Roman", serif; } #pu-email-form-daily-email .lead { margin-bottom: 5px; } #pu-email-form-daily-email .email-desc { font-size: 16px; line-height: 20px; margin-bottom: 5px; opacity: 0.7; } #pu-email-form-daily-email form { padding: 10px 30px 5px 30px; } #pu-email-form-daily-email .disclaimer { opacity: 0.5; margin-bottom: 0; line-height: 100%; } #pu-email-form-daily-email .disclaimer a { color: #222; text-decoration: underline; } #pu-email-form-daily-email .email-hammer { border-bottom: 3px solid #222; opacity: .5; display: inline-block; padding: 0 10px 5px 10px; margin-bottom: -5px; font-size: 16px; }