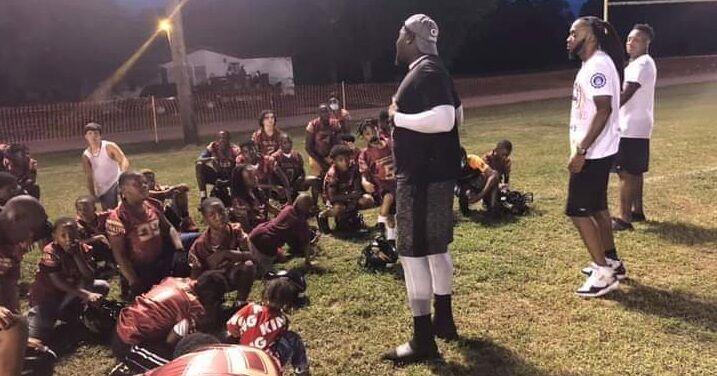 Bowman youth football is looking for funding and donations to continue running its programs.
For the team's head coach, Demario Davis, such programs are major parts of kids' lives and can impact them in many ways.
"It's kind of hard on the pockets but we have a passion for something like this. It's bigger than the money," Davis said.
"It teaches them about becoming a man, teaching them how to be teammates, working together for something greater than just yourself," Davis said.
Davis says the team has been organized for nearly five years and is looking for funding for equipment. They've been funded normally by Davis and his coaches.
"We tried to do fundraisers to raise funding for the kids because not all the kids' families are able to really pay the registration or try to get their uniform. I tried to come out of pocket myself and just go in and purchase the uniforms," Davis said.
Last year, their season had to be canceled due to lack of funds. A lot of the kids who signed up were not able to purchase the equipment needed. With that, there weren't enough children to field a team for the year.
For Davis, it was a struggle facing that with his teams.
"It was heartbreaking having the few kids that we did have out there. We tried our best to try to get it going and it just didn't happen to work out," Davis said.
For some of the students who already had their helmet and pads ready for the season, Davis advised them to try to find another team.
"When the season got canceled, what I did with the kids, we purchased some of the helmets and pads. I gave the helmets and pads to the kids for free. I tried to recommend them to other programs that were around so they could still be able to be active," Davis said.
During the course of a normal season, Davis, who resides in Blythewood, and his coaches will pick players up to take to practice. That costs him time and money but said he he wouldn't trade the experience for anything.
"It was tiresome, but it's worth it. When you see those kids in the car, they're in the backseat all laughing and they're joking," Davis said.
"They don't even know each other like that. Some of them know each other from school, but they just get that breakdown moment where they're thinking, 'we're together, we're a team, we're happy, we're a family.' I don't mind going to pick kids up for that, man," Davis said.
The program also travels for road games across the state. The trips with their team serve as confidence and motivation boosters for the kids as their coaches get to open them up to new experiences.
"They go out and see they're coming from a field where grandstands might be a little bit crooked and then they go onto this nice field. It's a little bit bigger, it's nicer, but they don't get intimidated either," Davis said.
"They get hungry man, they want that," Davis said.
They also go on extracurricular bonding trips. Sometimes the players have overnight stays at Davis' house to increase team chemistry and have the guys get to know one another more.
"We go to the skating rink, we go to Frankie's Fun Park. I'm currently trying to plan a little trip," Davis said
"Wherever you can just laugh and chill and just be kids. Let them have that moment. I've had the kids come over. They spend a night and watch movies," Davis said.
This program offers so much to the kids in the area. More than just football in Davis' eyes, it offers life lessons.
"It teaches kids you know how to work together, how to have that discipline, have that respect for authority," Davis said.
"When they get older, they're going to have to get a job and they're going to have to learn to work as a team," Davis said.
Another advantage is the character that playing on a football team gives. Davis says that you see personality changes within the children just by the discipline he and his coaches enforce.
"I was a knucklehead, but it took a coach to take me by my hand and say, 'hey man, just come on and get on this team. This is what we're about.' It took somebody like them to reach out to me and get me out of the streets," Davis said.
"It goes back to us helping in the homes as well, because the kids, they give coaches a certain type of respect. Being able to give us a certain type of respect, they take that home with them to their parents," Davis said.
With the team playing competition from other areas, Davis' squad playing games in Bowman adds an extra bit of a financial bonus to local people.
"When we do have those football games and people come into town, you have people coming out of town that need gas," Davis said.
"It's an influx whenever I had a game, it was an influx of people coming to town, everybody's eating, they're going to the Dollar General, they're buying snacks, and it brings a surplus of money to the city when it wouldn't have never been there without that program," Davis said.
Davis said he has made attempts to get more support for the team but has been met with different responses.
"I've given a letter to the county and try to see if they can help as far as, you know, to get some kids down in the country some activities because it's hard for them to have activities," Davis said.
"I'm just trying to make sure kids have something to do. We also have a cheer program as well. I just want to have something for the kids to do," Davis said.
Davis said he has also attempted to set up a basketball program in the town, but it also fell through due to lack of funding.
Terry Benjamin II, a Claflin University mass communications senior, is reporting for The Times and Democrat as a Lee Enterprises-sponsored news-sports intern.
#lee-rev-content { margin:0 -5px; } #lee-rev-content h3 { font-family: inherit!important; font-weight: 700!important; border-left: 8px solid var(–lee-blox-link-color); text-indent: 7px; font-size: 24px!important; line-height: 24px; } #lee-rev-content .rc-provider { font-family: inherit!important; } #lee-rev-content h4 { line-height: 24px!important; font-family: "serif-ds",Times,"Times New Roman",serif!important; margin-top: 10px!important; } @media (max-width: 991px) { #lee-rev-content h3 { font-size: 18px!important; line-height: 18px; } } #pu-email-form-daily-email-article { clear: both; background-color: #fff; color: #222; background-position: bottom; background-repeat: no-repeat; padding: 15px 0 20px; margin-bottom: 40px; border-top: 4px solid rgba(0,0,0,.8); border-bottom: 1px solid rgba(0,0,0,.2); display: none; } #pu-email-form-daily-email-article, #pu-email-form-daily-email-article p { font-family: -apple-system, BlinkMacSystemFont, "Segoe UI", Helvetica, Arial, sans-serif, "Apple Color Emoji", "Segoe UI Emoji", "Segoe UI Symbol"; } #pu-email-form-daily-email-article h2 { font-size: 24px; margin: 15px 0 5px 0; font-family: "serif-ds", Times, "Times New Roman", serif; } #pu-email-form-daily-email-article .lead { margin-bottom: 5px; } #pu-email-form-daily-email-article .email-desc { font-size: 16px; line-height: 20px; margin-bottom: 5px; opacity: 0.7; } #pu-email-form-daily-email-article form { padding: 10px 30px 5px 30px; } #pu-email-form-daily-email-article .disclaimer { opacity: 0.5; margin-bottom: 0; line-height: 100%; } #pu-email-form-daily-email-article .disclaimer a { color: #222; text-decoration: underline; } #pu-email-form-daily-email-article .email-hammer { border-bottom: 3px solid #222; opacity: .5; display: inline-block; padding: 0 10px 5px 10px; margin-bottom: -5px; font-size: 16px; } @media (max-width: 991px) { #pu-email-form-daily-email-article form { padding: 10px 0 5px 0; } }