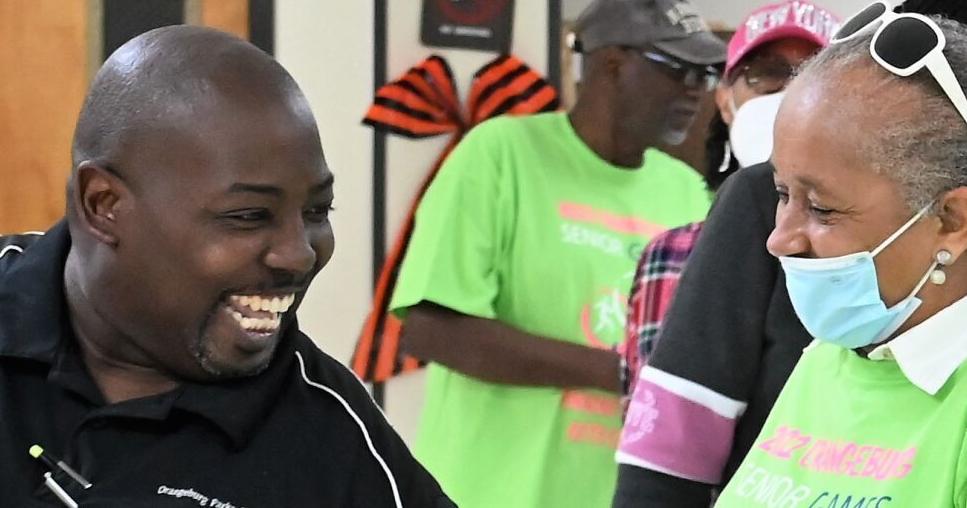 The City of Orangeburg has undergone a leadership reorganization over the past month.
Shawn Taylor, then-superintendent of recreation for the City of Orangeburg, and Beverly Price share a dance while participating in the cake wa…
"Throughout any organization, personnel changes occur," Orangeburg City Administrator Sidney Evering said in a prepared statement. "Often, organizational change is necessary in order to effectively and efficiently meet demands and expectations."
"We are extremely dedicated to serving the citizens of Orangeburg and helping the city's growth and vibrancy," Evering continued. "As with any organization, our number one asset is our people. We firmly believe in having an organizational structure in place that will help us be the most successful in service to our community."
Evering declined providing further details, citing the matters relating to personnel.
Former Assistant City Administrator John Singh named the city's new director of public works effective Sept. 1. Former Public Works Director Dean Felkel became the director of facilities at Orangeburg-Calhoun Technical College in July.
Singh had served as assistant city administrator since 2009.
Prior to working for the City of Orangeburg, Singh served as administrator for the Town of Elloree from 2003 to 2009.
Before that, Singh worked as a real estate agent at The Wolfe Company from 1996 until 2003.
Singh has a bachelor's degree in political science from the University of South Carolina.
Theresa Williams has been serving as interim assistant city administrator since Sept. 1.
Williams also continues to serve as the city's human resources director "in the near term," according to Evering.
Prior to joining the city, Williams was the director of career services at ITT Technical Institute; a human resources branch operations manager at the Adecco Group; and a national accounts sales manager and strategic accounts credit marketing manager at Equifax.
Williams has also served as a graduate teaching and research assistant at the University of Arkansas in Little Rock and an adjunct instructor at the ITT Technical Institute.
Williams graduated with a bachelor's degree in business administration from the University of South Carolina, and then received her master's of business administration from ITT Technical Institute and Claflin University. She went on to receive a master's in education from Lesley University.
In the city's administration department, there is a vacancy for the city's administrative coordinator to assist the city administrator position.
Shawn Taylor was named the interim director of parks and recreation Aug. 17. Former Director Shaniqua Simmons served in the position for nine years. Details on Simmons' current employment status were not released.
Taylor arrived at the city's Parks and Recreation Department in January 2015, serving as the city's superintendent of recreation and marketing until August 2023. That position is currently vacant, according to the city's website.
Prior to working for the city, Taylor was the assistant men's basketball coach at South Carolina State University for 5-1/2 years.
Prior to coming to Orangeburg, Taylor was the assistant men's basketball coach at Edward Waters University in Jacksonville, Florida, from 2005 to 2016.
Taylor also served with the City of Jacksonville's recreation department for 11-1/2 years in a number of capacities.
Taylor received his bachelor of science in criminal justice in 2000 from Florida Metropolitan University.
Marty Kinard was named deputy director of parks and recreation at the end of July. Kinard is Orangeburg Preparatory School's head softball coach. He formerly served as the head softball coach at Claflin University.
He also coached a year at Coker University and high school baseball at Augusta Christian.
A native of Orangeburg, Kinard earned a bachelor of science in human performance in 2009 from Claflin University. In 2014 he earned a master's of education in psychology of positive coaching from the University of Missouri.
Currently, the facility coordinator position at the North Road recreational complex is vacant, according to the city's website.
#lee-rev-content { margin:0 -5px; } #lee-rev-content h3 { font-family: inherit!important; font-weight: 700!important; border-left: 8px solid var(–lee-blox-link-color); text-indent: 7px; font-size: 24px!important; line-height: 24px; } #lee-rev-content .rc-provider { font-family: inherit!important; } #lee-rev-content h4 { line-height: 24px!important; font-family: "serif-ds",Times,"Times New Roman",serif!important; margin-top: 10px!important; } @media (max-width: 991px) { #lee-rev-content h3 { font-size: 18px!important; line-height: 18px; } } #pu-email-form-daily-email-article { clear: both; background-color: #fff; color: #222; background-position: bottom; background-repeat: no-repeat; padding: 15px 0 20px; margin-bottom: 40px; border-top: 4px solid rgba(0,0,0,.8); border-bottom: 1px solid rgba(0,0,0,.2); display: none; } #pu-email-form-daily-email-article, #pu-email-form-daily-email-article p { font-family: -apple-system, BlinkMacSystemFont, "Segoe UI", Helvetica, Arial, sans-serif, "Apple Color Emoji", "Segoe UI Emoji", "Segoe UI Symbol"; } #pu-email-form-daily-email-article h2 { font-size: 24px; margin: 15px 0 5px 0; font-family: "serif-ds", Times, "Times New Roman", serif; } #pu-email-form-daily-email-article .lead { margin-bottom: 5px; } #pu-email-form-daily-email-article .email-desc { font-size: 16px; line-height: 20px; margin-bottom: 5px; opacity: 0.7; } #pu-email-form-daily-email-article form { padding: 10px 30px 5px 30px; } #pu-email-form-daily-email-article .disclaimer { opacity: 0.5; margin-bottom: 0; line-height: 100%; } #pu-email-form-daily-email-article .disclaimer a { color: #222; text-decoration: underline; } #pu-email-form-daily-email-article .email-hammer { border-bottom: 3px solid #222; opacity: .5; display: inline-block; padding: 0 10px 5px 10px; margin-bottom: -5px; font-size: 16px; } @media (max-width: 991px) { #pu-email-form-daily-email-article form { padding: 10px 0 5px 0; } } .grecaptcha-badge { visibility: hidden; }