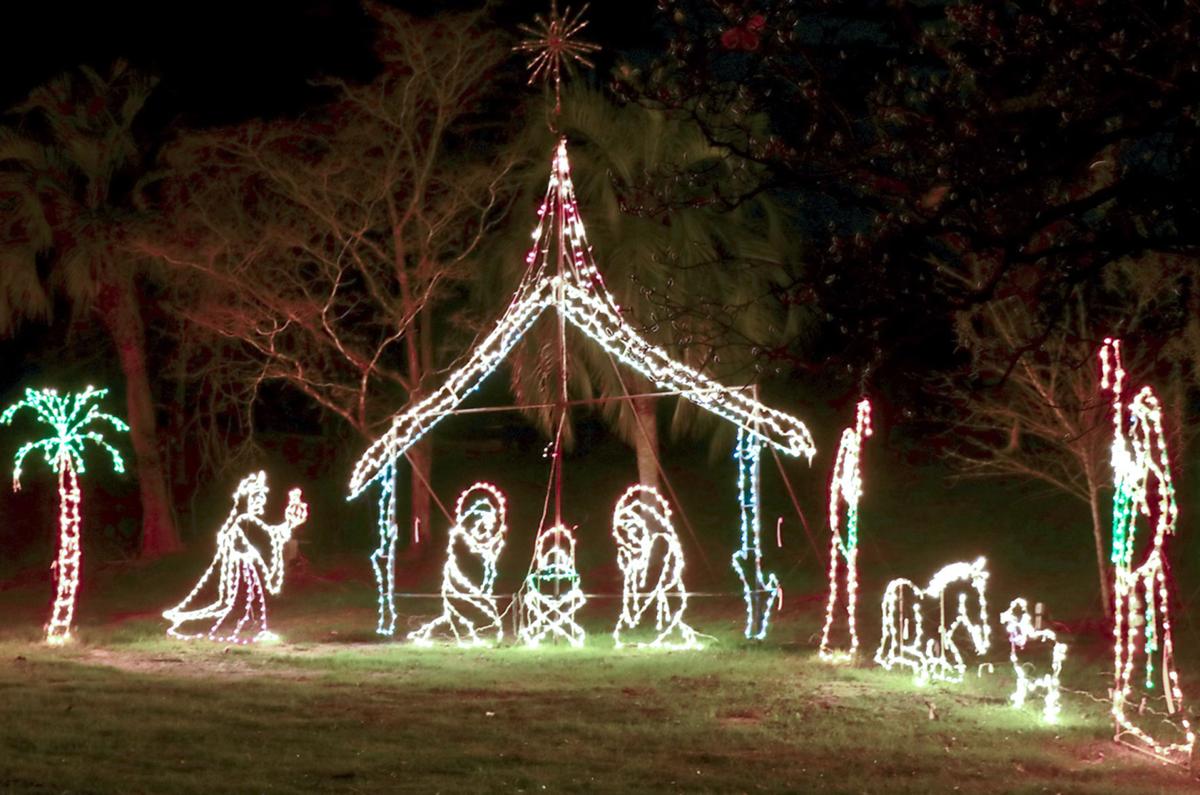 The magic of the holidays returns with the annual Mayor's Tree Lighting Ceremony, which will be held in Memorial Plaza at 6 p.m. Sunday, Nov. 22.
In addition to the lights in downtown Orangeburg, the lights in the Children's Garden Christmas will be illuminated on Nov. 21.
"Once the ceremonial switch is flipped, more than a million lights will be on nightly through Jan. 1," said Jennifer Van Cleave, the City of Orangeburg public information officer.
"The Children's Garden Christmas has been an Orangeburg holiday tradition for over 25 years. For those who haven't visited in a few years, they will notice that all displays have been restrung with LED lights, a two-year project for the Parks and Recreation staff," Van Cleave said.
Hot chocolate will be served at the Mayor's Tree Lighting Ceremony, where children will also be able to take photos with Santa and Mrs. Claus.
The Kids' Walk will be open nightly from 5 to 9 p.m.
The lights throughout the city and the Children's Garden Christmas will be on each night from 5 p.m. to 10 p.m. through Jan. 1, 2022. Admission is free.
Once the Christmas display begins, Riverside Drive through Edisto Memorial Gardens will be limited to one-way traffic from the Lady Fountain on Russell Street to the Orangeburg County Fine Arts Center daily from 5 to 10 p.m.
Santa Claus visits
Santa will be in the gazebo in Centennial Park from 6 to 8 p.m. on Friday, Nov. 26; Saturday, Nov. 27; Saturday, Dec. 4; Friday, Dec. 10; Friday, Dec. 17 and Monday, Dec. 20.
Safety measures will be implemented.
Those waiting in line to see Santa – parents and children over the age of 2 – will be required to wear a mask and maintain six feet of distance from others.
For the second year, Santa will also be available by appointment.
"This allows newborns, high-risk and special needs children to visit with Santa without having to wait in line," Van Cleave said.
Each child can have their own time to tell Santa their Christmas wishes and take a photo with him.
Sessions are from 4 to 6 p.m. Friday, Dec. 10, and Friday, Dec. 17. Families are welcome to bring their own cameras to document the experience.
Limited spots are available for each session. To make an appointment, call 803-533-6020. Santa will see children by appointment only during these times.
"Also returning this year is the use of our Santa Shield. This clear, personalized plexiglass allows children to interact with Santa without actually touching him or spreading germs – an extra layer of safety that brought peace of mind to many parents in 2020," Van Cleave said.
"Thanks to our Santa Shield, children are able to continue their tradition of telling Santa what they want for Christmas and have their photos taken with him under the lights of the Children's Garden Christmas," she said.
For more information regarding the Children's Garden Christmas and other special events throughout the holiday season, call the City Parks and Recreation Department at 803-533-6020.
#pu-email-form-daily-email-article { clear: both; background-color: #fff; color: #222; background-position: bottom; background-repeat: no-repeat; padding: 15px 20px; margin-bottom: 40px; border-top: 4px solid rgba(0,0,0,.8); border-bottom: 1px solid rgba(0,0,0,.2); display: none; } #pu-email-form-daily-email-article, #pu-email-form-daily-email-article p { font-family: -apple-system, BlinkMacSystemFont, "Segoe UI", Helvetica, Arial, sans-serif, "Apple Color Emoji", "Segoe UI Emoji", "Segoe UI Symbol"; } #pu-email-form-daily-email-article h1 { font-size: 24px; margin: 15px 0 5px 0; font-family: "serif-ds", Times, "Times New Roman", serif; } #pu-email-form-daily-email-article .lead { margin-bottom: 5px; } #pu-email-form-daily-email-article .email-desc { font-size: 16px; line-height: 20px; margin-bottom: 5px; opacity: 0.7; } #pu-email-form-daily-email-article form { padding: 10px 30px 5px 30px; } #pu-email-form-daily-email-article .disclaimer { opacity: 0.5; margin-bottom: 0; line-height: 100%; } #pu-email-form-daily-email-article .disclaimer a { color: #222; text-decoration: underline; } #pu-email-form-daily-email-article .email-hammer { border-bottom: 3px solid #222; opacity: .5; display: inline-block; padding: 0 10px 5px 10px; margin-bottom: -5px; font-size: 16px; } @media (max-width: 991px) { #pu-email-form-daily-email-article form { padding: 10px 0 5px 0; } }