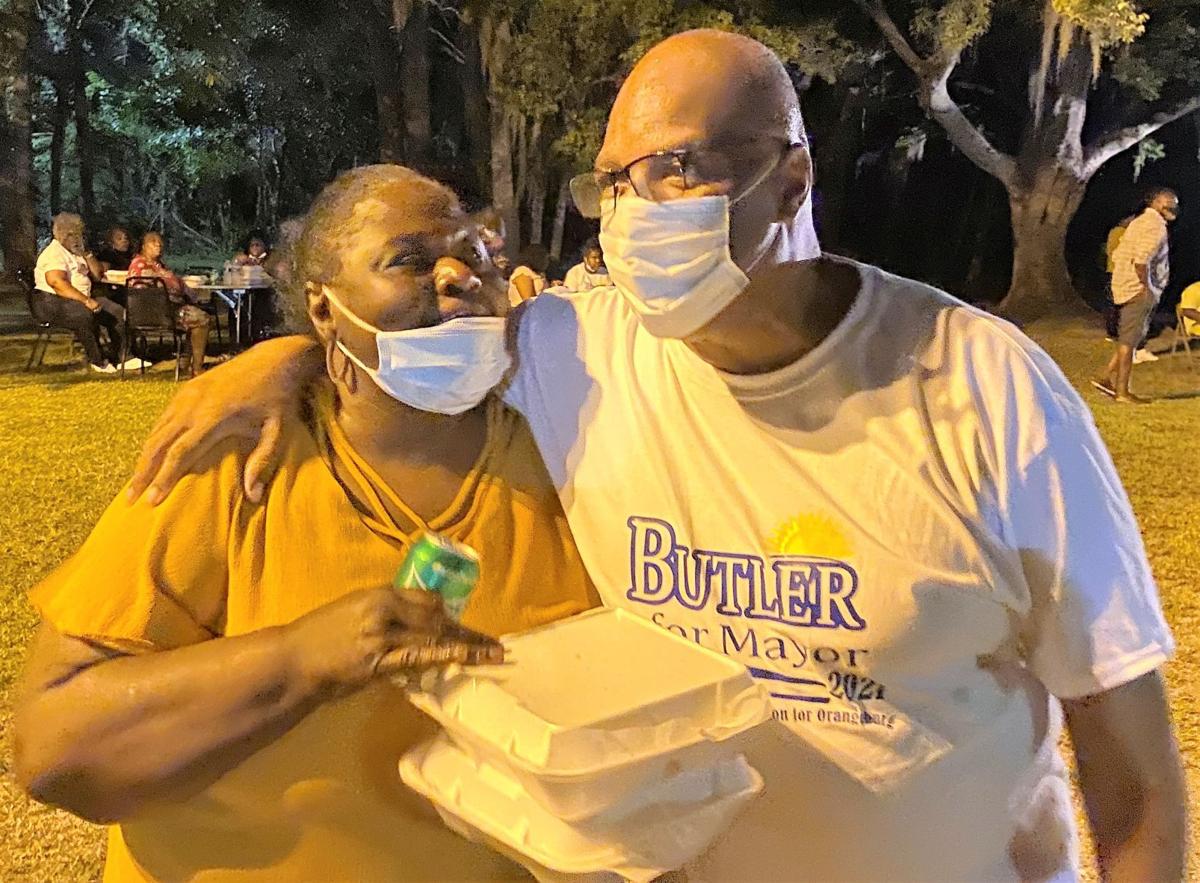 Orangeburg Mayor Michael Butler was re-elected to a third, four-year term on Tuesday.
He celebrated his victory with supporters, thanking them and all the residents of the city.
"I just want to thank the voters for the confidence they had in me. They went to the polls, they spoke and they spoke loudly," he said.
Butler also thanked the people who didn't vote for him, saying "I want to serve them, too."
"Orangeburg is a great city with great people," Butler said. "I thank them for the opportunity to serve them."
Butler received 613 votes to challenger Paige Waymer's 258. There were 27 write-in votes.
Councilwoman L. Zimmerman Keitt said, "Thank God for Mayor Michael Butler."
She said she's served under four mayors and "he's the best mayor I worked under.
"He's doing what needs to be done for the citizens of Orangeburg."
Keitt was among the three city council members who were re-elected to four-year terms with no opposition on Tuesday. They are:
• Richard Stroman, District 1. Stroman received 235 votes to nine write-in votes.
• Jerry Hannah, District 3: Hannah received 118 votes to 41 write-in votes
• L. Zimmerman Keitt, District 5: Keitt received 50 votes. There were no write-in votes.
All three said they'll spend the next four years working to improve the city.
"In the next four years, we're really looking to put Orangeburg on the map," Keitt said.
She mentioned specifically the effort to improve Railroad Corner. Keitt foresees improvements downtown from Railroad Corner to Edisto Memorial Gardens.
Railroad Corner "is the gateway to the City of Orangeburg. We're almost sure we're going to be able to revamp that area. From there to the gardens, a lot of investments will be coming in here," Keitt said.
Ultimately, city council wants to ensure residents and recent graduates who want to remain in Orangeburg can find good-paying jobs, she said.
Keitt also noted that the city plans on making the former First Citizens bank on Russell Street into the next city hall. Council also approved the purchase of a building at the corner of Middleton and Russell streets.
The city is working with police and the sheriff's office to curtail crime, Keitt said.
"In the next year or two, Orangeburg will look like a totally different city," she said. "We want everyone to love, work in and enjoy their city."
Keitt has served on council since 1989, except for a period when she was out of office from 2001 until 2004.
Stroman, who won a fourth term Tuesday, said "I'd like to thank the people who supported me for the last 12 years and I plan to work for everybody, work for all the citizens of Orangeburg.
"I plan to keep the taxes low and the utility rates low for everybody."
He noted taxes and utility rates were not increased for the upcoming budget year.
"I want us to have a good safe town with good police protection," he said.
Stroman said he's not planning to let the voters down.
"I represent everybody – rich, poor, black, white – I represent everybody," he said.
Hannah was re-elected to his second term. He says he has several goals for the next four years, including improving health care.
He'd like to attract more doctors, dentists and other health care professionals to the city, saying that will lower costs for patients.
Also, "We must do something to revitalize our appearance in Orangeburg," Hannah said. That includes picking up trash.
Improving the look of the city will also improve its ability to attract new industry, he said.
Orangeburg is a "lovely" city, he said. Hannah would like for other communities to want to mimic it.
Hannah said the city must also, "must find a way to engage our citizens in our process. We need more persons on our commissions and boards."
He said his district is demographically diverse and he gets a chance to speak with residents as he's riding on his golf cart. He carries a pad to take notes.
#pu-email-form-daily-email-article { clear: both; background-color: #fff; color: #222; background-position: bottom; background-repeat: no-repeat; padding: 15px 20px; margin-bottom: 40px; border-top: 4px solid rgba(0,0,0,.8); border-bottom: 1px solid rgba(0,0,0,.2); display: none; } #pu-email-form-daily-email-article, #pu-email-form-daily-email-article p { font-family: -apple-system, BlinkMacSystemFont, "Segoe UI", Helvetica, Arial, sans-serif, "Apple Color Emoji", "Segoe UI Emoji", "Segoe UI Symbol"; } #pu-email-form-daily-email-article h1 { font-size: 24px; margin: 15px 0 5px 0; font-family: "serif-ds", Times, "Times New Roman", serif; } #pu-email-form-daily-email-article .lead { margin-bottom: 5px; } #pu-email-form-daily-email-article .email-desc { font-size: 16px; line-height: 20px; margin-bottom: 5px; opacity: 0.7; } #pu-email-form-daily-email-article form { padding: 10px 30px 5px 30px; } #pu-email-form-daily-email-article .disclaimer { opacity: 0.5; margin-bottom: 0; line-height: 100%; } #pu-email-form-daily-email-article .disclaimer a { color: #222; text-decoration: underline; } #pu-email-form-daily-email-article .email-hammer { border-bottom: 3px solid #222; opacity: .5; display: inline-block; padding: 0 10px 5px 10px; margin-bottom: -5px; font-size: 16px; } @media (max-width: 991px) { #pu-email-form-daily-email-article form { padding: 10px 0 5px 0; } }