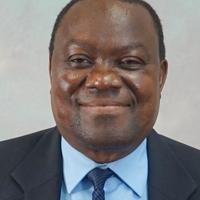 The new dean of South Carolina State University's College of Business and Information Systems, Dr. Matthew Guah, is engaging alumni for input about the college's future.
"This is an important and exciting time for the CBIS alumni to deepen their engagement and share their input on how we can continue to improve the college," Guah recently told alumni. "We need your support in reconnecting with many more alumni of the college, as well as connecting us with prospective donors within your individual networks."
In December, he hosted two videoconference meetings with CBIS alumni, giving him opportunity to listen, learn and engage the alumni. Guah outlined his priorities to alumni, who are also important donors and parents of current students, for a collective vision.
Reconstituting the CBIS Board of Governors.
American Assembly of Collegiate Schools of Business (AACSB) accreditation.
Increasing enrollment, retention and graduation rate.
Fundraising for CBIS.
Collaboration with academic institutions and industry partners.
Academic program enhancement & online program offerings.
Technology improvement and facility enhancement.
The meetings allowed Guah to communicate firsthand with alumni members living outside of Orangeburg and to generate additional philanthropic support for important CBIS initiatives.
Guah also hosted an alumni drop-in event in the Dean's Conference Room of Belcher Hall during homecoming weekend. Over 50 alumni attended this event, which gave the new dean an opportunity to meet, laugh, listen and learn.
The dean announced a plan to launch a major fundraising campaign in 2023 in conjunction with SC State's institutional advancement initiatives. He plans to establish a philanthropy and constituent engagement as his top priorities and fundraise for critical new programs in the next few years.
Also present at the meetings was Dr. Sandra Glover, who has taken on a new responsibility to spearhead fundraising initiatives at the college.
"These events allow the dean to meet virtually with alumni and donors around the country to attract more donations," Glover said. "This is critical because a major part of the dean's job is fundraising. At the very least, connections made are likely to lead to donations later.
"Dean's meetings can increase the college's visibility and inform alumni and parents about events at the college. It can also raise profile and build new potential partnerships to share the college's work with other communities and bring in revenue, research grants and contract work," she said.
Alumni in attendance were active participants in the online discussions, expressing their expectations for the college in the near and distant future. They not only expressed their willingness to support the dean's initiatives, but they also indicated a desire to see more being done by the college's administration to reach out to alumni with basic information about activities at CBIS.
According to Guah, alumni want:
The college to be intentional about fundraising and following up on external requests for information.
To see improvements in facilities, more career guidance for students and new academic program offerings — particularly targeting new career paths — demanded by industry.
To assist in linking the CBIS administration to big donors and industry leaders for contributions.
To contribute towards scholarship funds.
To serve as guest speakers or visiting professors remotely or in person for professional development and other classes.
To see more engagement with alumni through a quarterly newsletter and more videoconference sessions.
"My goal is to engage in the most transparent and direct lines of communication possible so that all members of CBIS are equally informed and engaged in making the college the best it can be," Guah said. "Regardless of the occasion, I commit to candid conversations and intensive listening to all constituents of CBIS for the sole purpose of moving this college to the next level of success.
"Everyone's insights and involvement are not only welcomed, but also necessary for strong institutional leadership at an AACSB school like ours," he said.
For more information about SC State's College of Business and Information Systems, email Guah at mguah@scsu.edu or 803-536-8980.
#lee-rev-content { margin:0 -5px; } #lee-rev-content h3 { font-family: inherit!important; font-weight: 700!important; border-left: 8px solid var(–lee-blox-link-color); text-indent: 7px; font-size: 24px!important; line-height: 24px; } #lee-rev-content .rc-provider { font-family: inherit!important; } #lee-rev-content h4 { line-height: 24px!important; font-family: "serif-ds",Times,"Times New Roman",serif!important; margin-top: 10px!important; } @media (max-width: 991px) { #lee-rev-content h3 { font-size: 18px!important; line-height: 18px; } } #pu-email-form-daily-email-article { clear: both; background-color: #fff; color: #222; background-position: bottom; background-repeat: no-repeat; padding: 15px 0 20px; margin-bottom: 40px; border-top: 4px solid rgba(0,0,0,.8); border-bottom: 1px solid rgba(0,0,0,.2); display: none; } #pu-email-form-daily-email-article, #pu-email-form-daily-email-article p { font-family: -apple-system, BlinkMacSystemFont, "Segoe UI", Helvetica, Arial, sans-serif, "Apple Color Emoji", "Segoe UI Emoji", "Segoe UI Symbol"; } #pu-email-form-daily-email-article h2 { font-size: 24px; margin: 15px 0 5px 0; font-family: "serif-ds", Times, "Times New Roman", serif; } #pu-email-form-daily-email-article .lead { margin-bottom: 5px; } #pu-email-form-daily-email-article .email-desc { font-size: 16px; line-height: 20px; margin-bottom: 5px; opacity: 0.7; } #pu-email-form-daily-email-article form { padding: 10px 30px 5px 30px; } #pu-email-form-daily-email-article .disclaimer { opacity: 0.5; margin-bottom: 0; line-height: 100%; } #pu-email-form-daily-email-article .disclaimer a { color: #222; text-decoration: underline; } #pu-email-form-daily-email-article .email-hammer { border-bottom: 3px solid #222; opacity: .5; display: inline-block; padding: 0 10px 5px 10px; margin-bottom: -5px; font-size: 16px; } @media (max-width: 991px) { #pu-email-form-daily-email-article form { padding: 10px 0 5px 0; } }