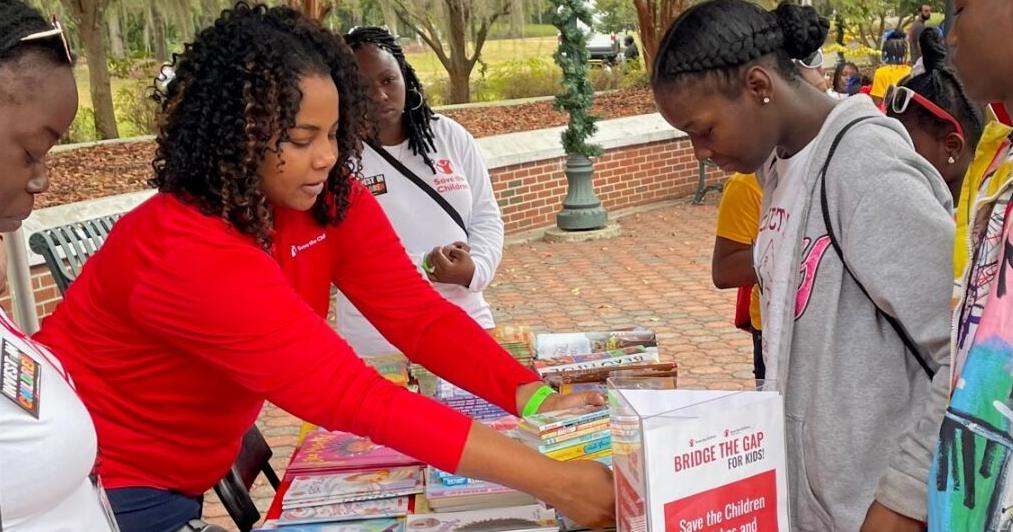 A leading charity organization for children and its political advocacy arm joined forces to bring education and health resources to the community, along with a plan for action.
Save the Children has been implementing its evidence-based education and health programs in South Carolina since 2003. Thanks to the support of donors, it currently partners with 12 schools in five counties to deliver these programs to more than 4,000 children in the state.
Katrina Cummings of Save the Children U.S. Programs, left, assembles books that the agency provided for children at the Bridge the Gap for Kid…
Save the Children and the Save the Children Action Network, or SCAN, converged upon Centennial Park at the Edisto Memorial Gardens to raise awareness and funds for child nutrition and education programs.
"The reason we're here in Orangeburg is because of the work Save the Children has been doing here in this community alongside teachers and parents and other community leaders to achieve long-lasting and positive change for children in Orangeburg and across the state. There's so much potential here and the work that's happening and the community engagement," said Kimberly Robson, chief operating officer of SCAN.
"We are the advocacy arm of Save the Children. So we work to change policy at the state and federal level to be able to make sure that we're creating systemic change for kids. So we're joining together to really bring awareness of the gaps and disparities for children around health care, education and hunger," she said.
Robson said elected officials and community leaders are aware of the gaps and are doing things to enact change in the state.
The varsity cheerleading squad of Edisto Elementary School, led by coach Yolanda Felder, was among the children at the Bridge the Gap for Kids…
"In this past legislative session, SCAN advocates worked to advocate for $5 million in what we call Healthy Bucks. This is a program that allows people who receive SNAP benefits to be able to use those resources and get more out of them by going to a local farmers market so they can get fresh food for their families," she said.
Robson continued, "Gov. McMaster signed a bill that permanently authorizes a program called South Carolina First Steps. First Steps takes a holistic approach to accomplishing its mission of ensuring that all children start school ready to reach their highest potential. These are all steps that we're taking here in South Carolina to bridge the gap for South Carolinians, but more needs to be done."
She said the work would continue after the Oct. 14 event, which also included a South Carolina Summit at the Orangeburg County Fine Arts Center and featured speakers and hands-on advocacy training.
"I encourage you to use your voice to advocate for policies that will close the education and food gaps. Register to vote … and then go to vote for candidates who support these policies. Together we can all close the gaps for kids."
Orangeburg Mayor Michael C. Butler said Save the Children has been a "champion and an important advocate in rural areas."
The mayor said one out of four children living in rural areas will grow up in poverty, while 29% of children in the state are food insecure.
"This is certainly not what we want for our children," Butler said.
He encouraged individuals to support the farm bill, an omnibus, multiyear law that governs an array of agricultural and food programs and provides an opportunity for policymakers to comprehensively address agricultural and food issues.
"We must continue to advocate for our most prized possessions," he said.
Sharonda Burison-Harris is state director of Save the Children U.S. Programs, which she said implements programs to impact the lives of children in Orangeburg.
"We have several programs here in the Orangeburg area. We're in the schools, and we also have an Early Steps to School Success home visiting program, as well. We support in-school as well as after-school programming, and we support literacy and math," she said.
"Our goal is to make sure that our children are proficient in reading by third grade and proficient in math by fifth grade. We have several after-school programs for children," said Burison-Harris, who said every child, particularly in rural areas, deserves "a healthy foundation."
"We're in several counties across South Carolina. We are at seven schools in Orangeburg County. For the community engagement work that we do, we do provide things like books and other resources to help families build capacity for their children, but we also, of course, have our school-age programs with our after-school programs, and our kindergarten readiness with our home visiting program," she said.
Cordova resident Sally Johnson and her granddaughter, Nataya, stopped by U.S. Program's booth to pick up some books.
"The most important thing is to bridge the gap for the children. I think we as parents need to get closer to our children and try to lead them in the right way. They're young, and there's so many things that's going on. They have a lot of good literature and stuff out here. That's why I picked up a lot of it," Johnson said.
She continued, "I have five grands, and I'm raising all five of them. I'm in and out. Everybody at the school knows me. That's why I'm here. These children have got to have some dedicated parents these days. … I always try to be there to help them. They can do so much stuff if they have parental support. Nowadays grandmas are the supporters."
Al Jenkins, regional director for U.S. Sen. Tim Scott's office, also made remarks at the event.
"The poverty level in South Carolina and the educational gap does not determine what you're going to be. You determine that, and if you want change, you have to be the change that you want," Jenkins said.
"You have three opportunities to be successful. You're going to college, you're going in the military, or you're going to work. … We want success. If you're going to college, you're in one of the greatest counties in South Carolina," he said.
Jenkins touted Orangeburg-Calhoun Technical College, South Carolina State University and Claflin University.
"The most successful opportunity is a skill-trained job right now. We at the senator's office have opportunities to help you on all three of those matters (college, military or work). We'd be happy to talk to Save the Children on the future and where we go from here with grant opportunities as we move forward," he said.
Aries Moore, an 11-year-old sixth-grader at Howard Middle School, was among the group from Project Life:Positeen who attended the Oct. 14 event. Project Life is an after-school program founded by Orangeburg City Councilwoman Liz Zimmerman-Keitt.
Moore also picked up a few books from the Save the Children U.S. Programs tent.
"I came to see more people and to know more stuff," Moore said, noting that the books and other materials at the event would "help kids out."
He said Project Life is helping in his own development.
"I'm learning some new stuff. I'm on some math and learning new words. Reading helps me learn more stuff in class. Ms. Keitt basically takes us everywhere. She takes care of us really well," Moore said.
Keitt said, "When you talk about bridging the gap for kids, kids are my life. I just love having them come out. If they don't have transportation, I go get them. Wherever there is a place or time for kids, I'll be there."
Yolanda Felder, coach of the varsity and junior varsity cheerleading squads at Edisto Elementary School, had her young girls at the event cheering – and learning.
"The main things is just promoting positivity. There's so many things out here that children get into that's negative Just because the ball drops doesn't mean we leave the ball. Pick it up and save the children. That's why we're out here."
#lee-rev-content { margin:0 -5px; } #lee-rev-content h3 { font-family: inherit!important; font-weight: 700!important; border-left: 8px solid var(–lee-blox-link-color); text-indent: 7px; font-size: 24px!important; line-height: 24px; } #lee-rev-content .rc-provider { font-family: inherit!important; } #lee-rev-content h4 { line-height: 24px!important; font-family: "serif-ds",Times,"Times New Roman",serif!important; margin-top: 10px!important; } @media (max-width: 991px) { #lee-rev-content h3 { font-size: 18px!important; line-height: 18px; } } #pu-email-form-daily-email-article { clear: both; background-color: #fff; color: #222; background-position: bottom; background-repeat: no-repeat; padding: 15px 0 20px; margin-bottom: 40px; border-top: 4px solid rgba(0,0,0,.8); border-bottom: 1px solid rgba(0,0,0,.2); display: none; } #pu-email-form-daily-email-article, #pu-email-form-daily-email-article p { font-family: -apple-system, BlinkMacSystemFont, "Segoe UI", Helvetica, Arial, sans-serif, "Apple Color Emoji", "Segoe UI Emoji", "Segoe UI Symbol"; } #pu-email-form-daily-email-article h2 { font-size: 24px; margin: 15px 0 5px 0; font-family: "serif-ds", Times, "Times New Roman", serif; } #pu-email-form-daily-email-article .lead { margin-bottom: 5px; } #pu-email-form-daily-email-article .email-desc { font-size: 16px; line-height: 20px; margin-bottom: 5px; opacity: 0.7; } #pu-email-form-daily-email-article form { padding: 10px 30px 5px 30px; } #pu-email-form-daily-email-article .disclaimer { opacity: 0.5; margin-bottom: 0; line-height: 100%; } #pu-email-form-daily-email-article .disclaimer a { color: #222; text-decoration: underline; } #pu-email-form-daily-email-article .email-hammer { border-bottom: 3px solid #222; opacity: .5; display: inline-block; padding: 0 10px 5px 10px; margin-bottom: -5px; font-size: 16px; } @media (max-width: 991px) { #pu-email-form-daily-email-article form { padding: 10px 0 5px 0; } } .grecaptcha-badge { visibility: hidden; }