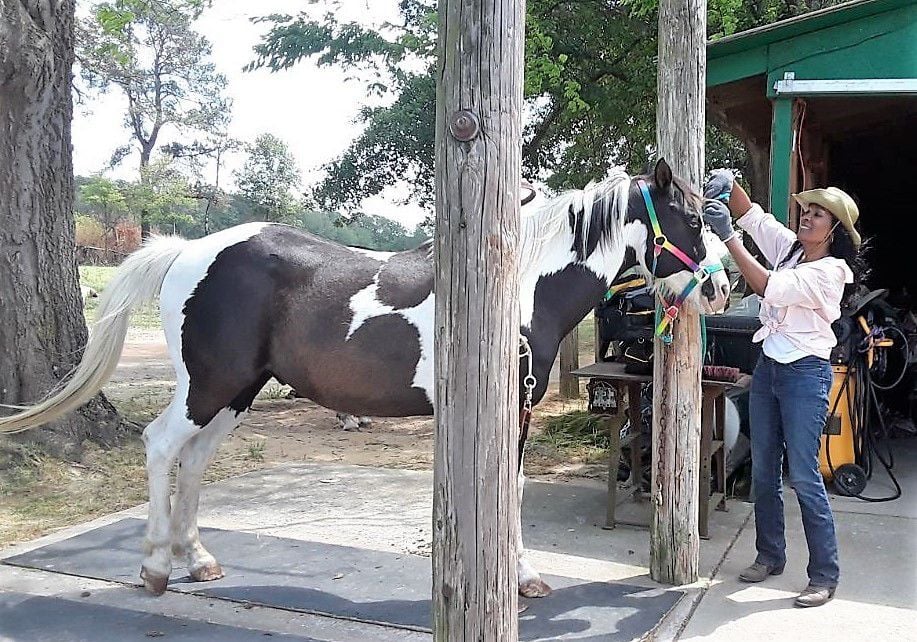 REMBERT – How 'bout Dem Cowgirls!
Dem Cowgirls, featuring local horse riders Delvina Westcott and Merlyn Moseley, will be performing at the Black Cowboy Festival this weekend.
Westcott and Moseley will perform with a senior riders group during the festival, which continues Saturday at Greenfield Farms in Rembert.
"We started out as students. Mr. Mark Meyers is our instructor. We range in ages from 55 to 67, and we come from various backgrounds. Some are retired from the military, a couple are professional people, and I myself am a retired educator and caregiver," Westcott said.
"Right now, we have a routine called Dem Cowgirls. We have a very simple routine, it's very elementary as far as what's incorporated from our riding lessons," Westcott said.
Westcott detailed the routine the riders will perform.
"We'll be doing something very short and sweet on Saturday where we do a little demonstration of cantering, circling what they call the flag line, and fan line work. And it's very basic and common in rodeo shows. A little bit of synchronized timing movement."
She says they will be riding various types of horses during the routine.
"Some of them are barrel racing horses, they're quarter horses, a couple of walkers, and they all have different personalities and gaits. So that's how we learn. We also learn how to adjust to riding different horses," Westcott said.
Westcott has been a rider for years.
"Well, myself and my friend Merlyn Moseley, we've been a part of it for almost three years. We've got a lot of new people that have come in the past couple of months," Westcott said.
"The Black Cowboy Festival is sponsored by the Black Cultural Enlightenment Society, which is in Rembert, S.C., where Mr. and Mrs. Mark Meyers are the administrators of the organization. They are also the owners of Greenfield Farms, where the festival is being held," Westcott.
She said the festival, which will be held for the 23rd year, is attended by people of all ages.
"Our main goal is to educate the public about the Black West, African-Americans participating in the development of the country, particularly in the West," she said.
"There's so many amazing people that I've learned about since doing this. Like Stagecoach Mary and Nat Love. There are going to be a couple of reenactments, and some people walking around as historical characters," Westcott said.
"I think it's going to be great for the public, especially for the kids to learn more about these particular people having something to do with the development of the West country," Westcott said.
#pu-email-form-daily-email-article { clear: both; background-color: #fff; color: #222; background-position: bottom; background-repeat: no-repeat; padding: 15px 20px; margin-bottom: 40px; border-top: 4px solid rgba(0,0,0,.8); border-bottom: 1px solid rgba(0,0,0,.2); display: none; } #pu-email-form-daily-email-article, #pu-email-form-daily-email-article p { font-family: -apple-system, BlinkMacSystemFont, "Segoe UI", Helvetica, Arial, sans-serif, "Apple Color Emoji", "Segoe UI Emoji", "Segoe UI Symbol"; } #pu-email-form-daily-email-article h1 { font-size: 24px; margin: 15px 0 5px 0; font-family: "serif-ds", Times, "Times New Roman", serif; } #pu-email-form-daily-email-article .lead { margin-bottom: 5px; } #pu-email-form-daily-email-article .email-desc { font-size: 16px; line-height: 20px; margin-bottom: 5px; opacity: 0.7; } #pu-email-form-daily-email-article form { padding: 10px 30px 5px 30px; } #pu-email-form-daily-email-article .disclaimer { opacity: 0.5; margin-bottom: 0; line-height: 100%; } #pu-email-form-daily-email-article .disclaimer a { color: #222; text-decoration: underline; } #pu-email-form-daily-email-article .email-hammer { border-bottom: 3px solid #222; opacity: .5; display: inline-block; padding: 0 10px 5px 10px; margin-bottom: -5px; font-size: 16px; } @media (max-width: 991px) { #pu-email-form-daily-email-article form { padding: 10px 0 5px 0; } }