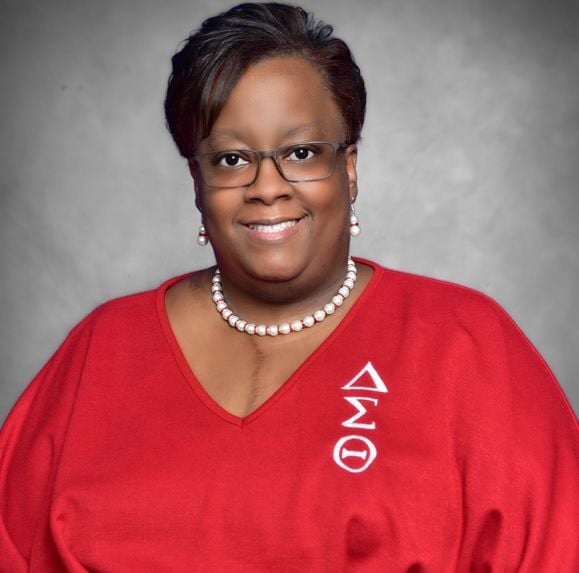 Williette Waring Berry loves learning, but she also enjoys sharing what she learns with others, particularly among the students and administration at Orangeburg-Calhoun Technical College, where she has become the new vice president of academic affairs.
Having first served at OCtech as an advisory board member for its paralegal program in 2000, she has worked her way up with a perseverance she said was largely cultivated at the college.
'I see myself
as an advocate'
"I've been here full-time since 2003. I wouldn't trade it for the world. I always tell people that anybody can have a job, but it takes dedication and commitment to make a career. That's what I've done here at OCtech," Berry said.
She served as an adjunct instructor for both the criminal justice and paralegal studies programs before becoming a full-time instructor in the latter program in 2003. She went on to become program coordinator for the criminal justice and paralegal studies program before serving as assistant dean for career and technology.
Berry became dean of business, computer technology, education and public service in 2015 before taking on the position of assistant vice president of academic affairs in January of 2020. The veteran educator was later tapped to become the VP of academic affairs upon the retirement of Donna Elmore.
She began her latest duties on June 1, 2021. Berry will earn $126,965 a year.
"I'm passionate about what I do here at OCtech, and I just love the idea now of taking it to another level. Being on the executive team, of course, puts me in the position to have a little bit more say-so of how things run in the academic field versus being a dean. But at the same time, we're all working together. It's about working together," Berry said.
OCtech President Dr. Walt Tobin said, "Williette has had a stellar career in a variety of roles at OCtech before assuming the position of the vice president of academic affairs. Throughout her time at OCtech, she has proven herself to be a good leader and a dedicated member of the college."
Tobin continued, "I am excited about what the future holds for the college with her serving in this capacity."
The college had to adjust to using virtual learning tools with the advent of the coronavirus last year, some elements of which will remain, Berry said.
"When the pandemic hit, of course it was a shock to everyone because we were working one day and at home the next day. So I think that faculty and students have kind of adjusted, but there's always those students who want to be in a face-to-face setting. Then for some students who are working full-time jobs, that flexibility means a lot to them. So if we're going to stay on the cutting edge, then we're going to have to continue to be flexible," she said.
Berry continued, "I think that the asynchronous with our online courses and the synchronous with our virtual classes is the only way to go. There are some courses where the students need to be here. They need to have that hands-on experience so that when they go on the job, they're prepared to do the job. But I still say that the pandemic was kind of a blessing in disguise because it showed us what we can do when we need to do what we have to do."
She said her goals are implanted in the school's vision to engage, empower and transform not only students, but faculty. Her favorite quote is the following from American industrialist Henry Ford: "Coming together is a beginning; keeping together is progress; (but) working together is success."
As part of an effort to engage students, she said school officials are envisioning the development of a learning commons area.
"It's going to be an area that's going to be very inviting to the students. It's going to be user friendly, computer stations, just areas where they can get together as a group and study. We have study rooms and things in the library, but just in a different setting. So that's going to provide an opportunity for us to, again, keep them engaged while they're here," Berry said.
In the area of professional development, she said the development of a master teacher program is something else that will be worked on.
"In my role, I see myself as an advocate for students and faculty. … We're looking at starting a master teacher program using ACUE," Berry said, an acronym for the Association of College and University Educators, which prepares credentials and supports faculty to teach with research-based best practices that improve student achievement and close equity gaps.
"We piloted about 10 faculty members this summer to go to that program. It's just a means of trying to help us to better engage those students. If you think about with COVID, we moved to that virtual platform almost 100 percent. So it's harder to engage students when they're not in your presence," Berry said.
"So the ACUE cohort that we started this summer kind of focused on that online learning and how to keep those students engaged with one another, putting in more interactive discussion-type questions versus just, 'OK, tell me a little bit about what you read.'
"We want to be a little bit more interactive, responding to your classmates, giving feedback on different assignments. So it was kind of interesting. So we're going to see whether we can get that rolling out for future employees," she said.
'I love it here'
A native of Holly Hill, Berry is the daughter of the Rev. Willie N. and Betty Lee Waring. She and her husband, Gregory, are the parents of one son, Brayden, 10.
She is an active member of the Orangeburg Alumnae Chapter of the Delta Sigma Theta Sorority Inc. and also a licensed attorney who has enjoyed her foray in the teaching world.
"Most people, especially my students, are like, 'Ms. Berry, why are you here when you could be making probably a whole lot more money?' For me, it's never been about money. My husband always say, 'If you do the things you love the most, the money will follow,'" Berry said
She initially wanted to become a teacher until reaching third grade.
"By the time I reached third grade, I had made up in my mind that I wanted to be a lawyer…. So I did everything I needed to do to get through that process, making the good grades and doing what I needed to do in school to get to that point," Berry said.
Her work as an adjunct professor helped her realize her love of teaching.
"I was like, 'OK, I really like this. I like teaching.' So I always tell my students on the first day of class, 'I've got mine, I'm here to help you get yours' … and if at all possible, I want you to take it even further than where I went with it," said Berry, noting that "spreading knowledge" is something she is dedicated to.
"It just became like second nature, and I love speaking. I've been doing public speaking since probably fifth grade, (with) church all the time, graduations, scholarship galas. So it's just been a way for me to impart knowledge on others about what I've learned," she said.
She said OCtech has provided her with fertile ground from which to work.
"Every chance I get, I'm just saying good things about OCtech because I love it here. To me, it's close knit, kind of like a family environment. I love the people that I work with. I hope they feel the same way about me. I just enjoy it," Berry said.
She was chosen as Faculty Member of the Year in 2015 and was recently recognized as Administrator of the Year in 2020.
"I always tell people if I ever wake up in the morning and I don't want to go to work, it's time for me to change jobs. I have not gotten to that point, and I don't plan on getting to that point. I love it here, I love what I do, and I just can't wait to continue to pick up where I left off as assistant VP," Berry said.
#pu-email-form-daily-email-article { clear: both; background-color: #fff; color: #222; background-position: bottom; background-repeat: no-repeat; padding: 15px 20px; margin-bottom: 40px; border-top: 4px solid rgba(0,0,0,.8); border-bottom: 1px solid rgba(0,0,0,.2); display: none; } #pu-email-form-daily-email-article, #pu-email-form-daily-email-article p { font-family: -apple-system, BlinkMacSystemFont, "Segoe UI", Helvetica, Arial, sans-serif, "Apple Color Emoji", "Segoe UI Emoji", "Segoe UI Symbol"; } #pu-email-form-daily-email-article h1 { font-size: 24px; margin: 15px 0 5px 0; font-family: "serif-ds", Times, "Times New Roman", serif; } #pu-email-form-daily-email-article .lead { margin-bottom: 5px; } #pu-email-form-daily-email-article .email-desc { font-size: 16px; line-height: 20px; margin-bottom: 5px; opacity: 0.7; } #pu-email-form-daily-email-article form { padding: 10px 30px 5px 30px; } #pu-email-form-daily-email-article .disclaimer { opacity: 0.5; margin-bottom: 0; line-height: 100%; } #pu-email-form-daily-email-article .disclaimer a { color: #222; text-decoration: underline; } #pu-email-form-daily-email-article .email-hammer { border-bottom: 3px solid #222; opacity: .5; display: inline-block; padding: 0 10px 5px 10px; margin-bottom: -5px; font-size: 16px; } @media (max-width: 991px) { #pu-email-form-daily-email-article form { padding: 10px 0 5px 0; } }