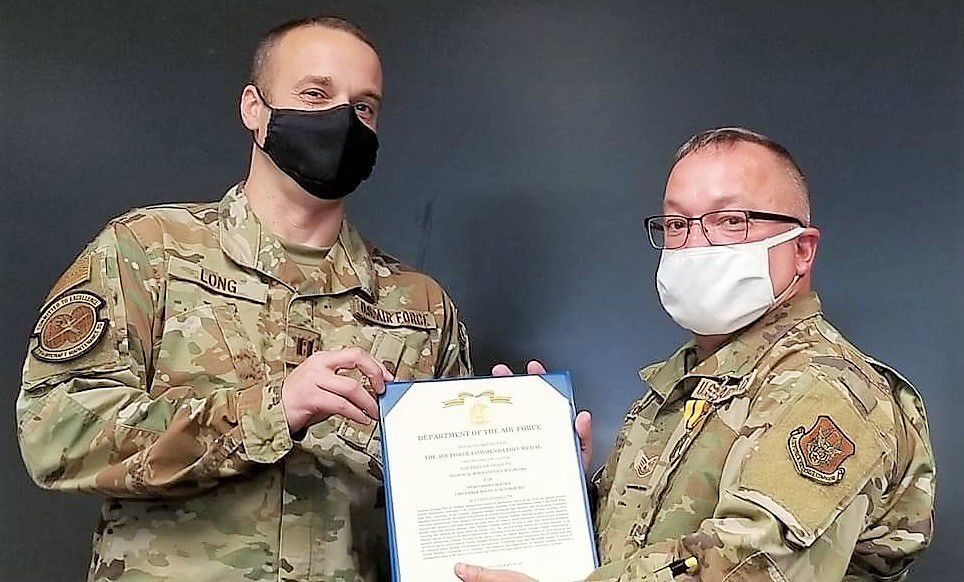 BAMBERG – After 33 years of military service, Bamberg County Fire Coordinator Paul H. Eubanks retired from the United States Air Force Reserve. A non-commissioned officer, Eubanks retired with the rank of technical sergeant after his last assignment with the 315 Aircraft Maintenance Squadron in Charleston.
"Paul Eubanks is a phenomenal leader and great representative of Bamberg County at the highest levels, building a reputation of competence and character wherever he serves," said Bamberg County Administrator Joey Preston. "As a correctional officer, volunteer firefighter, professional soldier and Scoutmaster, Paul has impacted the lives of thousands. His dedication to public service exemplifies the best of Bamberg County."
Eubanks' military service began in October 1988 when he enlisted in the United States Air Force Reserve and completed basic training at Lackland Air Force Base and aircraft maintenance apprentice training at Shepard Air Force Base in April of 1989. Returning home as a member of the reserve forces, he enrolled in college under the G.I. Bill. After his first year, he was activated for Operations Desert Shield and Desert Storm. When released from active duty, he returned to Orangeburg-Calhoun Technical College to complete his degree. He was activated again after the terrorist attacks of Sept. 11, 2001, for two years in support of Operations Enduring Freedom and Iraqi Freedom.
"It was one of the greatest honors to my life to serve in the armed forces of the greatest nation on earth," said Eubanks. "I am proud to have served and worn the uniform, and as I end this chapter of my life with service, a new chapter begins."
Throughout his career, Eubanks earned numerous recognitions, including Air Force Commendation Medal with two Oak Leaf Clusters (three awards); Air Force Outstanding Unit Award with eight Oak Leaf Clusters (nine awards); Air Force Good Conduct Medal; Air Reserve Forces Meritorious Service Medal with five Oak Leaf Clusters (six awards); National Defense Service Medal with Bronze Star Device (two awards); and the Global War on Terrorism Service Medal.
The U.S. Air Force Reserve held a ceremony for Eubanks' retirement on Oct. 3 at Charleston Air Force Base.
#pu-email-form-daily-email-article { clear: both; background-color: #fff; color: #222; background-position: bottom; background-repeat: no-repeat; padding: 15px 20px; margin-bottom: 40px; border-top: 4px solid rgba(0,0,0,.8); border-bottom: 1px solid rgba(0,0,0,.2); display: none; } #pu-email-form-daily-email-article, #pu-email-form-daily-email-article p { font-family: -apple-system, BlinkMacSystemFont, "Segoe UI", Helvetica, Arial, sans-serif, "Apple Color Emoji", "Segoe UI Emoji", "Segoe UI Symbol"; } #pu-email-form-daily-email-article h1 { font-size: 24px; margin: 15px 0 5px 0; font-family: "serif-ds", Times, "Times New Roman", serif; } #pu-email-form-daily-email-article .lead { margin-bottom: 5px; } #pu-email-form-daily-email-article .email-desc { font-size: 16px; line-height: 20px; margin-bottom: 5px; opacity: 0.7; } #pu-email-form-daily-email-article form { padding: 10px 30px 5px 30px; } #pu-email-form-daily-email-article .disclaimer { opacity: 0.5; margin-bottom: 0; line-height: 100%; } #pu-email-form-daily-email-article .disclaimer a { color: #222; text-decoration: underline; } #pu-email-form-daily-email-article .email-hammer { border-bottom: 3px solid #222; opacity: .5; display: inline-block; padding: 0 10px 5px 10px; margin-bottom: -5px; font-size: 16px; } @media (max-width: 991px) { #pu-email-form-daily-email-article form { padding: 10px 0 5px 0; } }