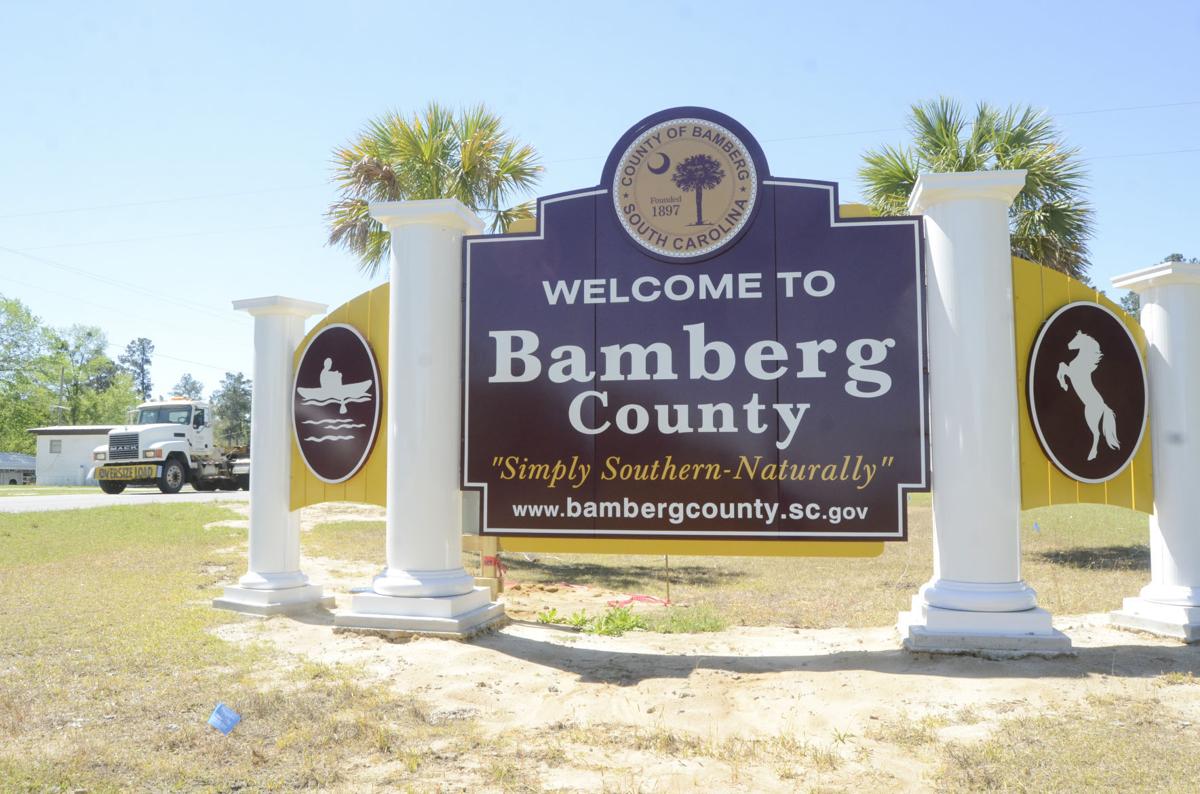 Bamberg County Council gave first reading approval by title only to the county's proposed $27.5 million spending plan for the 2021-2022 budget year.
The budget calls for a general fund of $9.2 million, along with separate accounts set up for special revenue, $8.6 million; enterprise, $1.4 million; debt service, $410,460, and capital projects, $7.8 million.
Council Chairman Larry Haynes and members Clint Carter, Spencer Donaldson, Phil Myers, Dr. Jonathan Goodman and Evert Comer Jr. voted to adopt the budget during last week's meeting. Councilwoman Sharon Hammond opposed.
"We have a presentation for council, if y'all want to see it, if it's all right. It may answer Ms. Hammond's questions," County Administrator Joey Preston said.
Hammond said she didn't think it would.
"We need some detailed information and not just one amount for personnel," she said.
Preston said he would provide Hammond with additional information.
"I think everybody should get it. Everybody should have that detailed information," Hammond said. Councilmen Carter and Myers stated that they would also like to receive it.
Goodman said, "I know several of us are new to the council, but I thought historically prior to voting on the budget that there was always a budgetary meeting that would take place.
"Did I miss that, or did we not have the budgetary meeting this year?"
Preston said, "What you're doing is you're voting tonight in title only. So you're not actually voting for any numbers. You've got the rest of this month to go through it and have budget meetings or whatever you want to discuss, but according to the law, what happens is I present a budget document to the county council for consideration, and that's what this is."
Second reading of the budget is slated for 6 p.m. Monday, June 21, during a virtual meeting. Third and final reading of the budget, which will be preceded by a public hearing, is tentatively scheduled for 6 p.m. Monday, June 28, during a virtual meeting.
The proposed $27.5 million budget reflects a $737,765 increase over last year's spending plan.
The county's general fund budget alone is scheduled to grow from $8.3 million in FY 2020-21 to $9.2 million in FY 2021-22.
County Controller Gina Smith reported that health insurance costs will increase by approximately $55,000 over the previous fiscal year, with the total countywide cost to equal $1.1 million. Retirement contribution costs are expected to total $647,875, which is $30,875 more than in the previous year.
Increases also came in special revenue, debt service and enterprise funds. The capital projects budget is scheduled to decrease by $654,285.
Next year's millage rate is estimated to be 233.3, the same as this year.
Under the current millage rate, County Auditor Rosa Verner said owners of houses valued at $100,000 pay $1,570 annually in property tax bills. Owners of houses valued at $50,000 pay $820 in property tax bills annually.
The tentative spending plan includes a 2 percent cost-of-living increase for employees. The average employee with family coverage will also not have to pay more per year in health insurance costs.
The budget includes the addition of a permit technician in the assessor's office, as well as the conversion of a part-time position in the auditor's office to full-time.
It also includes funding for 800 megahertz radios for the sheriff's department to improve safety and communication between the sheriff's office and dispatch. Upgrades to the E911 center will include new dispatch equipment.
The county has also received its first portion of federal American Rescue funding, totaling $1.4 million.
"We're going to make sure we spend it the proper way," Preston said.
During his report, Preston also updated council on the hospital renovation project, which is slated to be complete in early May 2022. The county has a plan to transform its former hospital into a law enforcement and health and human services complex.
The complex would include the sheriff's office, health department, Veterans Affairs office and the county coroner's office.
While the county also snagged a $250,000 grant from the state Department of Health and Environmental Control to go toward the building of the new Bamberg County Health Department office, securing funding for the Department of Social Services portion will be different, the administrator said.
Preston said that more funding is also being sought for the inclusion of an emergency operations center.
"We're going to have storage space for all of our voting equipment. In addition to this, we're looking to see if it's a possibility we can find space to perhaps maybe relocate the voter registration and election commission to that building if we can find space, and if we can find available funding with not having to go out and seek any new funding," Preston said.
The administrator also reported the County Voter Registration and Election Commission is seeking applicants for a new Voter Registration and Election director. Commission Chairman Curtis Tyler said following the meeting that Director Melinda Johnson resigned for health reasons.
Preston also reported that as of June 4, 1,454 positive COVID-19 cases and 51 deaths had been reported in the county. He said more than 4,819 county residents had received at least one COVID-19 vaccination.
"Statewide, DHEC reports 45 percent of South Carolina residents have begun the vaccination process and 38 percent have completed (it). In Bamberg County, there's been 31.42 percent that have received both shots," the administrator said.
Council is set to resume face-to-face meetings in August, but Goodman said a push to resume face-to-face meetings should be coupled with the importance of individuals getting vaccinated, particularly with "less than 40 percent of our constituents being vaccinated."
County Treasurer Alice Johnson gave an April financial report. The county had $875,900.49 in income and expenditures of $884,719.47, leaving a negative balance of $8,818.98. When the positive bank balance at the end of March ($127,340.87) was added, the county's regular account stood at a positive $118,521.89.
County Finance Director T.M. Thomas reported that the county's general fund had year-to-date revenues as of the end of April of $7,598,612, with expenses coming in at $6,320,654, for a positive general fund balance of $1,277,959.
He said all departments continued to operate within their budgets.
County Controller Gina Smith said the county received approximately $155,000 in federal CARES Act funding last fall, along with approximately $69,000 in federal FEMA money in April, all of which has been deposited into the county general fund
• SouthernCarolina Alliance Vice President of Marketing Kay Maxwell introduced Garrett Dragano as the SCA's new project manager.
• Council approved a resolution authorizing the county's participation in the Lower Savannah Regional Home Consortium.
• Approved the appointment of Dr. Dorian Newton to the Workforce Development Board.
• Council gave second reading approval to the codification of its ordinances into a single booklet
• The next regularly scheduled council meeting is set virtually for 6 p.m. Monday, July 19.
#pu-email-form-daily-email { clear: both; background-color: #fff; color: #222; background-position: bottom; background-repeat: no-repeat; padding: 15px 20px; margin-bottom: 40px; box-shadow: 0px 2px 0px 0px rgba(0,0,0,.05); border-top: 4px solid rgba(0,0,0,.8); border-bottom: 1px solid rgba(0,0,0,.2); display: none; } #pu-email-form-daily-email, #pu-email-form-daily-email p { font-family: -apple-system, BlinkMacSystemFont, "Segoe UI", Helvetica, Arial, sans-serif, "Apple Color Emoji", "Segoe UI Emoji", "Segoe UI Symbol"; } #pu-email-form-daily-email h1 { font-size: 24px; margin: 15px 0 5px 0; font-family: "serif-ds", Times, "Times New Roman", serif; } #pu-email-form-daily-email .lead { margin-bottom: 5px; } #pu-email-form-daily-email .email-desc { font-size: 16px; line-height: 20px; margin-bottom: 5px; opacity: 0.7; } #pu-email-form-daily-email form { padding: 10px 30px 5px 30px; } #pu-email-form-daily-email .disclaimer { opacity: 0.5; margin-bottom: 0; line-height: 100%; } #pu-email-form-daily-email .disclaimer a { color: #222; text-decoration: underline; } #pu-email-form-daily-email .email-hammer { border-bottom: 3px solid #222; opacity: .5; display: inline-block; padding: 0 10px 5px 10px; margin-bottom: -5px; font-size: 16px; }