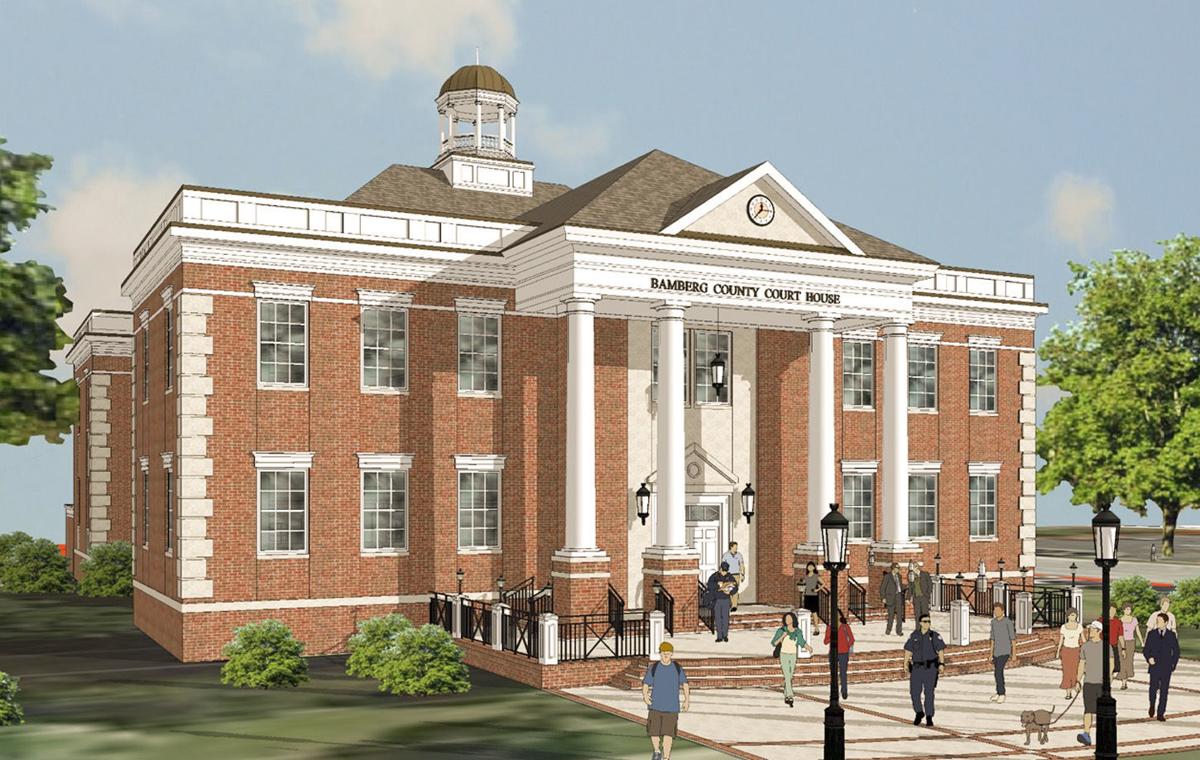 Bamberg County Council is working to refinance its long-term debt in hopes of lessening the tax burden for its citizens, some of whom are still expressing concerns about already high taxes.
Council approved a resolution to refinance a portion of its debt following a financial presentation by its bond attorney and financial adviser during a Nov. 1 meeting.
The county's total debt comes in at $13,845,955 as of June 30, 2020, the latest year for which the county has audited figures. The county's general obligation debt stood at $3,374,863 as of June 30, 2020, also the latest year for which the county has audited figures.
Among the county's debts is $8.4 million in installment purchase revenue bonds, or IPRBs, authorized by council in 2013, in part to consolidate old debt. The Bamberg Facilities Corporation, or BFC, is a nonprofit charged with managing the $8.4 million in revenue bonds.
The bonds were issued to fund projects the county sought to complete with the help of the penny sales tax that was approved by voters in a November 2012 referendum.
Since that time, the county has successfully established an investment-grade credit rating of "A" from Standard & Poor's and was then also able to refinance the debt and reduce its interest rate from 8.9% to 3.9% in 2015, saving the county $1.2 million in interest costs.
The BFC's revenue bonds are paid for with fee-in-lieu-of-taxes from certain companies, the first imposition of the capital project sales tax and small general obligation bonds, as needed. The general obligation debt is paid for with a special levy that is separated on tax notices.
What the county's debt consolidation plan did not cover was the $1.5 million bond council issued in 2008 to help offset its now-defunct hospital's debts and address safety issues at the facility.
The hospital has until 2028 to pay that bond off, with County Controller Gina Smith stating in an email following the meeting that the bond will be fully paid on April 1, 2028. The remaining outstanding principal on that bond stood at $940,000 as of June 30, 2020.
The county's bond attorney, Ray Jones of the law firm of Parker Poe of Columbia, was joined by the county's financial adviser, Brent Robertson, on Monday to present a plan that would not only refinance the BFC's 2015 bonds and the county's 2008 hospital bond, but also include a financing plan to complete long-awaited renovations at the county courthouse.
Under the new 2021 IPRB Plan of Finance, debt payments would be extended out to 2051 as compared to 2036 under the 2015 bond finance plan.
Voting in favor of the plan were council members Spencer Donaldson, Dr. Jonathan Goodman, Evert Comer and Chairman Larry Haynes. Voting in opposition were council members Phil Myers, Clint Carter and Sharon Hammond.
"Pretty quickly we're going to start to see that our mill levy is going to have to increase," Robertson said, noting that the fund balance from the capital project sales tax will eventually all be drawn down, with GO bond issuances to go up as a result.
"In 2027 … we're ultimately going to need to levy about 29 mills just to support the GO bonds," he said, noting that the millage would come in at 14.36 mills instead of 29 mills in 2027 under the 2021 finance plan.
"There is an extension of the term on the existing 2015 bonds. The refinancing is actually at a lower interest rate," Robertson said, noting that the interest rate on the bonds would go from 4.13 to 3.49%.
"So, yes, the term is being extended out to 2051 but in exchange, you've stabilized the mill levy and you're refinancing at a lower rate," he said.
Bamberg County in June 2018 announced it was moving ahead with a $6 million plan to renovate the county's historic courthouse.
Built in 1894, it was to be completely restored for the circuit court, probate court, clerk of court and public defender with the help of a $6 million USDA loan. The loan, however, which came with a 3.875% interest rate for a 40-year term, didn't come to fruition.
Parker said, "We went round and round and round with USDA. Through a series of whether it's miscommunication, changes in personnel or whatever it might be, we basically got to a point where they simply could not help us. I'll just leave it at that."
Robertson said under the new finance plan, $7 million in new financing for courthouse renovations would be layered in.
"Also included is the refinancing of the hospital bond. The hospital bond presently sits at an interest rate of 4.15%. Under this refinancing structure, it drops down to 2.81. This is also an instance of where we're extending the final payment on the existing hospital bonds," Robertson said.
"In exchange, it provides for a softer mill levy on the front end, and it allows for the laying in of $7 million for courthouse improvements. … We don't get to 29 mills under the plan of refinance that's being proposed until 2039," he said.
Robertson continued, "The new bonds are going to be sold with no more than a 10-year optional redemption provision, meaning the county would have the opportunity to come in and refinance at some point in the future."
He said new industry coming into the county would also help it pay off debt even quicker if they "elected to dedicate any new fee-in-lieu-of-tax agreements to this plan of finance."
"This goes to the payment flexibility … that you get through a facilities corporation. There's just different ways to pay down the debt. There's all sorts of flexibility for the county in the future to refinance, to dedicate other revenue sources," Robertson said.
Carter said he needed more information before he could vote on the new refinancing plan.
"We're talking $7 million. We got 30 years from now for this to be paid for. Is there any guarantee that this construction's going to last 30 years? Or in 30 years, are we going to be coming back, 'Well, we need another $7 million.' At that time, it'll probably be $15 million. I'm just asking questions," he said.
County Administrator Joey Preston said, "That's a good question. I mean, you've got to figure the courthouse was moved there in 1948, 1950."
Carter continued, "It looks to me like we can't get anything pinned down on some of this stuff, and we might be better off to … start over with something new that the citizens may not argue so much about having built. In another 50 years, ain't nobody going to care nothing about that courthouse and whether it was moved there 300 feet 150 years ago."
"We'll be $20 million in the hole," Carter said, with the added expense of the courthouse.
Robertson said the county would be taking advantage of lower interest rates.
Carter said, "I just worry that if you extend out and the amount that you owe goes up, if something comes about that the county really needed to do, you don't have the finances to do it because you're obligated so far out."
Roberston said the new refinancing plan would create an increase in the county's borrowing capacity from approximately $200,000 to about a million dollars.
"I don't think that necessarily addresses every concern y'all might have," he said, but noted that the new refinancing plan provide more the county with more flexibility.
Following the meeting, County Controller Gina Smith said in an email that the "bottom line is that the refinance will actually lower the debt-service levies, and the resultant taxes will be lowered as well for the next 12 years."
County residents expressed concern about the potential tax impact.
Sue Clayton said, "If we're increasing our millage by 29 to 32 mills, I don't know how that works out because I don't understand the mill. … But we've got people that are already complaining about high taxes and already discouraging other people. You can look at the industries that are coming in through Southern Carolina. They are all going to other counties because of our high tax rate."
"We cannot afford to continue this route. I don't care how you parse it, we're still going to owe $21 million instead of $14 million for a county that has $13,665 people. Somewhere down the line, the proverbial manure is going to hit the fan, and it's going to hurt," she said.
Sharon Carter said, "We have the highest taxes in the state of South Carolina. With the 46 counties, and ours being the highest, why would industry want to be here? I'm here because my husband has family property, and we love it. But someone new is not going to come to the county with the highest taxes in the state."
Councilman Evert Comer said he is an optimist and feels sure that the county will attract more industry.
Carter said tacking on the courthouse renovation project to the refinancing plan would cause the county to "spend the money you just saved and then some. So I'm saddened that we're not going to be fiscally responsible."
Ken Ahlin said in an email that the "initiative to increased our indebtedness to revamp the old courthouse rings hollow."
"The county has kicked this can down the road almost the last decade. In 2012 when the penny was first introduced to fix the courthouse, we got a bait-and-switch and the old courthouse was left alone. In our last penny sales tax, we elected to bypass the courthouse again to build a new human services and sheriff's facility," Ahlin said.
"There is no way the sense of urgency to renovate the old hospital … superseded the crumbling courthouse," he said, noting that there was no need to tie the county's plan to refinance its debt with a courthouse upgrade.
"The courthouse should stand on its own and should be put to the citizens. We are concerned about our millage rates and high taxes. The county's indebtedness is of concern, and taking on significantly more debt for a problem you have a flat out neglected is a red herring."
Preston in an email Wednesday stated that the plan was a good one.
"We have determined that this is a better plan and stabilizes tax rates and, for a period, lowers tax rates, whereas the USDA option would not have done that, or allowed us to refinance the hold hospital bond that was approved just before the hospital closed," he said.
Preston continued, "We have said this over and over, but it continues to get lost in the rhetoric. … I believe that new business will consider Bamberg County more if we continue to improve the infrastructure to include county buildings and properties," including roads, streets and recreational facilities.
#pu-email-form-breaking-email-article { clear: both; background-color: #fff; color: #222; background-position: bottom; background-repeat: no-repeat; padding: 15px 20px; margin-bottom: 40px; border-top: 4px solid rgba(0,0,0,.8); border-bottom: 1px solid rgba(0,0,0,.2); display: none; } #pu-email-form-breaking-email-article, #pu-email-form-breaking-email-article p { font-family: -apple-system, BlinkMacSystemFont, "Segoe UI", Helvetica, Arial, sans-serif, "Apple Color Emoji", "Segoe UI Emoji", "Segoe UI Symbol"; } #pu-email-form-breaking-email-article h1 { font-size: 24px; margin: 15px 0 5px 0; font-family: "serif-ds", Times, "Times New Roman", serif; } #pu-email-form-breaking-email-article .lead { margin-bottom: 5px; } #pu-email-form-breaking-email-article .email-desc { font-size: 16px; line-height: 20px; margin-bottom: 5px; opacity: 0.7; } #pu-email-form-breaking-email-article form { padding: 10px 30px 5px 30px; } #pu-email-form-breaking-email-article .disclaimer { opacity: 0.5; margin-bottom: 0; line-height: 100%; } #pu-email-form-breaking-email-article .disclaimer a { color: #222; text-decoration: underline; } #pu-email-form-breaking-email-article .email-hammer { border-bottom: 3px solid #222; opacity: .5; display: inline-block; padding: 0 10px 5px 10px; margin-bottom: -5px; font-size: 16px; } @media (max-width: 991px) { #pu-email-form-breaking-email-article form { padding: 10px 0 5px 0; } }