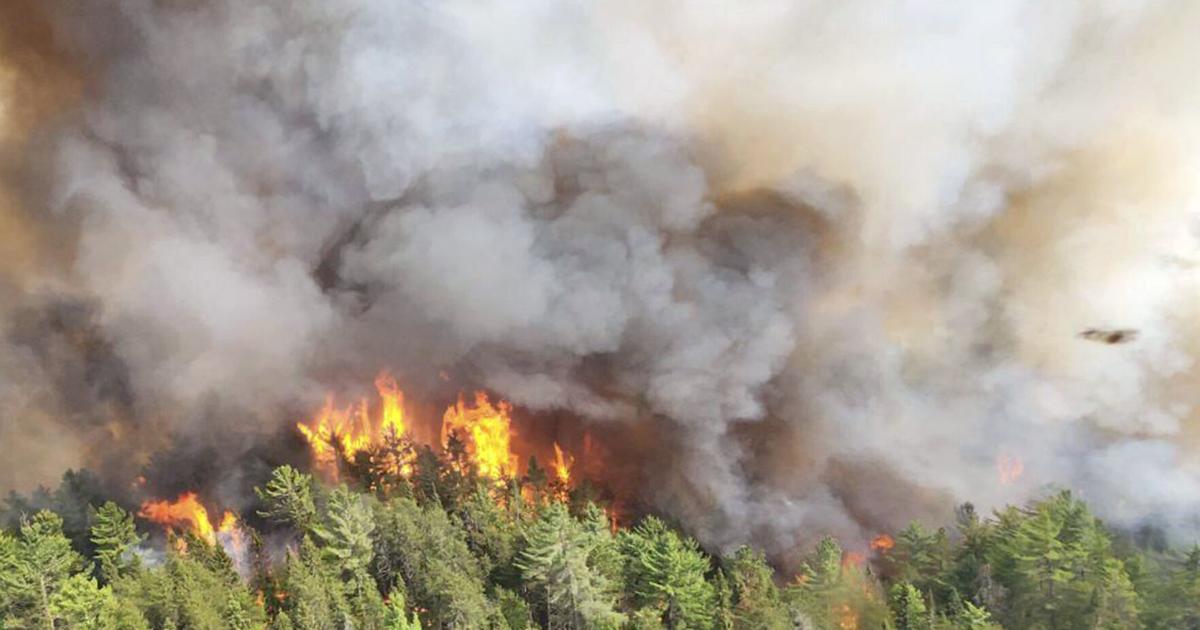 Intense smoke blanketing portions of the eastern United States from Canadian wildfires prompted air-quality alerts in the Pee Dee region on Thursday.
The South Carolina Department of Health and Environmental Control has issued a code orange ozone action day for the Pee Dee until 11:59 p.m. Thursday.
An ozone action day means that atmospheric conditions will likely produce unhealthy concentrations of ground-level ozone air pollution.
A code orange forecast indicates that ground level ozone concentrations are expected to be unhealthy for sensitive groups, including people with lung disease, older adults and children.
Sensitive groups should reduce prolonged or heavy outdoor exertion, take more breaks, and do less intense activities, especially during afternoon and early evening hours.
The T&D Region does not have an air-quality alert in place. On Wednesday, an air-quality alert was issued for the Columbia area, but the alert shifted further north Thursday morning into North Carolina and the Pee Dee of South Carolina.
The Orangeburg area does have a hazardous weather outlook notice from the National Weather Service on Thursday for the potential of isolated afternoon and evening showers and thunderstorms as a cold front hovers over the area.
The NWS says some storms may become strong to severe with damaging wind gusts and large hail as the primary threat.
Storms rolled through portions of Orangeburg County Wednesday, downing trees and power lines. There were no reports of injuries and minor structural damage.
#lee-rev-content { margin:0 -5px; } #lee-rev-content h3 { font-family: inherit!important; font-weight: 700!important; border-left: 8px solid var(–lee-blox-link-color); text-indent: 7px; font-size: 24px!important; line-height: 24px; } #lee-rev-content .rc-provider { font-family: inherit!important; } #lee-rev-content h4 { line-height: 24px!important; font-family: "serif-ds",Times,"Times New Roman",serif!important; margin-top: 10px!important; } @media (max-width: 991px) { #lee-rev-content h3 { font-size: 18px!important; line-height: 18px; } } #pu-email-form-daily-email-article { clear: both; background-color: #fff; color: #222; background-position: bottom; background-repeat: no-repeat; padding: 15px 0 20px; margin-bottom: 40px; border-top: 4px solid rgba(0,0,0,.8); border-bottom: 1px solid rgba(0,0,0,.2); display: none; } #pu-email-form-daily-email-article, #pu-email-form-daily-email-article p { font-family: -apple-system, BlinkMacSystemFont, "Segoe UI", Helvetica, Arial, sans-serif, "Apple Color Emoji", "Segoe UI Emoji", "Segoe UI Symbol"; } #pu-email-form-daily-email-article h2 { font-size: 24px; margin: 15px 0 5px 0; font-family: "serif-ds", Times, "Times New Roman", serif; } #pu-email-form-daily-email-article .lead { margin-bottom: 5px; } #pu-email-form-daily-email-article .email-desc { font-size: 16px; line-height: 20px; margin-bottom: 5px; opacity: 0.7; } #pu-email-form-daily-email-article form { padding: 10px 30px 5px 30px; } #pu-email-form-daily-email-article .disclaimer { opacity: 0.5; margin-bottom: 0; line-height: 100%; } #pu-email-form-daily-email-article .disclaimer a { color: #222; text-decoration: underline; } #pu-email-form-daily-email-article .email-hammer { border-bottom: 3px solid #222; opacity: .5; display: inline-block; padding: 0 10px 5px 10px; margin-bottom: -5px; font-size: 16px; } @media (max-width: 991px) { #pu-email-form-daily-email-article form { padding: 10px 0 5px 0; } } .grecaptcha-badge { visibility: hidden; }