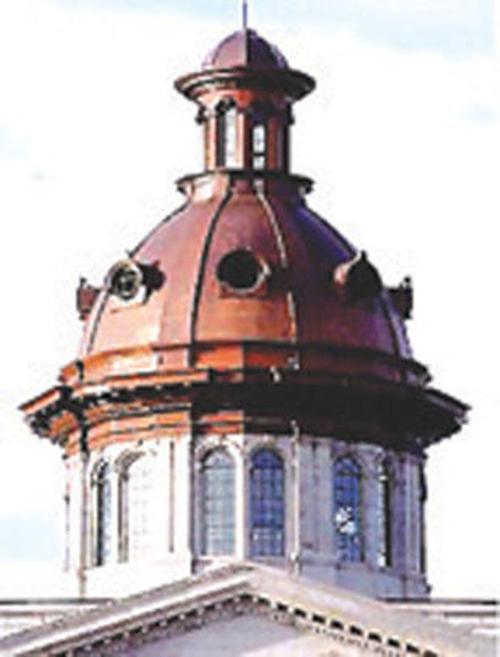 Local school districts, feral hogs, recreational opportunities, teacher pay, health care and economic development all received the attention of local senators in the this year's legislative session.
Education, marital age limits, insurance liability requirements for boaters, foster care extension, and alcohol and DUI bills are all on the agenda for the senators when lawmakers return to session in January.
Sen. Vernon Stephens, D-Bowman, experienced his first legislative session in 2021. He was elected to the seat in the November 2020 general election.
"To actually be a member of the General Assembly, being a part of initiating bills, and the actual deliberation of those bills, and then having them turn into actual laws in the state of South Carolina, it has truly been an experience that's given me a different perspective on how the process actually works," Stephens said. "I've learned a lot, and I think I have a clearer understanding of how we do the business in the state of South Carolina from a General Assembly point."
Stephens, along with Orangeburg Democratic Sen. Brad Hutto, helped sponsor or co-sponsor a number of bills of note.
One of which Stephens is particularly proud impacted Orangeburg County.
"There was one that I sponsored, which was significant for education in Orangeburg County, and that was to give the school board the authority to actually look at facilities, and to make decisions whether or not our children, our staff, and others are not into an environment that is conducive to learning, and also protect them from any health hazards," Stephens said. "That was a very vital piece of legislation that I am proud that the state of South Carolina and the delegation saw that we needed to grant to the school board."
Stephens also believes a good budget was passed. He detailed the local projects that received funding.
One was the appropriation of about $200,000 for South Carolina Retired Education Academic Tutorial Services.
"I was able to get funding for a group that is actually going out into our communities and providing tutorial services," he said. "These are retired educators who saw the need to go back out into Orangeburg County and to help partner with the school district and other groups in the community to help our children."
Stephens and Hutto also secured $1.6 million in funding for the pedestrian bridge across Lake Marion from Orangeburg to Clarendon County.
"That will not happen immediately because the bridge needs to be repaired," Hutto said.
Stephens also noted that he secured funding for the Appropriations for Medical Ministry, which provides health care workers for uninsured persons in rural areas.
"I was happy for the $100 million that will go for infrastructure needs of our schools in the state. I was happy that I was able to speak with some of the offers of this amount, the $100 million, and that we put in certain clauses that ensure that highly impoverished districts be given the priority," Stephens said.
Stephens and Hutto both supported legislation on feral hogs.
"Our farmers have really been affected by these wild hogs, and they can do quite a bit of damage over a time period," Stephens said. "Getting some type of control, and making sure that the transfer of feral hogs from one area to the next is not happening, and for us to have some control over the transport of domestic hogs and making sure those hogs are not turn out into the wild."
Hutto said much of the legislative session was spent discussing COVID and issues surrounding the virus and keeping South Carolinians safe. He believes that should have been the primary focus of the session.
Hutto expects that with the recent surge in COVID cases, the pandemic will once again be a concern heading into the next legislative session.
Despite COVID, Hutto said much was done in 2021.
One of these was allocating about $50 million of COVID money to give teachers pay raises to the tune of about a $1,000 increase in teacher's base pay.
Lawmakers typically end their session in May and go back in January, but this year lawmakers will go back in September and October to take up two matters.
In September, they will decide what to do with an additional $2.1 billion in federal monies for COVID relief. In October, senators will take up reapportionment related to the state's seven U.S. House of Representatives districts. Reapportionment deals with drawing lines for the congressional districts based on the 2020 census.
The state's population did not grow enough to gain a new seat in the U.S. House.
Other bills Hutto helped sponsor or support both for local impact and statewide impact in 2021 include:
Consolidation of Bamberg County school districts, which will go into effect July 1, 2022.
Consolidation of Barnwell County School districts, which will go into effect July 1, 2022.
Support of landing E.& J. Gallo Winery (Gallo), a global wine and spirits company. The company will build a new state-of-the-art production facility and distribution center in Chester County to support future business growth and its long-term innovation plans. The $423 million investment will create 496 new jobs over the next eight years.
The successful landing of Prestage Farms $150 million poultry processing plant in Kershaw County near Camden. The plant is expected to create about 290 jobs.
Hutto said while it is not a local project, the plant could have a positive impact on the turkey industry knowing there is a processing plant within the state.
Other bills that he sponsored that passed included:
Requiring doctors who prescribe opioids to provide patients with information on naloxone, which is a medicine that rapidly reverses an opioid overdose.
"It is not required they take it," Hutto explained, noting the bill simply requires educating and informing the patient the drug exists and is available.
Educational funding
Local schools are getting state monies to promote consolidation, and local colleges and universities have also received state monies for operations and tuition mitigation.
Bamberg County received $3.25 million from the State Department of Education to help pay for consolidation costs such as technology, salaries and transportation. The money could also go toward reducing debt if the district so chooses.
South Carolina State University is receiving about $20 million in general funds from the state. It is the most the university has received from the state since 2008 and will help with COVID losses.
About $9 million was received for targeted maintenance, including $6 million from the capital reserve fund, of which $2.6 million is for the Clyburn Transportation Center match. About $3 million will be spent on maintenance, renovation and replacement.
The university is also receiving $861,404 for tuition mitigation.
This means students at the university will not see a tuition increase for the coming year.
Orangeburg-Calhoun Technical College received nearly $4 million in state funds with about $300,000 for tuition mitigation and about $3.5 million for building maintenance.
Took too much time
There were two bills Hutto did not support and that he said dominated the session.
"We passed the abortion bill; it has been signed into law," Stephens said. "That took up quite a bit of time in its deliberation — days and weeks."
"Same for open carry," Stephens said. "I was not in favor of the abortion bill, neither was I in favor of the open carry bill."
Stephens said gun control needs to be in place with a process controlling guns being sold to mentally incompetent persons or persons with a history of gun offenses.
Hutto echoed Stephens' concerns about the time-consuming nature of the debate on abortions and guns.
"They were not pressing issues in my opinion," Hutto said. "The abortion thing, everybody knew that it was unconstitutional and that it was a waste of time."
Looking ahead to 2022
Stephens listed several issues he believes should be discussed during the next session.
"It's been a long time since we actually looked at the formula for education, the tax structure for business, industry, and the tax structure for citizens as well," he said. "I would hope we would spend more time on that the upcoming session in January."
Stephens detailed his plans for the next session.
"One thing that I was actively involved in is a bill that was introduced, and now is in committee, and that bill is to raise the age of our young adults, the age that which they will have the right to actually get married," he said. "Right now the age is 16, but what we are seeing is significant challenges for those persons who get married at age 16."
"There are crimes that are being committed by the spouse of those individuals," Stephens said. "These individuals also are having some physical and mental ailments that contributed to getting married at a young age."
Stephens says he wants to make sure the individuals are in a capacity to mentally think through their decision to marry and to be able to make the correct decision.
Stephens said he will also continue to look at issues surrounding education.
Hutto said there were several bills he sponsored that made it out of the Senate and now reside in the House. He says he looks forward to them moving forward in 2022.
A bill requiring those with suspended licenses due to DUI to have an ignition-interlock device installed on their vehicles before they can get a temporary license.
A bill that would require owners of boats of more than 50 horsepower to carry liability insurance of at least $50,000. The bill would also provide penalties and the collection of fines.
A bill that would allow individuals to remain in foster care up to 21 years of age rather than the current age of 18. Hutto said it is aimed at better enabling young people to transition out of foster care.
Another bill that passed the Senate and resides in the House is the "Responsible Alcohol Server Training Act." It provides for the establishment, implementation and enforcement of a mandatory alcohol-training and education program for those who serve alcohol.
#pu-email-form-daily-email-article { clear: both; background-color: #fff; color: #222; background-position: bottom; background-repeat: no-repeat; padding: 15px 20px; margin-bottom: 40px; border-top: 4px solid rgba(0,0,0,.8); border-bottom: 1px solid rgba(0,0,0,.2); display: none; } #pu-email-form-daily-email-article, #pu-email-form-daily-email-article p { font-family: -apple-system, BlinkMacSystemFont, "Segoe UI", Helvetica, Arial, sans-serif, "Apple Color Emoji", "Segoe UI Emoji", "Segoe UI Symbol"; } #pu-email-form-daily-email-article h1 { font-size: 24px; margin: 15px 0 5px 0; font-family: "serif-ds", Times, "Times New Roman", serif; } #pu-email-form-daily-email-article .lead { margin-bottom: 5px; } #pu-email-form-daily-email-article .email-desc { font-size: 16px; line-height: 20px; margin-bottom: 5px; opacity: 0.7; } #pu-email-form-daily-email-article form { padding: 10px 30px 5px 30px; } #pu-email-form-daily-email-article .disclaimer { opacity: 0.5; margin-bottom: 0; line-height: 100%; } #pu-email-form-daily-email-article .disclaimer a { color: #222; text-decoration: underline; } #pu-email-form-daily-email-article .email-hammer { border-bottom: 3px solid #222; opacity: .5; display: inline-block; padding: 0 10px 5px 10px; margin-bottom: -5px; font-size: 16px; } @media (max-width: 991px) { #pu-email-form-daily-email-article form { padding: 10px 0 5px 0; } }